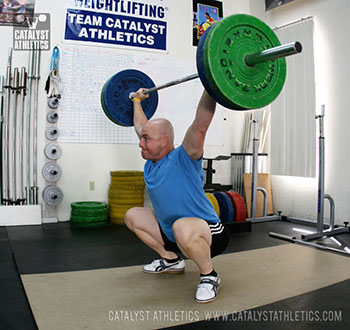 Percentage-Based Max Effort Black Box - MEBB
One poor assumption I have made with regards to lecturing on the Max Effort Black box deals with the athlete's experience with finding the daily max effort. I'm up there babbling about finding that best effort for 5, 3 or 1 on a particular move and then suddenly it hits me—The majority of my audience is lost. I often times get the same tilted head, glazed over look my Airedales give me when I'm talking to them. It's bad coaching on my part and I regret that. Failure......
Continue reading
A New Way to ME Black Box
Introduction It was 2004 when I first started integrating M.E. lifts with the CrossFit high intensity randomized protocol. I have since tried some new methods, which have proven successful. They tell me at the Performance Menu that the M.E. articles are the most popular back issues on the shelf. I still receive e-mail each week with questions on the implementation on the template. The mother ship CrossFit.com with a push from Starting Strength guru Mark Rippetoe now includes a heavy dose ......
Continue reading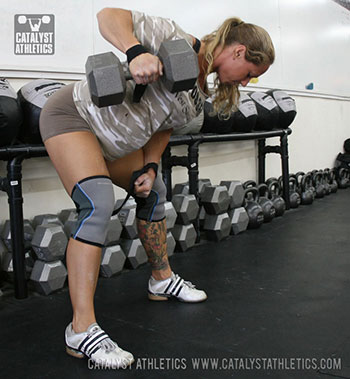 Dumbbell Unilateral Training Alternatives
If you are in the strength and conditioning game long enough you are going to encounter structural and muscular imbalances along the way. These imbalances and weakness occur naturally and by way of accident or injury. Rarely if ever will these situations correct themselves. The least offensive result is a decrease in performance. The most offensive result is a career ending injury. The old cliché of the ankle bone being connected to the hip bone and so on is not far off base. Phy......
Continue reading
Training Weaknesses with Dumbbells
As you will discover, training with dumbbells offers multiple benefits. Their universal application makes them perfect for athletic training. As a coach, one of the most potent applications for the dumbbell is the use of unilateral training to address weaknesses on one side of the body. Unilateral training is simply working a single side of the body with one dumbbell. Most all of us have a weaker side. These weaknesses are generally on the non dominating side of the body. The weak......
Continue reading