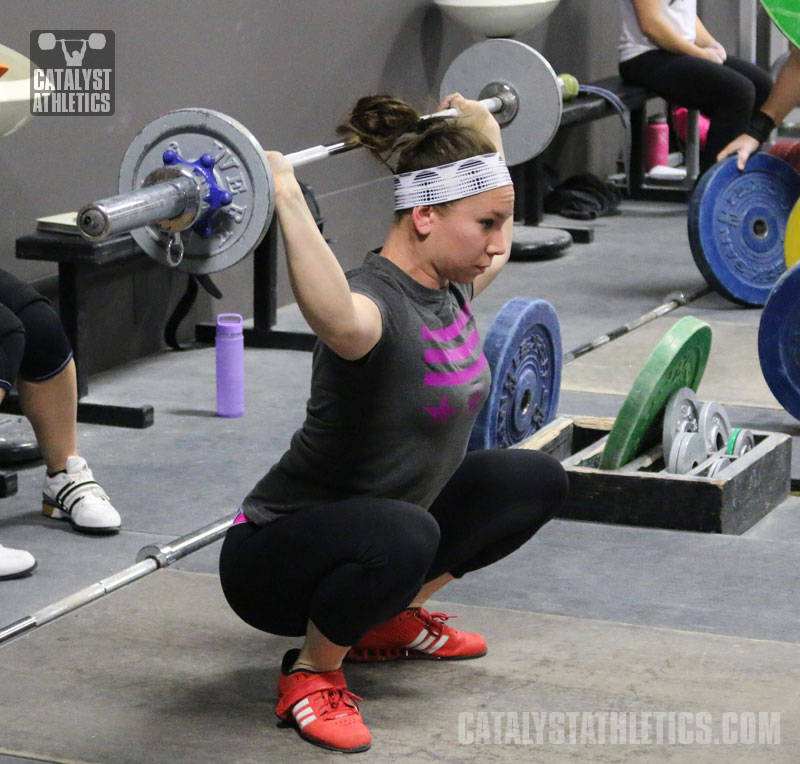 Mobility for People Who Hate Doing Mobility
Let me start this pile of words off with two things... 1. I hate mobility work. When I get to the gym, I want to lift, not roll around on a bunch of over priced dog toys for 30 minutes. I don't read books about it or pore over videos of people strapping themselves up with rubber bands. The thought of lying on top of what looks likes a $50 sea anemone is something that just doesn't ......
Continue reading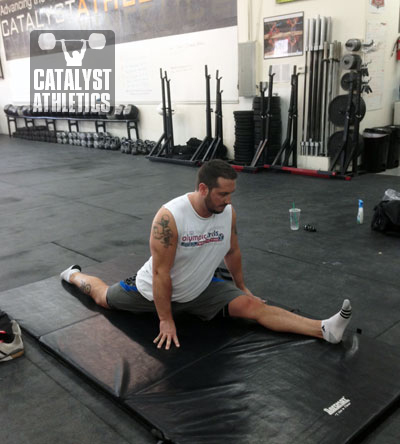 Shut Up, Flexibility
A couple weeks ago, I sent out a newsletter in which I talked about the secret to flexibility being no secret at all, but simply commitment over time to work and consistency. In other words, there are no magic tricks or secret formulas or fancy gadgets that will suddenly increase your flexibility without any work. I think a lot of people waste inordinate amounts of time reading, watching videos, p......
Continue reading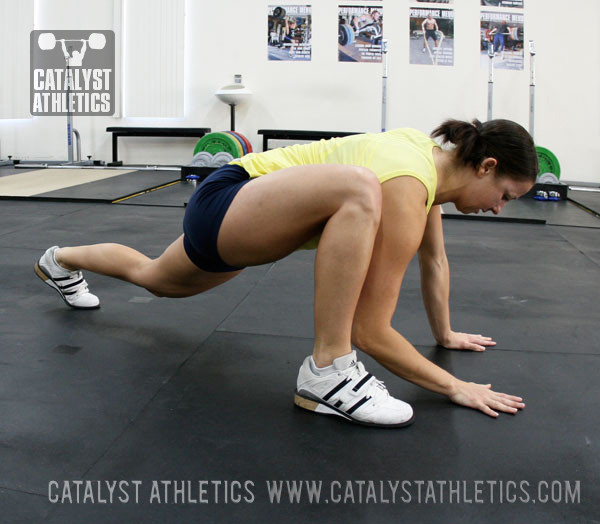 The Superhero Complex: Stretch & Activate Easily for Squats
Easily the most common problem people bring up with regard to squatting is an inability to maintain the arch in their backs as they sit into the bottom position. This is not a complex problem, but that doesn't mean it's easy to fix. Improving flexibility can be a long and tedious process, but the sooner you commit to it, the sooner you'll get some traction and see progress. Be......
Continue reading
The Russian Baby Maker: The Best Hip Stretch You've Never Heard Of
I've mentioned the Russian Baby Maker a few times now on the website but have only managed to describe it briefly within a long article about warming-up. It's a bit tough to describe without images and the name is sufficiently intriguing enough to generate quite a few requests for more information (Yes, I named it; no, I won't explain. You may be assured it's funny.) The most import......
Continue reading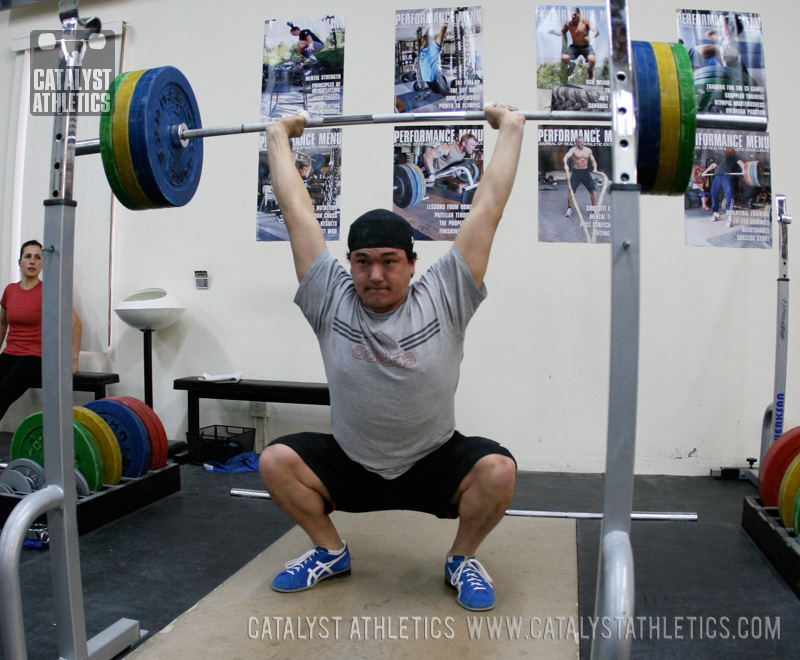 Flexibility for the Overhead Squat
Bob Asks: Sorry if this is covered elsewhere, but I could not find it in Greg's book (which I own) or on the website. I am 44 and just starting O-lifting lessons here in Singapore. Working the normal progressions w/ a shower curtain rod. Am nearly 6'5", so flexibility is a problem for me…have made reasonable progress with the legs, but seem to be stuck on my overhead s......
Continue reading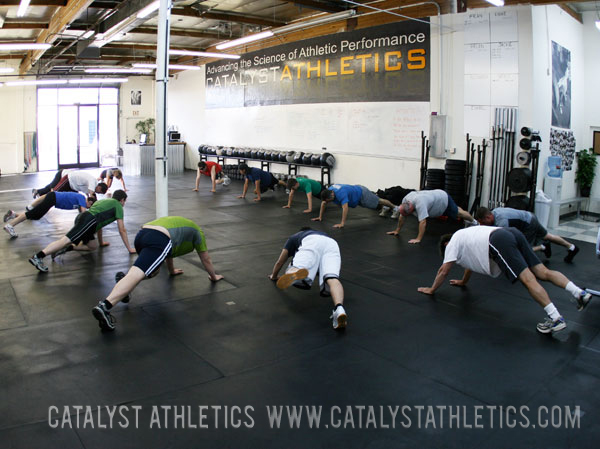 Catalyst Athletics: Our Warm-up is a Warm-up
Somewhere along the line, warming up became remarkably complicated. And for some, the line between warming up and training has faded to the point that I find myself compelled to say things like the title of this post. Whenever you start getting confused about what to do, a reliable course of action is to ask yourself a simple question: Why? What is the purpose of this? What am I trying to accom......
Continue reading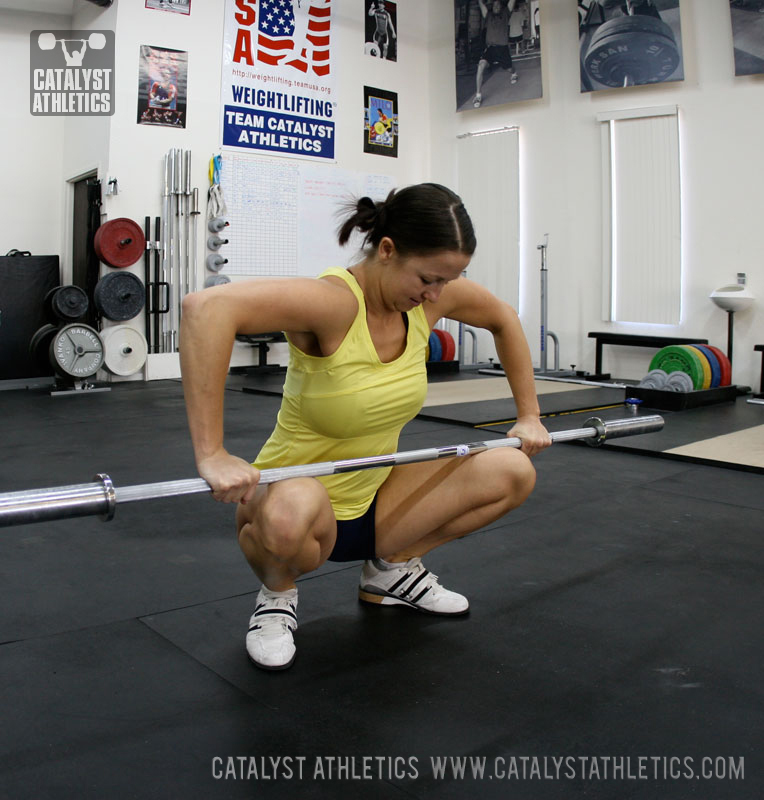 Sample Weightlifting Flexibility Program
Flexibility is easily the biggest limiter for athletes starting to use the Olympic lifts. Of course, stretching is also the most boring thing you can possibly do. Getting someone flexible is less about what works and what doesn't, and more about what the individual will actually do consistently for the time it takes to get the job done. I've found too that giving suggestions is rarely adequat......
Continue reading
---
Article Categories
Olympic Weightlifting
General Training
Quick Tips
Ask Greg Everett
Mobility & Training Preparation
Nutrition
Editorial
Equipment
---
---
---