Tuesday December 29 2009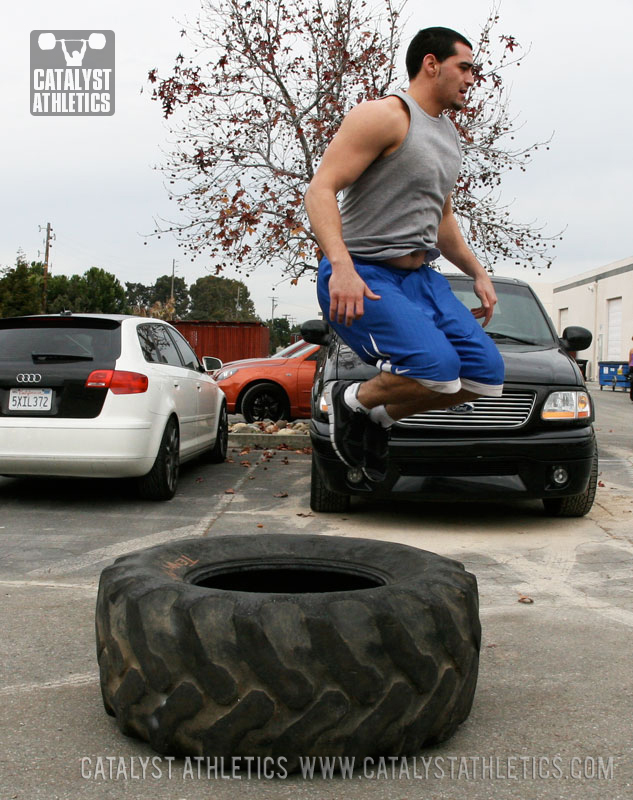 Mid-hang snatch high-pull + mid-hang muscle snatch - 40% (of snatch) x 2+2 x 3 sets;

1 min rest

Clean & jerk - 60% x 2 x 3; 65% x 2 x 2; 70% x 1 x 3;

1 min rest
4 sets:
10 GHR (starting with hip and back extension);
no rest
10 sandbag halfmoons (5/side) - 20% BW;
30 sec rest
Notes: On mid-hang high pull + mid-hang muscle snatch, focus on elevating the elbows maximally; the muscle snatch should feel just like the high pull, but finish with a turnover.
Questions? Get answers here or post in comments.
12 Comments
Neil Scholtz
2009-12-29
M/25/76kg/178cm

Mid-hang snatch high pull + mid-hang muscle snatch 35kg x 2+2 x 3
Clean & Jerk 66kg x 2 x 3, 72kg x 2 x 2, 78kg x 1 x 3

Metcon
Did 3 sets of:
10 x 10m shuttle sprints; 1min rest (25 sec per round of shuttles)
Gordo
2009-12-29
Snatch skill couplet 60lb
Clean and Jerk 122lbx2x3, 135lbx2x2, 142lbx1x3

4 rounds of
GHR
Sandbag half moons 30lb
5:15 (including 30 second rest intervals)
work splits: :53, :55, :58, :59
Kyle Pichie
2009-12-29
Snatch skill couplet 70lb
Clean and Jerk 135lbx2x3, 140lbx2x2, 150lbx1x3

3 rounds of
5rep 225# DL
10 Pushups
15 Double Unders

2:16mins
Scott Pauly
2009-12-29
43yom/200lbs

Mid-hang snatch high-pull + mid-hang muscle snatch -
36kg x 2+2 x 3 sets; 1 min rest

Clean & jerk -
66kg x 2 x 3;
71.5kg x 2 x 2;
80kg x 1 x 3; 1 min rest

4 sets:
10 GHR (starting with hip and back extension); no rest
10 sandbag halfmoons (5/side) - 20% BW; 30 sec rest
TeddyB_SC
2009-12-29
MH Sn high-pull + MH muscle snatch - 34

Clean & jerk -
63
68
73
Ian Carver
2009-12-29
MH Sn high-pull + MH muscle snatch
40% x2+2x3 = 85 Lbs

Clean & Jerk
60% x2x3= 155 Lbs
65% x2x2= 165 Lbs
72% x1x3= 185 Lbs
Rice Owls Catalysts
2009-12-29
C: SnHP+MS: 85# C&J: 135,150,160
Dad: SnHP+MS: 65 OHS4X5: 65#

WOD: no GHR and no sandbag so we did:
3 rds for time: 10 95# OH lunge, 10 40# db cross chop
C: 5:27
JCW
2009-12-30
snatch stuff- 85 lbs
c+j- 155, 170, 185 lbs
Kimi Kanda
2009-12-30
F/43/81kg/162cm
sleep trouble-I'm a day behind

MHSHP + MHMS: 30kg
C&J: 20/30/40kg

metcon:
20 min elliptical
1 km row w/30 second sprint + 30 sec rest (5 min)
4 x 10 back extensions
scott craig
2009-12-30
mid hang snatch high pull + mid hang muscle snatch - 50kgx2+2x3
clean & jerk - 60kgx2x3; 65kgx2x2; 70kgx1x3 (went too light - still feeling out my arms)

4 rounds of;
10 GHR
10 sandbag half moons (50#)
Alexander Miezin
2009-12-31
22 years old, 5'9, 185 lbs.

Mid hang snatch high pull + Mid hang muscle snatch: 95 lbs.x2+2x3
Clean and Jerk: warm-up 100 lbs. x 3,3 working sets: 110 ls. x 3,3 120 lbs. x 2,2 135 lbs. x 3

3 sets of:

10 GHR
10 medicine ball half moons
LK
2010-01-01
done 01/01/10

51F/125/64"

mid-hang HP+mid-hang SN :45#
C&J: 55#/60/65

4rnds (modified)
10 back ext
10 half-moons (alt sides) 20#DB
Workouts Menu
Workouts Home
Workouts Help
Exercise Library
Training Programs
Starter Program
Tomorrow's Workout
Text Only
Custom Program Design
---
---
Advertise With Us