Monday March 22 2010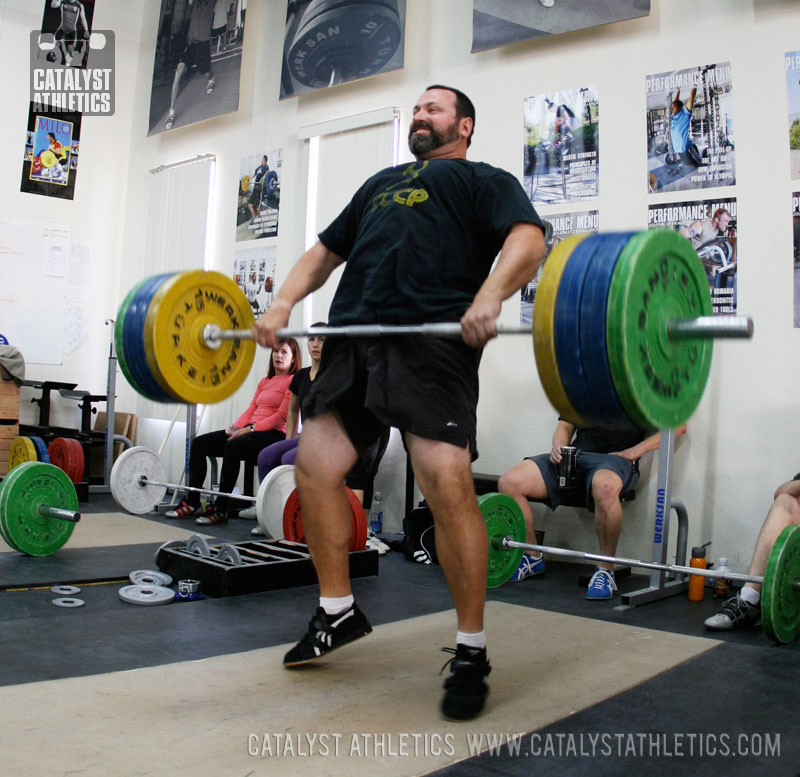 Snatch - 75% x 1 x 3
Snatch pull - 97% x 3 x 3
Snatch deadlift - 105% x 3 x 3
Front squat - 81% x 3 x 5; follow each set immediately with 3 box jumps
GHB sit-ups - 60 total
Week 3
16 Comments
Chris Bullard
2010-03-22
Snatch- 100/125/150/175M/175/175/175/185/185m/185m/185/ Snatch Pull-205x3/225x3x2 Snatch Dead Lift-245x3x3 Snatch Balance-135/165/105/215m/215m/205/215 Front Squat-225x3/245x3x3/255x2x2/265x1 +3x28"Box Jump Each Set Metcon: 4 rds-15 GHDSU/10x24"Box Jump 4:33
Brian Reckdenwald
2010-03-22
Snatch - 75% x 1 x 3 155 lbs x 1 x 3 Snatch pull - 97% x 3 x 3 200 x 3 x 3 Snatch deadlift - 105% x 3 x 3 215 x 3 x 3 Front squat - 81% x 3 x 5; follow each set immediately with 3 box jumps 250 x 3 x 5; 30" box GHB sit-ups - 60 total 25-20-15
JP Griffin
2010-03-22
Snatch - 75%(115) x 1 x 3 Snatch pull - 97%(145) x 3 x 3 Snatch deadlift - 105%(160) x 3 x 3 Front squat - 81%(155) x 3 x 5 GHB sit-ups - 60 total 20, 15, 15
gios
2010-03-22
Sn - 80# 1x3 Sn-P - 105# 3x3 Sn-Dl- 110# 3x3 FS - 165# 3x5+3 bj (32" box) GHD sit-ups 60 total = 30,20,10(5 sec. rest)
Sean Waxman
2010-03-22
Matt Forman?...Geez Louise. Dont you guys have any standards at your gym. I hope everybody hid their wallets and little sisters.
Greg Everett
2010-03-22
Cut your hair, hippie!
Sean Waxman
2010-03-22
Im letting my freak flag fly!
Greg Everett
2010-03-22
Sweet. Looks like that tricep has healed - saw some nice CJ videos of you recently.
Sean Waxman
2010-03-22
Its getting there. Its difficult to plan training for the elderly. Every day is a freaking adventure.
Greg Everett
2010-03-22
It's even harder in the absence of strength - I recently turned into a little girl by accident. Taking a while to come back.
Sean Waxman
2010-03-22
Your preaching to the choir. Its really been close to 10 years since I trained seriously. Its bizarre the places that get weak when you are not consistently stressing your body. I am taking it slow. Those C&J's were stupid. I shouldn't of done them. Ill spend the next year conditioning my connective tissue with 60-80% intensities in the lifts and squats and 80-100%+ in the pulls. We will see what happens. How is business?
Greg Everett
2010-03-22
Don't be a diaper baby. You need to max every day.Business is good. New top secret project in the works (you may have heard about it if you talk to Takano regularly). Pretty pumped about that.
sean Waxman
2010-03-22
He doesn't tell me shit! lol. Whats going on
sean Waxman
2010-03-22
He doesn't tell me shit! lol. Whats going on
Erik Reckdenwald
2010-03-22
Snatch - 75% x 1 x 3 135# lbs x 1 x 3 Snatch pull - 97% x 3 x 3 175# x 3 x 3 Snatch deadlift - 105% x 3 x 3 190# x 3 x 3 Front squat - 81% x 3 x 5; follow each set immediately with 3 box jumps 225# x 3 x 5; 36" box GHB sit-ups - 60 total 35+25
Alex
2010-03-22
5'10", 175 lbs., 17 years Snatch - 75% x 1 x 3 115# lbs Snatch pull - 97% x 3 x 3 200# lbs Snatch deadlift - 103% x 3x3 275# lbs 1x3, 275# lbs 1x1, 255# lbs 2x3 Front squat - 81% x 3 x 5 185# lbs (form issues) (Each set chased by 3 box jumps onto 24" box, 3 vertical leaps, 3 horizontal leaps) GHB situps - 60 nonstop easy
Workouts Menu
Workouts Home
Workouts Help
Exercise Library
Training Programs
Starter Program
Tomorrow's Workout
Text Only
Custom Program Design
---
---
Advertise With Us