Thursday March 25 2010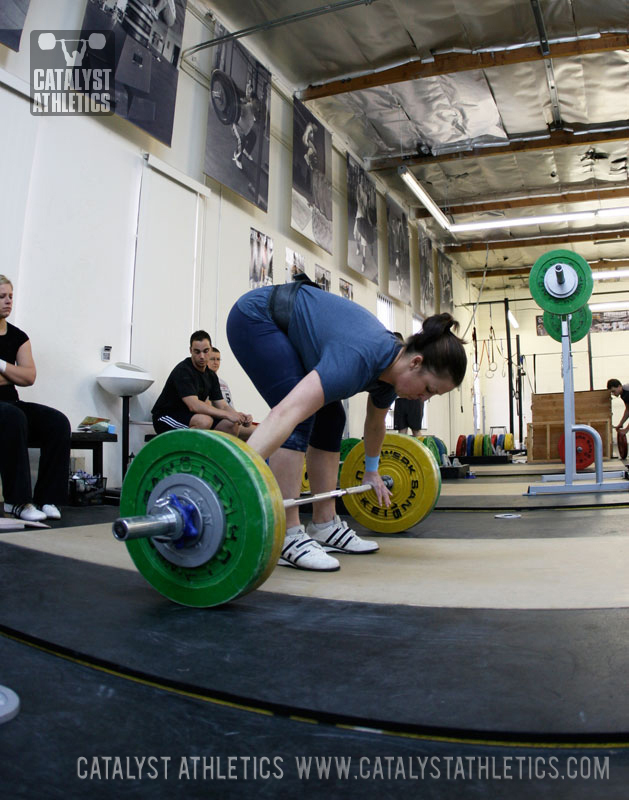 Jerk - 80% x 2 x 2; 85% x 2 x 2
Jerk dip squat - 90% (of jerk) x 3; 95% x 3; 100% x 3
Snatch push press - 70% x 5, 75% x 5, 80% x 5 x 2
3 sets:
A1. Ring push-ups x AMRAP; no rest
A2. 20 walking suitcase lunges (1 db at side); 30 sec rest
Questions? Get answers here or post in comments.
3 Comments
Rice Owls Catalysts
2010-03-25
C: J:190#,200#, JDS:215#,225#,235#, SPP:125#,135#,140# - 18,10,9 on the ring pushups, 70#DB
BG: J:150#,160#, JDS:170#,175#,185#, SPP:95#,105#,115# - 11,12,10 on the ring pushups, 40#DB

Thumbs are not too bad today - but i found out there is no snatching to be done without the hook grip.
Gios
2010-03-25
J - 125;135#
JDS- 140;150;155#
SPP- 75;80;85#

3 rds:
Ring p.u. AMRAP: 20;15;9
20 lunges (kb 16kg/arm) 1:55;4:15;6:15 tl time incl. rest
Brian Reckdenwald
2010-03-25
Jerk - 80% x 2 x 2; 85% x 2 x 2
215 lbs x 2 x 2; 225 x 2 x 2

Jerk dip squat - 90% (of jerk) x 3; 95% x 3; 100% x 3
240 x 3; 255 x 3; 265 x 3

Snatch push press - 70% x 5, 75% x 5, 80% x 5 x 2
145 x 5; 155 x 5; 165 x 5 x 2

3 sets:
A1. Ring push-ups x AMRAP; no rest - 15, 13, 9
A2. 20 walking suitcase lunges (1 db at side); 30 sec rest - 55 lb DB
Workouts Menu
Workouts Home
Workouts Help
Exercise Library
Training Programs
Starter Program
Tomorrow's Workout
Text Only
Custom Program Design
---
---
Advertise With Us