Tuesday April 6 2010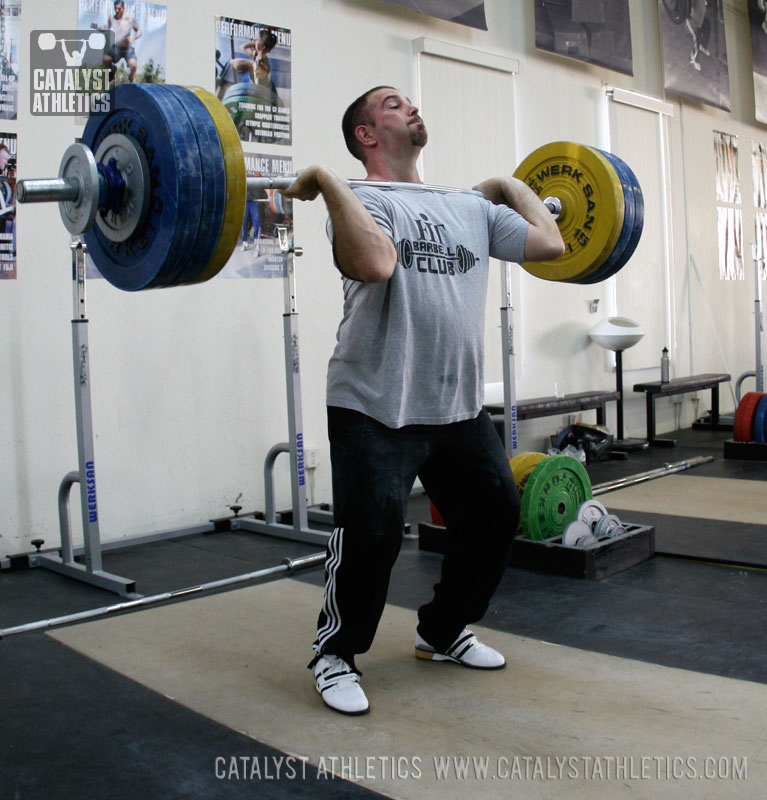 Jerk - max for day; 80% of that x 1 x 3
Muscle snatch - max for day
Power snatch - 80% x 1 x 3
Push press - 84% x 3 x 3
3 sets; no rest:
10 KB swings
2 rope climbs
Questions? Get answers here or post in comments.
4 Comments
Rice Owls Catalysts
2010-04-06
C: J:235PR/185, MS:135#, PS:155#, PP:195(fail 3rd rep on sets 2,3)
BG: J:ShoulderPress:145#, MS:115#, PS:115#, PP:HSPUwork

WOD:BG did 3rds 10 dbswings55#, I did 3 rds 14 towel pullups

Pretty worn down, didn't want to do the whole mini-wod. Played racquetball last night, might be the extra volume doing me in. My jerk was a PR at this weight, havent put up 235 since about a year and 20# ago.
Brian Reckdenwald
2010-04-06
Jerk - max for day; 80% of that x 1 x 3
265 lbs; 215 x 1 x 3

Muscle snatch - max for day
160

Power snatch - 80% x 1 x 3
140 x 1 x 3

Push press - 84% x 3 x 3
175 x 3 x 3

3 sets; no rest:
10 KB swings
10 rope pull-ups (short rope)
Erik Reckdenwald
2010-04-06
Jerk - max for day; 80% of that x 1 x 3
225#; 185# x 1 x 3

Muscle snatch - max for day
145# (PR)

Power snatch - 80% x 1 x 3
125# x 1 x 3

Push press - 84% x 3 x 3
165# x 3 x 3

3 sets; no rest:
10 KB swings
10 pull-ups
Alex
2010-04-06
5'10", 175 lbs., 18 years

Jerk - max for day; 80% of that x 1 x 3
215# (PR by #5); 180# x 1 x 3

Muscle snatch - max for day
145# (PR by #10)

Power snatch - 80% x 1 x 3
115# x 1 x 3

Push press - 84% x 3 x 3
180# x 3 x 1 (sort of overloaded and settled for doing singles)

3 sets; no rest:
10 DB swings at 75#
Pullups to failure x2 (7,3; 5,2; 2,2)
Workouts Menu
Workouts Home
Workouts Help
Exercise Library
Training Programs
Starter Program
Tomorrow's Workout
Text Only
Custom Program Design
---
---
Advertise With Us