Thursday April 8 2010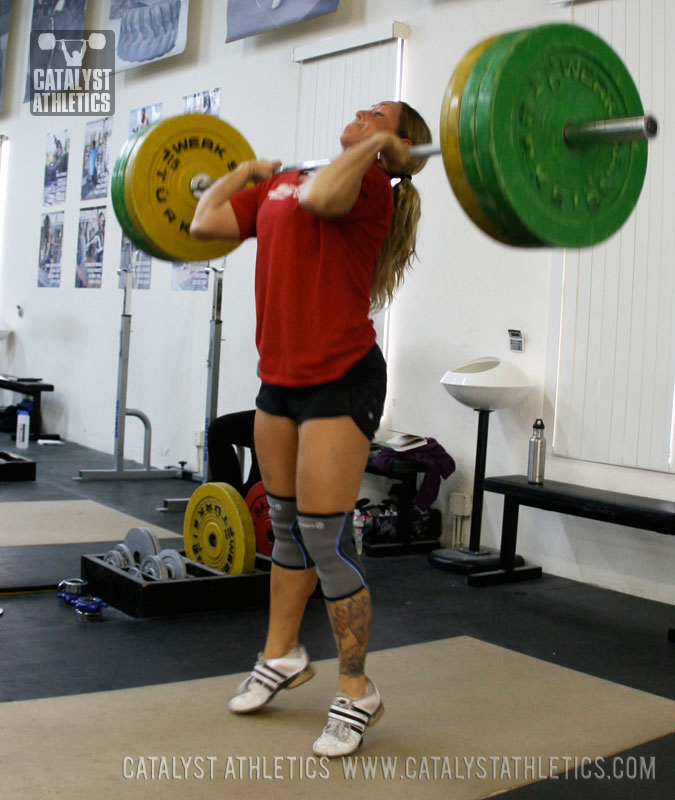 Mid-hang snatch - 70% x 2 x 3; 65% x 3 x 2
Jerk - 75% x 3 x 3
Snatch balance - max for day; 80% of that x 1 x 3
3 sets:
10 Hang DB muscle snatch; no rest
Dips x AMRAP; 30 sec rest
Questions? Get answers here or post in comments.
4 Comments
Michael Miller
2010-04-08
http://www.youtube.com/watch?v=aRInbCcwXM0 there should be no excuse to not working hard. Sad part is these guys will probably be out snatching and cleaning most people pretty soon.
Rice Owls Catalysts
2010-04-08
C: MhSn: 135/125, J:185(from floor), SnB:185PR
BG: MhSn: 95/85, J=3 plates elevated HSPU, SnB=3RMOHS:125PR
MiniWOD:50#DB, 17,8,6 ring dips
BG:35#DB, 13,8,5 ring dips

ALMOST got 195 snatch balance, lost it on the way back up.
Brian Reckdenwald
2010-04-08
Mid-hang snatch - 70% x 2 x 3; 65% x 3 x 2
145 lbs x 2 x 3; 135 x 3 x 2

Jerk - 75% x 3 x 3
205 x 3 x 3

Snatch balance - max for day; 80% of that x 1 x 3
225; 185 x 1 x 3

3 sets:
10 Hang DB muscle snatch - 35 lb DBs; no rest
Dips x AMRAP; 30 sec rest

12, 8, 5
Erik Reckdenwald
2010-04-08
Mid-hang snatch - 70% x 2 x 3; 65% x 3 x 2
125# x 2 x 3; 120# x 3 x 2

Jerk - 75% x 3 x 3
175# x 3 x 3

Snatch balance - max for day; 80% of that x 1 x 3
175#; 145# x 1 x 3

3 sets:
10 Hang DB muscle snatch - 30 lb DBs; no rest
Dips x AMRAP; 30 sec rest

10, 5, 3
Workouts Menu
Workouts Home
Workouts Help
Exercise Library
Training Programs
Starter Program
Tomorrow's Workout
Text Only
Custom Program Design
---
---
Advertise With Us