Wednesday April 14 2010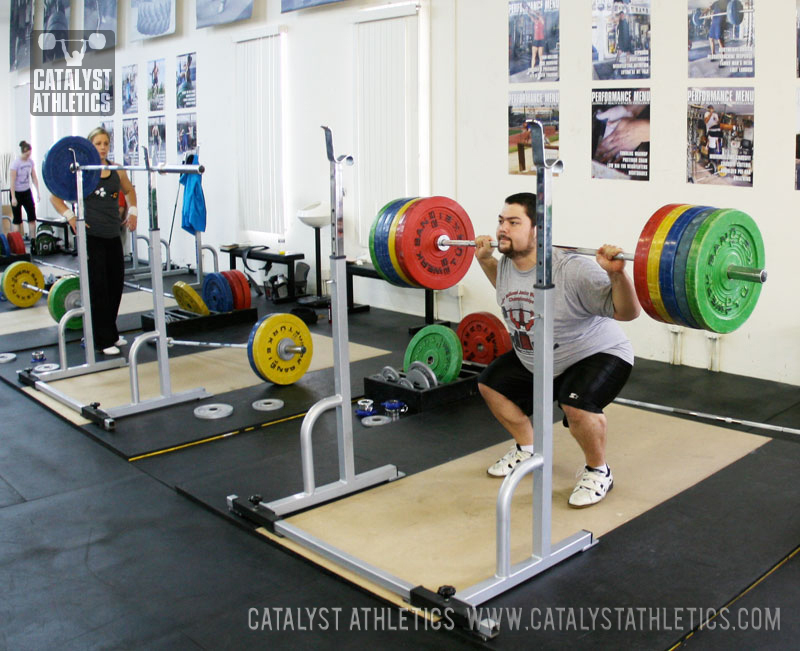 Snatch - 65% x 2 x 4
Clean & jerk - 65% x 2 x 4
Snatch push press + overhead squat - 65% (of snatch) x 3 + 3 x 4
Back extensions - (unweighted) 3 x 10-15
Questions? Get answers here or post in comments.
4 Comments
Scot
2010-04-14
Snatch 50kgs/110lbs
Clean and Jerk 62.5kgs/137lbs
Snatch Push Press + OHS 50kgs/110lbs

Then -
CrossFit NI WOD
Snatch Balance -
80% x 2 62.5kgs/137lbs, 85% x 2 65kgs/143lbs, 90% x 1 70kgs/154lbs

100 push ups
Brandon Phillip
2010-04-14
Love this programming, been using this program since January to train for the dirty south regionals in May. Since January my snatch has gone from 225 to 250 and my clean and jerk went from 290 to 305. I have also been breaking PR on metcons. Feeling great and have a lot more confidence heading into regionals. Thanks.
Brian Reckdenwald
2010-04-14
Snatch - 65% x 2 x 4
135 lbs x 2 x 4

Clean & jerk - 65% x 2 x 4
175 x 2 x 4

Snatch push press + overhead squat - 65% (of snatch) x 3 + 3 x 4
135 x 3 + 3 x 4

Back extensions - 3 x 15
Tad
2010-04-14
Warmup: Tall Snatch + Snatch Balance 3 + 3 x 6 #45 (lockout needed work)

Snatch 65% x 2 x 4 121#
C&J 65% 2 x 4 165#
Sn Push Press + OHS 3 + 3 x 4 121#

Extensions 3 x 15
Workouts Menu
Workouts Home
Workouts Help
Exercise Library
Training Programs
Starter Program
Tomorrow's Workout
Text Only
Custom Program Design
---
---
Advertise With Us