Wednesday April 21 2010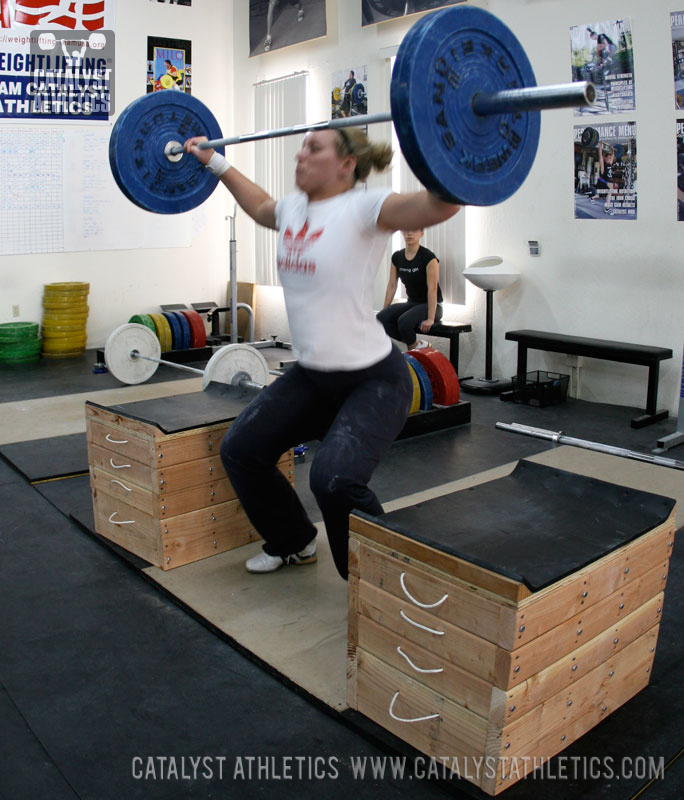 Snatch - max for day; 90% of that x 1 x 2
Clean & jerk - max for day; 90% of that x 1 x 2
Back squat - 80% x 3 x 3
Ab wheel - 3 x 15
Questions? Get answers here or post in comments.
6 Comments
Ted
2010-04-21
Any chance of a jerk block tutorial on the small blocks is the pic?
Greg Everett
2010-04-21
Ted - Little chance. Just do the same as the jerk blocks, but put the tabs on the tops instead of bottom of the stackers. For the top stacker, screw down some 3/4" ply and then a board cut at a 45 degree angle on the front and back. Then rubber on top of that.
Brian Reckdenwald
2010-04-21
Snatch - max for day; 90% of that x 1 x 2
210 lbs; 189 x 1 x 2

Clean & jerk - max for day; 90% of that x 1 x 2
265 PR!; 240 x 1 x 2

Back squat - 80% x 3 x 3
300 x 3 x 3

Ab wheel - 3 x 15
Tyler
2010-04-21
Snatch - 190, 170x1x2
C&J - 225# (245 is PR), Stopped here after failing @ 240, biceps hurt, feels like tendonitis may be lingering around still.

Back Squat, 260x3x3
Tad
2010-04-21
Snatch - max, 70kg (pr); 90% x 1 x 2, 63kg
CJ - max, 90kg; 90% x 1 x 2, 82kg
BS - 80% x 3 x 3, 100kg
Ab wheels of death
Erik Reckdenwald
2010-04-22
Snatch - max for day; 90% of that x 1 x 2
155# lbs; 145 x 1 x 2

Clean & jerk - max for day; 90% of that x 1 x 2
215#; 195 x 1 x 2

Back squat - 80% x 3 x 3
265# x 3 x 3

Ab wheel - 3 x 15
Workouts Menu
Workouts Home
Workouts Help
Exercise Library
Training Programs
Starter Program
Tomorrow's Workout
Text Only
Custom Program Design
---
---
Advertise With Us