Thursday May 27 2010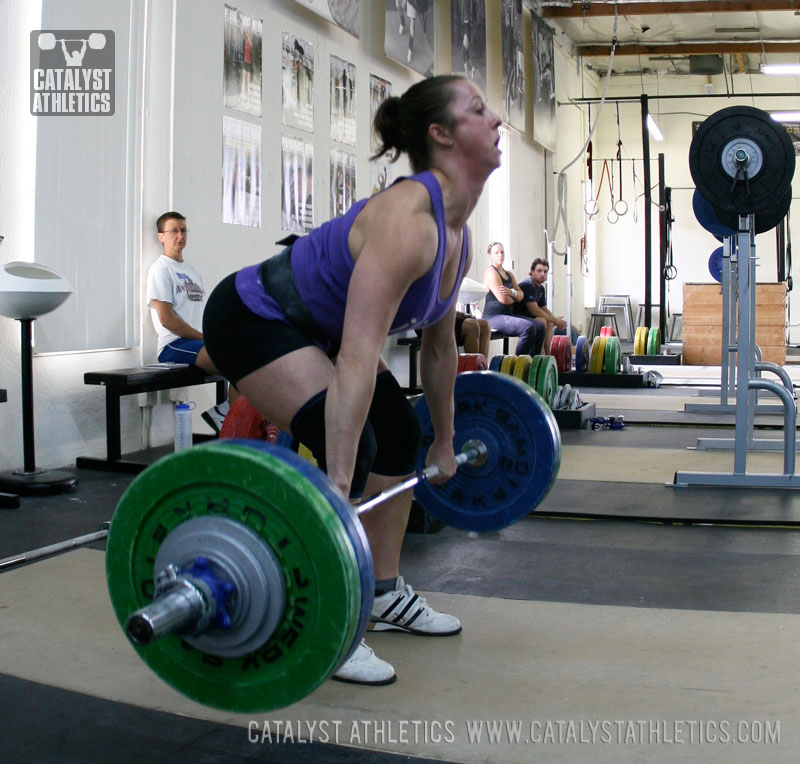 Back squat - 80% x 3 x 6
Bulgarian split squat - 3 x 5 (light!)
RDL - 4 x 5
3 sets; no rest:
A1. GHR x 10
A2. Standing plate twist x 20
14 Comments
Björn Uddenfeldt
2010-05-27
Question: I have no blocks to lift from, any good subs for this or just start building? Btw, just starting out with week 1 (a few days behind).
Andrew K.
2010-05-27
Bjorn, I use a plyobox and stack plates on that to get the desired height. Works perfect for me.
Greg Everett
2010-05-27
Bjorn - Going from the hang instead is fine.
wes hendricks
2010-05-27
I was going to start following these workouts on monday. Should I start a week behind at the beginning of the cycle or just jump right in at week 5?
Greg Everett
2010-05-27
Wes - Start at the beginning of the cycle.
Wes hendricks
2010-05-27
Greg Thank you for the help I really appreciate it. I was bummed this weekend got cancelled at Crossfit Performance. I am going to be sure to signup for another one right when one becomes available in my area.
Alexander Miezin
2010-05-27
Back squat - 80% x 3 x 6 240 lbs. x 3 x 6 Bulgarian split squat - 3 x 5 (light!) 30 lb. Dumbbells x 3 x 5 RDL - 4 x 5 135 lbs. x 5, 185 lbs. x 5,5,5 3 sets; no rest: A1. GHR x 10 A2. Standing plate twist x 20 Did the plate twists with a 45 lb. plate
Erik Reckdenwald
2010-05-27
Back squat - 80% x 3 x 6 265# x 3 x 6 Bulgarian split squat - 3 x 5 (light!) 95# x 3 x 5 RDL - 4 x 5 185# x 5 x 4 3 sets; no rest: SUBBED Good Mornings x 10 @ 95# A2. Standing plate twist x 20 @ 45#
Brian Reckdenwald
2010-05-27
Back squat - 80% x 3 x 6 300 lbs x 3 x 6 Bulgarian split squat - 3 x 5 (light!) 95 x 3 x 5 RDL - 4 x 5 185 x 4 x 5 3 sets; no rest: A1. Good morning x 10 - 95 lbs A2. Standing plate twist x 20 - 45 lbs
Nick L
2010-05-28
Back squat - 80% x 3 x 6 270 lbs x 3 x 6 Bulgarian split squat - 3 x 5 (light) 115 x 3 x 5 RDL - 4 x 5 115 x 4 x 5 3 sets; no rest: A1. GHR x 10. Subbed for leg curl 45# x 10 A2. Standing plate twist x 20 - 35 lbs
JHo
2010-05-28
Back squat 143k Bulgarian Split Squat 40k(balance was the challenge, try 50 next time) RDL 60k-80k-100k-120k GHR with hip ext 10 Standing plate twist 20 100# plate 3 rounds-3:43
Björn Uddenfeldt
2010-05-31
Back squat: 100 kg (felt easy) BSSquat 2x31.5 kg DB (way to heavy) + 4 sets 2x21.5 kg DB RDL: 60 kg (first time trying, lower back sore) 45° GHR Plate twist 20 kg Ca 3 min
jongb
2010-07-04
Back squat - 315 x 3 x 6 Bulgarian split squat - 45 x 1 x 5, 75 x 2 x 5 RDL - 225 x 4 x 5 3 sets; no rest: A1. GHR x 10 (actually did back extensions on a jancky rigged-up GHD) A2. Standing plate twist 45lbs x 20
Andrew Karlovich
2014-04-06
Back Squat 260# Bulgarian Split Squat 90# (DBs) RDL 225#
Workouts Menu
Workouts Home
Workouts Help
Exercise Library
Training Programs
Starter Program
Tomorrow's Workout
Text Only
Custom Program Design
---
---
Advertise With Us