A New Year at Catalyst Athletics

I'm starting off 2013 sitting in my backyard with a cup of coffee enjoying the sun and a rare day off. I tend not to be a very publicly sentimental fellow, but I have to say 2012 was an incredible year and I'm more excited for 2013 than I have been for any other year previously. I don't make New Year's resolutions, but there is something undeniably meaningful about beginning a new phase of life each year that I won't pretend doesn't affect me.
This last year has been an extremely busy one, and I've been a bit beat up by my relentless schedule. That said, I can't and won't complain about being busy because what keeps me busy is running a business that allows me to do what I love for a living and help a lot of good people do what they love even better. Catalyst Athletics has been in something of a transitional phase for the last year or so as we grow toward a tipping point in a sense, after which I hope to be able to free myself from much of the day to day tedium and increase the amount of time I have available to focus on the creative projects that fuel the business in the first place.
In 2012, I wrote my second book,
Olympic Weightlifting for Sports
, which has been as successful as I could have hoped based on the feedback we get from readers. We also published coach Bob Takano's first book,
Weightlifting Programming: A Winning Coach's Guide
, which has also been received extremely well. Not only that, but I finally talked myself into accepting the realties of the times and providing digital formats of our books despite my personal aversion to such abominations. The odd thing is that historically, we have been on the forefront of weightlifting and fitness on the internet, arguably always having one of the best websites and the best content out there—but as someone who has been publishing books since 2000, well before this current era of digital publishing, and someone who finds something special about the look and feel of a printed volume, I have been quite the curmudgeon about moving our book publishing into the new age. Let's just say it's a big personal step for me. But looking at it critically, being able to provide affordable access to what I consider some of the best weightlifting resources out there to our international readership is very rewarding. If some of you want to scroll through a book on a screen, that's your business. My business is continuing to provide the best content possible for those various devices.
2012 also finished the third year of the
Paleo Solution Podcast
that I have been co-hosting since episode 70 with Robb Wolf. Robb asked me to jump on board in early 2011, and we have been recording every week since. Not only has this been a great experience because of the amazing feedback we get from our listeners, but I'm grateful to have a weekly chance to talk with my best friend, who is as busy as me and to whom I would likely otherwise get to speak very rarely. Besides, if I didn't listen to Robb's answers each week while recording and editing, I would never learn anything new about nutrition. I met Robb while living in Chico, CA in 2003 where he had recently opened the fourth CrossFit affiliate gym in history. That became the source of so much of the opportunity that has allowed me to get where I am today, so I'm forever grateful that Robb and his wife Nicki saw and trusted in my abilities and asked me to partner with them in the gym. It's an honor and a privilege to get to work with people like them.
Robb, Nicki and I started the
Performance Menu Journal
back then. I still remember very clearly sitting in my office discussing its creation with them. We have now just wrapped up the journal's eighth year of publication, and 2013 will see its 100th issue. The Performance Menu has been a background for everything Catalyst Athletics has done from the start, and its consistency and longevity still amaze me on a daily basis. Thankfully a few years ago I was able to hire managing editor Yael Grauer, without whom we absolutely would not have been able to make it this long with everything else I was doing.
2012 was also somewhat of a breakout year for the Catalyst Athletics weightlifting team. I have been chipping away at building a team since we opened our current facility four years ago. It's a long and often frustrating process, one that never ends, really, and it has honestly been incredibly exhausting trying to balance my time between coaching, running a business, and trying to maintain some semblance of athleticism myself along the way. But in 2012 we gained some very talented new lifters who put their trust in me as a coach and in the support of the team we have built, and I believe we tipped into a new phase that will take us a long way. The 2012 American Open in Palm Springs at the beginning of December was an amazing experience for me as a coach, and I couldn't be prouder of my lifters and my team as a whole. We brought a team of 12 lifters, which included me—the first meet in which I had competed in about five years. It was certainly not a performance I was particularly proud of in isolation, but considering the circumstances, I was relieved to even make a total at all. Most importantly, most of the team had PR performances and great meets, and our women's team took second place, missing first by only three points. It was definitely an indicator of great things to come for us.
I have a lot of big things planned for 2013. If you've followed Catalyst Athletics for much time at all, you probably know I don't talk about projects before they're finished. I haven't changed in the new year. But I will say that the things I'm working on to be launched in 2013 will be well worth the suspense.
Thank you all for your continued support of Catalyst Athletics and of me personally. Having such an amazing group of readers and supporters is more gratifying than I can describe, and I am thankful every day that I can continue doing what I do. Best of luck to all of you in the new year, and thank you again.
You May Also Like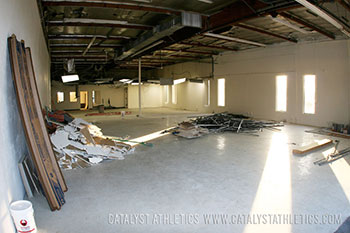 9 Comments
Nathan Greaves
2013-01-01
Thank YOU for your knowledge. I owe many of my PR's to this awesome website and your books and I'm sure I'll owe many more.
Matt Foreman
2013-01-01
Great post man, and I think it's good to be publicly sentimental every once in a while. Keep up all the great work.
Heather
2013-01-02
Thanks to you, Aimee and the whole Catalyst team! I visited in July and will be at the seminar in March for more learnings. Great place to train!
David Osorio
2013-01-02
Thank you for another year of great content, Greg. Keep up the solid work and we'll keep reading it on the east coast.

send my best to Aimee
Jim Malone
2013-01-02
You work your ass off Greg, and you deserve all the good things that have and will come to you. I appreciate your help and your allowing me my small share in the Catalyst world! I'm looking forward to a great 2013 for all of us!
Frank
2013-01-02
Your passion for the sport and to teach it is evident in what you do. Thanks!
Magnus
2013-01-02
I have to agree with all the things being said above. I thank you from the bottom of my heart for this beautiful and knowledge-rich website which you have created. It has given me the opportunity to start with weightlifting, and I love it! I have a debt to repay you for being able to share information that can help an guy in the north of scandinavia to do the thing he loves!

LeRoy
2013-01-05
Keep putting out great stuff, it doesn't matter the format. It is valuable. Thank you.
Brandon
2013-01-05
Thank you for teaching me more in four or so months than I've learned in six years of research and training!