-
Recipes
(
http://www.catalystathletics.com/forum/forumdisplay.php?f=32
)
| | |
| --- | --- |
| Dave Van Skike | 03-04-2009 02:23 PM |
---
Brisket. Whatcha Got?

Gant's training Journal got me thinking about Brisket...that led me to thinking of other bits of cheap lean meat, such as the often misnamed London Broil.

Any good recipes?

To tenderize Y/N?

Marinate for a 12 hours/24 hours?

Grill or stove?


You Texas Boys need to weigh in here.
| | |
| --- | --- |
| Gant Grimes | 03-04-2009 03:07 PM |
---
As a Sopranos fan, the London Broil has a special place in my heart. But it's not my area.

Marinate: see below
Tenderize: nothing beyond lemon/lime. I just cut it into thin strips.
Grill or stove: I don't cook anything in the stove except pizza, lasagna, or other Italian fare.

If I have flank or skirt steak, I'm usually grilling fajitas. So a little lime or lemon, cumin, paprika, cayenne, and all the other usual crap. I score it (most of the time) and marinate it overnight if I think about it. I suppose it's best to do it at least 12 hours, but if I'm doing fajitas, that means I'm drinking lots of Tecate or Negro Modelo, eating lots of chips and queso, and frying lots of onions and peppers in oil. The guests seem to enjoy them, but my taste buds are incommunicado at that point.

I went the other direction once and marinated flank in teriyaki. It wasn't bad.

I don't know much beyond this, but I look forward to the discussion.
| | |
| --- | --- |
| glennpendlay | 03-04-2009 04:28 PM |
---
I never marinate. I do inject most of the meat I smoke with apple juice prior to throwing it into the smoker. Sometimes with brisket or pork shoulder, I will also inject some BBQ sauce into the meat...

And speaking of cooking methods... I got an upright gas powered smoker for Christmas. Now I love cooking with wood as much as anyone, but when your smoking... keeping the temp right for 8-10 hours is a pain. This thing is a breeze to use... you fill up the little tray at the bottom with the wood chips of your choice, fill up the water bowl with a mixture of water and any marinade mixture that you want to use to flavor the meet, then dump the meet on the tray, turn the gas on, and pretty much forget it for 8 hours.

Since getting this thing, I havnt used my oven hardly at all, and I havnt used my grill once. This thing makes great meat, is super easy to use, and I would heartily recomend one to anyone who likes to cook meat. Mine is from Cabelas.

glenn
| | |
| --- | --- |
| Dave Van Skike | 03-04-2009 04:35 PM |
---
Now we're getting somewhere.
Hot damn! what gauge needle do you need to get BBQ sauce into a pork shoudler?
Know anyone who's tried this?
Trash Can smoker
I have a DIY streak that has gotten me in some pretty deep shit but this looks simple.
| | |
| --- | --- |
| glennpendlay | 03-04-2009 04:49 PM |
---
I use an injector that I bought at Academy sports, its designed to inject stuff into meat.

That trash can setup looks like it would work fine. The only thing its missing is water, its best to have a bowl of water on top of the wood ships... it boils and evaporates as the meat cooks, and does two things, one is to keep the meat moist, and the second is to flavor the meet... you add a fair amount of what you otherwise would have used to marinate the meat to the water, as it evaporates it imparts this flavor to your meat.

also, there is no need to change the wood chips. I used to do this, but ran out one day, and found that it made virtually no difference. The first batch of wood chips, if soaked in water, smoke for about an hour or so before they are ashes... and it seems that this is plenty to give the meat all the flavor you want.

And the water really is important, ive tried it with and without. With water mades the meat much, much moister.

glenn
| | |
| --- | --- |
| George Mounce | 03-04-2009 05:01 PM |
---
Quote:
---
Originally Posted by glennpendlay (Post 52257)
And the water really is important, ive tried it with and without. With water mades the meat much, much moister.

glenn
---
If you want moist meat I suggest a mop sauce. Apple juice + Guinness is mine.. Mop on meat every hour. More flavor = more goodness. It's how the pro's roll.
I prefer dry chips versus wet. I don't care how painful it is, I'll take a day of checking the wood smoker every 15 min versus a gas smoker anyday. I want to smell like I just lived through a forest fire of good hickory or mesquite by the end of the day, and its a good excuse to sit near the fire and drink beer.
Good red meat is done with a rub 24 hours prior. Rub is your choice of seasonings. Wrap tightly in plastic wrap and throw in fridge overnight.
Poultry if smoked should always be brined for at least 8 hours...24 is better. I smoked 4 racks of ribs and 2 chickens the other day....absolute perfection. Poultry instead of using mop sauce I prefer butter with apple juice, and put a pan underneath to catch drippings.
I smoke with apple, hickory, and mesquite. All work great for flavors. If you want you can always add liquid smoke to your mop sauce for a little cheat.
| | |
| --- | --- |
| Derek Weaver | 03-04-2009 07:04 PM |
---
Calling Jay Cohen...
| | |
| --- | --- |
| Jay Cohen | 03-05-2009 08:29 AM |
---
Well, depends on how ya want to cook Brisket. Slow cooker, Grill, Smoke, all work great and there are tons of on line recipes.

Rub, Inject, Brine, BBQ Sauce, all work to enhance the taste.

While I like to Grill either direct or indirect heat, I'm saving up some bucks to buy a Cookshack electric smoker. While the die hard BBQ people might whine, nothing beats putting on a brisket, come back in 18 hours, maybe adding wood once, maybe not, and having a great piece of smoked meat. Read the reviews of these great smokers, you'd be hard pressed to find a better value.

BTW, the BBQ comps and festivals are firming up dates for 2009.

I plan to head to Rochester over the Memorial weekend and catch the RocRib Fest, and get this, I've signed up for a BBQ judging class, and that will get me a KCBS membership and I can judge future competitions. Is this a great country or what.

I plan to spend my summer doing some local Scuba diving and going on road trips to eat BBQ, plus I have the Senior games in York Pa in July.

Chow On.
| | |
| --- | --- |
| Jared Buffie | 03-05-2009 09:33 AM |
---
Jay,
Have you considered a Big Green Egg?
I swear by it... one load of lump charcoal can go lo and slo for 24 hours... a little pricey, but the lifetime warranty is neat. Also, temps can get up to 1000 degrees to sear steaks, etc...
egg: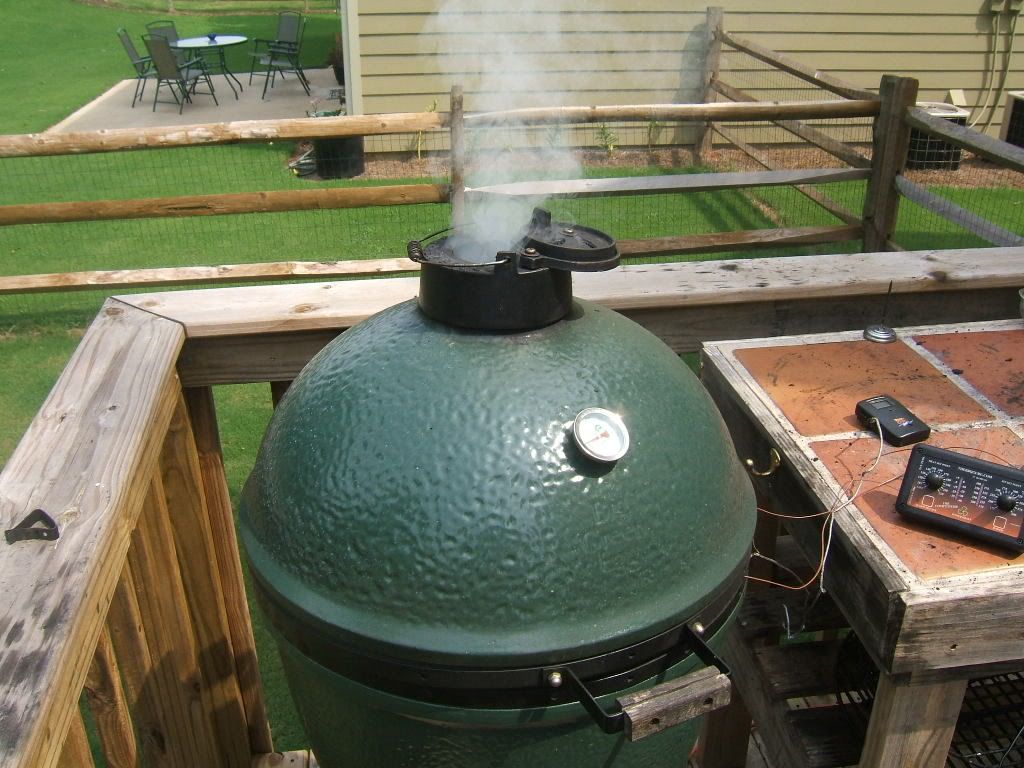 three pork butts:
pulled: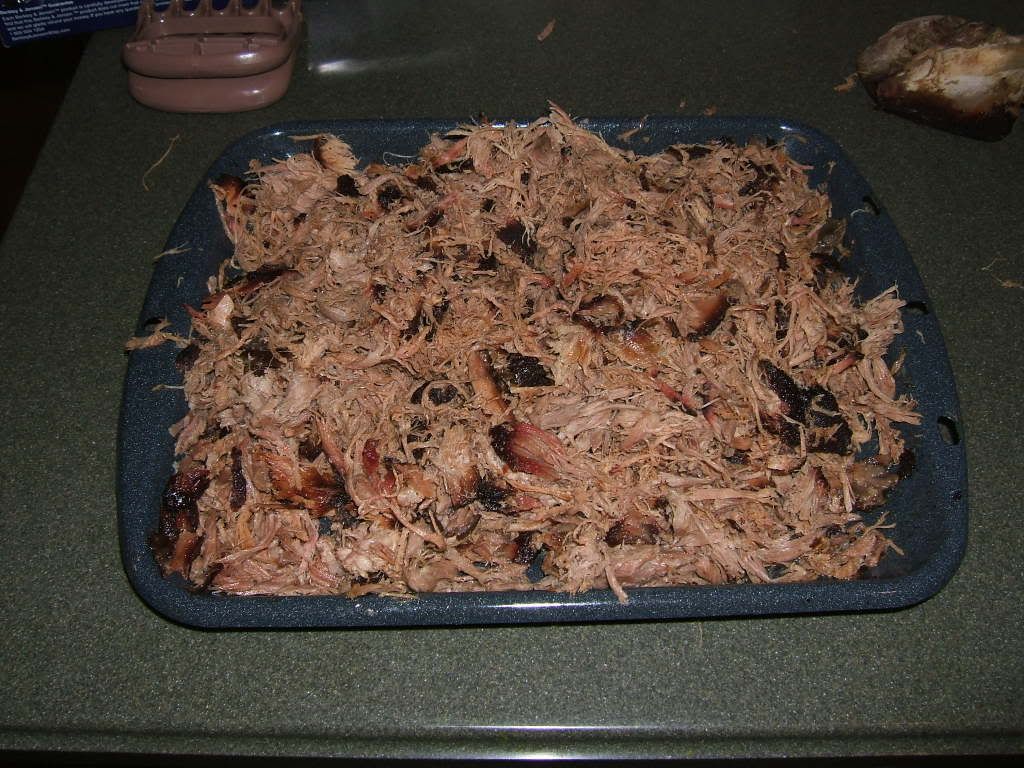 spatchcocked turkey:
| | |
| --- | --- |
| Jay Cohen | 03-05-2009 11:11 AM |
---
Jared;

The egg is a fine piece of equipment, but you'll see the capabilities of the Cookshack far exceed the Egg, though your not comparing apples to apples.

Even the CookShack website is packed with info, and their forum is very good.

BTW, the Electric Cookshack turns out such good consistent smoked meat, that it's banned in BBQ comps. Cookshack came out with the Fast Eddy model that takes charcoal/pellets.

The Egg is good, no doubt about it, in fact a 90 buck Weber turns out killer BBQ.
All times are GMT -7. The time now is

04:57 AM

.
Powered by vBulletin Version 3.6.2
Copyright ©2000 - 2014, Jelsoft Enterprises Ltd.