DO NOT WANT: Learning from Mistakes in Training

"DO NOT WANT" – three little, but effective words stated to me by Greg one day during practice when I did a clean off the blocks that was so horrendous, even I had to glance at him with a look of terror and somewhat disbelief as I was still completing the lift. For Greg of all people to have absolutely no other feedback or critique other than DO NOT WANT, the message came through pretty damn loud and clear!!

Some days, I feel like this statement is the theme of my entire practice. I don't feel like anything is going right – I'm not staying back on my pulls, I'm letting the bar swing out, I'm hanging out too long at the top of my extension...and the list goes on. Some of these things are issues I continue to work on and others are things that I have no rhyme or reason for why my lift was crappy. Either one can be pretty darn frustrating, especially when I've been working my butt off on a cycle and that special Saturday of maxing out and seeing results of my hard work comes around…and…I don't PR or perform as well as I want to. It is on those days that I feel like throwing the barbell across the gym. Don't get me wrong – I would NEVER think of giving up! That just isn't even in my vocabulary or thought process! If anything, it makes me want to work harder. Poor Greg…there are days when I want to keep doing something over and over until I can somehow magically get it all right in that one practice and he has to tell me to move on.

With years of competitive swimming and volleyball under my belt, I can be pretty hard on myself; actually now that I think about it, I'm probably my worst critic. So when I don't do something right – especially something that I feel I SHOULD be doing easily- aside from calling myself names under my breath, I start thinking way too much and focus on that one thing I may not have done well. The only thing that happens when I do this is I let everything else I DID do right or even better than before, go by the wayside. The huge amount of support I receive from Greg and great teammates is teaching me everyday how to take away the good and not so great things I've done in practice as learning experiences that will hopefully make me a more proficient, consistent and stronger lifter. One day at a time I will continue to chase those bigger numbers.
You May Also Like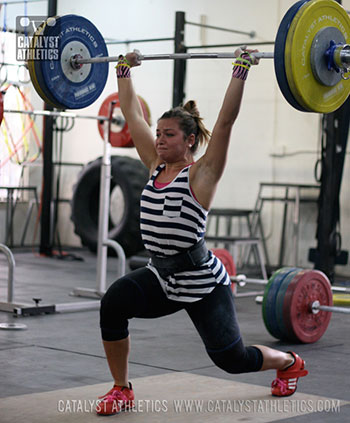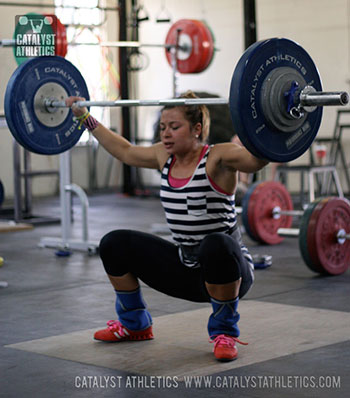 6 Comments
---
Kyle
2011-09-12
If weightlifting has taught me one thing, it is patience. Thanks for this post Audra!
Matt Foreman
2011-09-12
Good job, and I think you should go ahead and throw the bar across the gym, like you said. Screw Greg and his facility.
Kjell
2011-09-12
Thanks for this post! It has helped me to see the value of focusing on the good lifts, and to not be too hard on myself for not accomplishing what I want. It's comforting to know that even the experienced lifters " screw up" sometimes. Keep up the good work.
Jocelyn
2011-09-13
Agreed! Thanks for sharing Audra!
kecks
2011-09-13
Very good article. And very, very true, especially in the first five lifting years as an adult. And it gets better. Slowly, but it does.
Ben M
2011-09-17
Catalyst - putting out great writers, not just great lifters