Thursday November 26 2009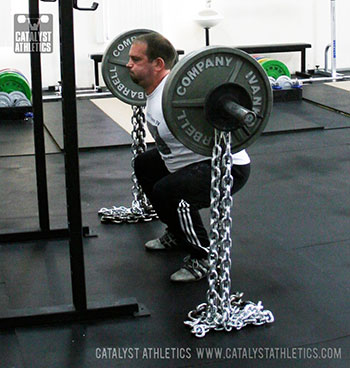 Please
login
to access our training programs.
Registration is FREE!
Questions? Get answers here or post in comments.
14 Comments
Please login to comment!
MB
2009-11-25
Greg,

The buzz surrounding the Black Box Summit caused me to reflect on other points where you have disagreed with CrossFit. I consider your position on most of these issues to be very thoughtful and justifiable. But I have some questions on your opinion of the CrossFit Games Snatch Event as described in "Teaching the Olympic Lifts in the CrossFit Group Setting: Part 2". What do you say to the following argument?

As I see it, the organizers wanted an event that tested power production, required more coordination and agility than the clean and jerk, but didn't require as much technique development as the competitive snatch rules that you outlined. To me this seems like a reasonable set of goals that nicely justifies the standards chosen. After deciding upon these goals and standards, the remaining task is to choose some kind of a name for this movement. You suggested calling it ground to overhead anyhow, but that does not accurately reflect the movement standards. It seems to me that the name "snatch" best communicates the most information about the event and the chosen standards serve to set the precise definition of the term in that context. So in short, this was just a purpose-driven redefinition of word that already has a well-defined meaning in a different context. Additionally, it was not intended to be just another strength event. It was intended to be a very specific balance between strength, power, coordination, and agility while controlling the exessive contribution of technique.

Your thoughts?
Pat M
2009-11-25
Greg/Aimee,

If I was only able to do 3 PM WODs/week, which days should I do? Do you want us to post loads/times to comments? Thanks alot.

On another note, I am a big fan of this website, the PM Journal, your book and DVD. I have had 2 formal weightlifting coaching sessions, but have used the information learned from this site, the PM Journal, your books and DVD to self teach the lifts. I entered my first meet a few weeks ago and hit a 185 (as a 77kg master) total. Your book/DVD and this site were my primary educators. Thanks for putting this all out there,

Pat McElhone
Greg Everett
2009-11-25
MB - My argument actually wasn't against (of for) the snatch event - that event was simply used as an illustration because it was something that I figured everyone was familiar with. And the name really doesn't matter - I will grant you that "snatch" was the logical choice. I was able to use a video of Tamara Holmes, who had the heaviest women's snatch of the event, from the Games and compare it to 2 competition snatches of hers after some time of technical work. It was an illustration of this vastly improved handling of the same and 20lbs more weight.My argument was simply that with better technique, competitors would have been capable of lifting more weight - of demonstrating even more power/strength, which, as you say, was the point of the event. Technique really has little to do with the rules of weightlifting (granted, you can't touch the ground with anything but the feet and must lock the elbows, but that's incidental here). It has to do with putting the body to use in the most effective manner possible.With improved technical proficiency, CrossFitters, just like weightlifters, will be able to rely more on the legs and hips to generate the upward acceleration of the bar (look to Glassman's continual reference to the necessity of core to extremity movement), create more bar speed, wrestle with misplaced loads less, and generally expend less energy/effort per lift. Why there is a resistance to this baffles me. Making excuses that CFers aren't weightlifters and therefore don't need decent technique. Set aside any notions of time/energy investment in learning that technique, and consider how improved snatch/CJ technique could possibly do anything but improve a CrossFitters abilities.Hope that clears up my thoughts a bit
Greg Everett
2009-11-25
Pat - MWS tend to be the heaviest lifting days, but not always. I would suggest working a week behind so you can see the whole upcoming week and choose based on that.Yes, I appreciate people posting so I can make adjustments to the programming as necessary. The more posters, the more the program can be designed for actual people rather than imaginary ones.
Pat M
2009-11-25
Greg,

So you recommend hitting the 3 heaviest days? I am planning on scaling the volume of the worksets. I tried PM a year or so ago, the volume destroyed me. This time, the plan is 3 days a week, cut work the volume of worksets. Thanks again,

Pat
Greg Everett
2009-11-25
Pat - Why don't you try doing 2 heavy and 1 lighter day if the volume was killing you. Put your heavy days on tues/sat and light day on thu or the like.
Pat M
2009-11-25
Greg,

Thanks for taking time and answering.
dan
2009-11-25
if we only chose 3 out of the 5 CA WODs a week would there be any kind of gap in our training or should it be fine?

i would definitely do the 5 days a week if the S&C room was open to me that often.

i'm excited to start training again after exams and christmas! and actually following real programming.

------------
since june with inconsistent, unstructured training. 5'11'' 160lb (i need to get fatter!).

snatch 67.5 --> 85 (PR'ed on tuesday! almost had 90...)
C&J 90 --> 105

reading your articles and watching a lot of youtube videos have been instrumental in improving my technique. THANKS GREG
MB
2009-11-25
Greg,

Oh, I wasn't talking specifically about your argument at the Black Box Summit. I had thought that in your "Teaching the Olympic Lifts in the CrossFit Group Setting: Part 2" article you were arguing against the snatch event and/or the name. I completely agree with you that better technique was sorely needed by many of the competitors (but thought that the allowance of poor technique was appropriate given the purpose of the games). This is why I switched to your Performance Menu WODs for some time after I attended an oly lifting cert with you and Coach Burgener.

I'm with you in not understanding the resistance to the improved technical proficiency argument. It seemed obvious to me both before and after the cert that concentrated work on my oly technique would yield a great benefit in many different aspects of my fitness. It also fits very well with one of Glassman's videos where he defines strength as the productive application of force. Thanks for your significant contributions to the CrossFit community (and the wider fitness community) in this area. I find your material timely and most informative. Keep up the good work.
Greg Everett
2009-11-25
MB -You're right - going back and reading that article, I see what you're talking about. I was a little to absolute there - like I said above, I really don't care. They could have called it a ham sandwich. The real point is that technical proficiency isn't just some silly thing for specialists.
ken c
2009-11-26
don't know why anyone would be resistant to improving their lifting technique. i know tony budding isn't a favorite around here right now but it seems to me he made similar arguments on the games site in justifying the standards for the snatch event. form and technique are only important to the extent that they make the movement more efficient (not just prettier) and so on. if a lifter's snatch technique is lacking, they are only limiting how much they can lift. this is why i didn't understand much of the criticism of the event. technique seems to be self regulating. if your technique sucks you're not acheiving your true lifting potential and you don't get the most points you could have gotten in that event.
Lance
2009-11-26
If they had called it "ham sandwich" I would have trained harder than Miko.

jolie gentry
2009-11-27
80! woot woot!!
Stef
2009-11-28
You snatched 80kg? Or C+J?
Get the App!
Catalyst Athletics programs are available through our exercise.com app. Unlimited access to all programs for only $10/month, or purchase programs individually for only $10 each!
Join the Group
Buy Programs
---
Tag Us!
Tag us on social media when you post videos and photos of your workouts!
#catalystathletics
Instagram: @catalystathletics
Twitter: @cathletics
Facebook: @catalystpm
---
Workouts Menu
Workouts Home
Read This First!
Workouts Help & Info
Exercise Library
Training Programs
Starter Program
Tomorrow's Workout
Text Only
Custom Program Design
Get the App
---
---