Monday November 30 2009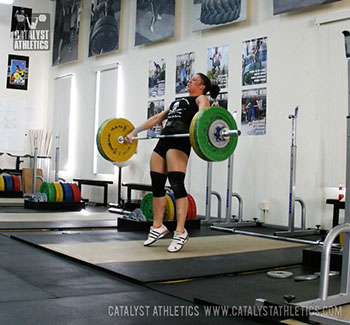 Please
login
to access our training programs.
Registration is FREE!
Questions? Get answers here or post in comments.
57 Comments
Please login to comment!
Eric L.
2009-11-29
Is that 1 set of 1 rep Front Squat or 10 sets of 1 rep?
Greg Everett
2009-11-29
1 set of 1 - warm-up to it quickly and be done.
LP
2009-11-29
Does "1 min rest" mean 1 min between reps, or exercises? reps makes sense, but I've never seen notation like this on your site, so I can't be sure.
Greg Everett
2009-11-29
LP - 1 min rest between sets
Nick
2009-11-29
Greg,
Been crossfitting for a while, but still feel like a novice when it comes to oly lifts. If I don't know maxes for power snatch and high-hang clean & jerk, should I estimate and go light until a max or heavy single pops up in the future, or should I do a heavy single then hit the workout prescribed? I'm excited to learn through your site. Also, I don't have shoes or knee bands. How necessary are they to actually starting to lift. I have some low-profile shoes I plan on lifting in. Thanks again.
Greg Everett
2009-11-29
Nick - Estimating for now is fine. I would get lifting shoes ASAP - don't get knee sleeves unless you find down the road you really need them.
LK
2009-11-29
I'll be joining in. I started half way through the last cycle. Have had good instruction when I was at CF Ottawa, but not enough time to consistently apply it in a coached setting. Since moving here, I've set up a garage gym. For now my goals are to build on the base I have as best I can. (My O-lift book should be arriving soon)Workout days are Wed-Sun. - Stats: older female
Barry Weidner
2009-11-29
Looking forward to the heavy Snatch and C&J emphasis. Will post my numbers this evening.
Neil Scholtz
2009-11-30
This would be my first cycle of CA training. Did 2 cycles of Coach Burgeners Bulgarian program in between some CrossFitting. Now swinging back to some Oly Lifting.

Hit an 87kg Snatch & 111kg Clean & Jerk at my last competition. 77kg Division. Looking to qualify for national champs next year.

Todays WOD:
63kg Power Snatch
66kg High-hang Clean & Jerk
100kg Front Squat
Scott Craig
2009-11-30
Stats:
39 year old
205 lbs
nursing a completely ruptured bicep tendon (left) and a partially ruptured bicep tendon (right)

Having said that, I'm doing what I can until I'm healed up.

Today's WOD
55kg PS
55kg HHC&J
100kg FS
GHD SU 2x25

Greg, I appreciate everything you and Aimee do.
JCW
2009-11-30
Power snatch- 150 lbs
High hang clean and jerk- 150 lbs
FS- 190 lbs
50 GHB sit ups- 1:46
20-15-10
box hop 30 inch
pull ups
2:53
Just started following the site and will be doing the workouts daily. For all these workouts, is the % we are supposed to do the % based off what our max lift is for that movement? (i.e. for todays high hang clean and jerk should that have been 60% of our max H-HC+J or 60% of our max clean and jerk?)


















Scott Pauly
2009-11-30
43 yom 195 lbs

Power Sn 1x10@ 132lbs

High Hang Clean&Jerk 1x10@ 152lbs

Front Squat 200lbs x1

All weights at rx'd % and rest periods.
Kyle Pichie
2009-11-30
22 yom, 165lbs

Power Sn 1x10@ 110lbs

High Hang Clean&Jerk 1x10@ 125lbs

Front Squat 150lbs x1

50 GHB not for time (25, 10, 8,7)

Kip Pullups & 36' Box Jump - 5:59mins

Hopefully I can really improve on my speed under the bar and my overall Front squat and OHS numbers, seems they are holding me back from a PR in the CnJ and Snatch.
Greg Everett
2009-11-30
JCW - % refers to 1RM of the associated exercise. Usually if different and not obvious, it will be specified. In this case, it's of your 1RM CJ.
Riddler
2009-11-30
32y/o m, 195

PS 1X10 @115
HHC&J 1X10 @130
FS x 1 @ 175

50 butterfly situps with abmat

20-15-10 Box jumps 26 in. and pullups 3:50
Bin
2009-11-30
23, 170lb

PS - 1x10 @ 140lb
HHC&J - 1x10 @ 135lb
FS - 185lb

Didn't time the aux. work
Barry Weidner
2009-11-30
Power Snatch: 57kg
Hang Clean & Jerk: 66kg
Front Squat: 77kg
50 Weighted Situps (16kg kb)
Metcon: 3:53 (pullups unbroken, 28in box)

Gordo
2009-11-30
37 yom, 69kg
PS 46kg
HC&J 55kg
FS 70kg

50 GHB SU

Box jump 27"

4:40

Leon R
2009-11-30
I'm going to start this 3 week cycle tomorrow, I'll be a day behind and may have to modify some exercises because of a groin injury. Do you think it will work out well just using the power variations of the lifts and taking it easy on the front squats untill i'm ready to hit the lifts properly?
Greg Everett
2009-11-30
Leon - It will be OK - Can you back squat instead of FS? If so, just do all BS with the same Rx.
Jp
2009-11-30
M/39/97.7Kg

Okay, so I totally screwed this workout up; thought it was 1 set of 10 reps vs. 10 sets of 1 rep. Also, I need to look at the videos for the H-HC&J; I'm pretty sure I was doing more of a High hang power clean and jerk. Took me a couple of minutes to catch my breath and re-place the weights on the bar.

W/U: 500m row, then 3X: PVC O-Squat (15), H-Pushup (15), Good Morning 20.45Kg (15), Dip (12,11, 10), Pull-up 22.7Kg assist (12,11, 10)

Snatch balance with only oly bar - 3-5 x 1
O-squat with only oly bar - 3-5 x 1
Power snatch - 75% (40.9Kg) x 10; 2 min rest
High-hang clean & jerk - 60% (47.7Kg) x 10 (stopped at 5 for about 15-30 sec; 2 min rest
Front squat - 70% (70.5Kg) x 1; focus on speed up
Weighted sit-ups 11.4Kg - 50 total

20-15-10 reps:
Bench jumps - above knee+
Kipping pull-ups
4:23; 2nd set of pullups were broken
cory
2009-11-30
32 yom 200lbs

135 1x10 with 1 min rest for both
180 fs 1 rep
50 GHB


completed metcon but did not time it...took 4 mins or so. not really sure

I am sure that it kicked me in the rear though!

Pr'd week before last on snatch 180 up from 175
Pr'd BS 355 up from 335

I am feeling much stronger over all but really feel like I am lacking strength on the first pull of both sn and c & j.

going to try and focus on those through the next few weeks...

Thanks for all the info...
Leon R
2009-11-30
Cheers Greg, I haven't tried anything since the injury a couple of weeks back but will give it a go and see how it works out.
Ian Carver
2009-11-30
36 Yrs - 5'11"/185

Power Snatch - 150x1x10
Hang C&J - 150x1x10
Frnt Sqt - 185

MetCon- 3:50

Sorry I haven't posted any of the numbers for the past 9 weeks to help programming. Nonetheless, everything has been journaled.
Isara Fey
2009-11-30
21 yrs 5'11''/160

Power snatch 135 1x10
Hang c&j 135
Frnt Sqt 160

MetCon-9mins

Been following but this is my first posting, finally caught the beginning of a cycle
Gene
2009-11-30
Greg- I've been crossfitting for 11 months, i'm LEAN (5'11", 170lbs) with decent strength, pullups, metcon, etc. I practice oly lifts only as they appear in main site Wod's. I'm thinking of doing this 3 week cycle with you. My best snatch is probably only 100lbs, my best CJ is 185lbs, but the jerk wasn't pretty.

Questions:
should I supplement my paleo diet with milk or something else so I can get be fatter/stronger? :-)

for today's wod I would power snatch 75#, once, rest, repeat 9 more times, then rest 1 minute before moving to high hang cj right? How long of rest between the 10 singles?

High hang cj would be done at 108#, same as above

I understand the one front squat

is GHB the same as GHD?

Thanks in advance for the help, and for your contributions to the community. You were at my level 1 cert, and I was rooting for you at the games this year!
Greg Everett
2009-11-30
Gene - 1 min rest is between the 10 sets of pwr sn/pwr cj. Rest as needed between exercises. No need to change your diet unless you want to gain weight - if so, just bump up the protein and fat a bit each week.You're thinking of Josh Everett - I'm the other one.
Jeremy Shepard
2009-11-30
25 yrs, somewhere around 105 kg BW


Power Snatch - 75kgx1x10
High Hang Clean + Jerk - 75kgx1x10
Front Squat = 108kgx1
GHR - 50

Box jumps & (band-assisted) kipping pullups: took a long time
John
2009-11-30
Sure is nice to see how many people are going to follow your WOD's. Must feel good. CF is not the only dog on the block.
Eric L.
2009-11-30
28yrs, 180lbs, 5'10

1st Oly lifting cycle

Power Snatch 45kgx1x10
Hang C&J 52kgx1x10
Front Squat 63kgx1

Metcon 4:20 (24inch box)
Mike Maruffi
2009-11-30
28 yom 225lbs 6'0"

Power Snatch - 150lbs
Hang C&J - 150lbs
Front Squat - 245lbs

Metcon 4:40 with 24" box

I'm new here too and am really excited about following your programming.
Michael
2009-11-30
Hey Gregg what about a future article on fixing the "butt wink" in the squat. Unless you have already addressed this is a previous issue if you could point me to what issue that might be I would appreciate it.
Jordan
2009-11-30
25 yo/f/118lbs

To be honest I was a little intimidated to post, but I wanted to participate in this cycle. Thank you for posting the rx'd rest. I noticed today that I tend to rush through the lifts.

PS @ 54lbs
HHC&J @ 63lbs
FS @ 125lbs
50 GHD

Metcon-5:29

Do you prefer for the wts to be given in kgs or lbs? Does it matter? I have no problem converting.


John B
2009-11-30
44 yrs old

PS - 85lbs x1x5 felt light
95lbs x1x5
H-HC&J 105lbs x1x10
FS - 125lbs x1

Box jumps above knee and body rows 20-15-10 8:35

Greg Everett
2009-11-30
Michael - Check out this article.
Greg Everett
2009-11-30
Jordan - Doesn't matter - just indicate which you're using.
Brian Reckdenwald
2009-11-30
Power snatch - 75% x 1 x 10; 1 min rest
150 lbs x 1 x 10

High-hang clean & jerk - 60% x 1 x 10; 1 min rest
150 lbs x 1 x 10

Front squat - 70% x 1; focus on speed up
210

GHB sit-ups - 50 total
20-18-12

20-15-10 reps:
Box jump - 26"
Kipping pull-ups

Time - 4:47


I've been following these workouts for 4+ months lagging about 2 months behind with very positive results. The decision was made to jump to the current workouts to be able to get and give feedback. Thank you, Greg, for the programming.
Shark
2009-11-30
BWU
Power Snatch 95# 1 x 10, 1 min rest between
High Hang Clean 95# 1 x 10, 1 min rest between
Front Squat 157#, 1 rep
50 sit ups

3rft 20 - 15 - 10
Box Jumps 21.75"
Pull-ups
T=6:23
Adam 26/5'10/193
2009-11-30
First day on your program and I look forward to more.

PS-155 (medium difficulty)
HHC&J-165 (easy)
FS- 205 (easy)

Metcon: (30in Box full extension, kipping pulls):
2:57 Felt like Fran
Gene
2009-11-30
Greg- sorry about the confusion! I'm the sincerity of my appreciation wasn't lost with the mixup...

Here's my numbers (in lbs)
PS-75#
HHCJ-115#
FS- 145#
30 ghd situps 20-10 (back tight from Linda on Saturday)

Metcon- 24" box jumps, kipping pullups
2:15

I taped some lifts, if I post them, would you comment?
Nick
2009-11-30
PS: 135 lbs (estimated weight/felt light)
HHCJ: 155 lbs (estimated weight/technique felt great)
FS: 225 lbs
GHD Sit-ups: get them tomorrow. Forgot.
Metcon: 2:31 w/24" box
Erik Reckdenwald
2009-12-01
27/Male/5'-11"/180 lbs

Power snatch - 75% x 1 x 10; 1 min rest
115 lbs x 1 x 10

High-hang clean & jerk - 60% x 1 x 10; 1 min rest
140 lbs x 1 x 10

Front squat - 70% x 1
180 lbs

GHB sit-ups - 50 total
30-20

20-15-10 reps: Time = 3:32
Box jump - 28"
Kipping pull-ups

Total workout time = 1.25 hours
Erik Reckdenwald
2009-12-01
I started these WODs 5 months ago, a few months after attending the Catalyst Seminar in Boston, and have seen nice gains in the lifts and overall strength. Consistency has vastly improved, especially at what used to be max loads. I recently started eating more - on purpose - and put on about 5 pounds.

I started out at the following:
155 lb snatch
210 lb c&j
305 lb back squat (low bar)
245 lb front squat

New numbers:
180 lb snatch
230 lb c&j
310 lb back squat (olympic style)
255 lb front squat

Greg, thank you for putting these workouts together. Your journal, dvd, book, and seminar have all be very helpful in my development.
Paul K
2009-12-01
M/35/185
Jumping on board, partly because of the CF BS. Did a cycle this time last year and attended your seminar at Primal. Thanks for all you do.
Power Snatch - 140
Hang Clean & Jerk - 155
No front squat
Metcon 3:31 24 inch box
Dan M
2009-12-01

Greg - First time following your Wod's. I've been doing SS for the past 5 months and I wanted to change things up a bit.

PS - 115lbs
HC&J - 135lbs
FS - 200lbs
GHD - 50
Metcon - 3:24 (only had a 22'box)
Tim D
2009-12-01
PSnatch=95# on first 2 then 105# other 8
C+J=105#'s all 10 sets
Fr. Squat = 145#

didn't do situps or met-con. Instead did CFE workout 6x3 mins with 1 and 3 minutes rest between.

O-lifting isn't my main sport, I fight so I will typically do 2-3 of your workouts mixed in with 2-3xCFE, 1-3 Cfits, and 3-4 Tiered strength/dynamic workouts per week.

I just did a seminar with Mike Gattone and am looking forward to getting better at this stuff.
AC
2009-12-01
There are 5 of us at CF Louisville East. Performances as follows

Athlete AB SW AI AF AC
PS 155 90 75 75 -
HHC&J 165 85 80 80 -
FS 205 125 105 85 -
WKO 2:58 4:13 5:01 5:45 3:47*
box height 30" 27" 27" 24" 30"

*sub one arm rows (strained trap)
AC
2009-12-01
that was a nice little table before I submitted it. Will post differently in the future.
Billy
2009-12-01
Here is a great example of CF knowledge and leading from the front. He exemplifies elite fitness and knowledge. His core strength and bitch tits take years to develop.

http://www.youtube.com/watch?v=eIjeHrsD2S0
Travis
2009-12-01
Holy shit. Awesome to see this many people on the catalyst WOD. Greg is the man, obviously.
Leon R
2009-12-01
27/m/89k

PS 57.5k
HHPC 75k

WoD 3.59

My groin injury didn't allow me to squat so used the power variation for the clean and missed the squat. The workout turned out to be breathy after a couple of weeks off. Cheers Greg
BamBam
2009-12-01
51 YOM 5'7 170lbs

run 12 min TT 1.544 miles

Full Snatch 1 135lbs
5 sets of 1 at 115 lbs

Full C&J 185lbs
5 sets of 1 at 140lbs

Front Squat (rock bottom) 185 lbs
2 sets of 2 at 150lbs

back ext 30 reps (22 and 8) 45lbs but on 45 degree back ext bench


LK
2009-12-02
51 yof 125lbs

PSN 55lbs
HHC&J 65lbs
FS 65x3, 75x2, 85x1 lbs
50 SU (ab mat)

Metcon-8:57
LK
2009-12-02
Those HHC&J should read 55lbs
MLC
2009-12-03
F/30/155lbs

PS - 75lbs
HPC&J - 95lbs
FS - 135

Metcon - 5.56 with 24' box

Did 2 days in a row of GHB so did 25 boat rockers and 25 russian ballet leg thrusts instead.
EricB in IL
2009-12-14
33/m/6'2"/208

Present Max Snatch - 160lbs
Present Max C&J - 215lbs

Scaled this workout for the following reasons:

1. This is my first CA WOD ever, after following CF/CFFB/CFE for over two years.
2. Still trying to get over a sinus infection.
3. Legs still a bit sore from 7.5 trail race on Sat.

All weights in pounds:
PSn - 115 x 1 x 8
HHC&J - 130 x 1 x 6
FS - 195
50 unbroken situps on Swiss ball with knees bent and feet anchored

Metcon - scaled to 15-10-5 reps:

2:56 with 26" stack of bumper plates, all pullups unbroken

Phil 4:13
Double A
2010-01-08
First day on this program been CF for 2 years.

PS- 135#
HHC&J- 135#
FS- 185#

50 GHD's - 10 x 5

Met Con: 4:05
20in. Box
Get the App!
Catalyst Athletics programs are available through our exercise.com app. Unlimited access to all programs for only $10/month, or purchase programs individually for only $10 each!
Join the Group
Buy Programs
---
Tag Us!
Tag us on social media when you post videos and photos of your workouts!
#catalystathletics
Instagram: @catalystathletics
Twitter: @cathletics
Facebook: @catalystpm
---
Workouts Menu
Workouts Home
Read This First!
Workouts Help & Info
Exercise Library
Training Programs
Starter Program
Tomorrow's Workout
Text Only
Custom Program Design
Get the App
---
---