Wednesday December 2 2009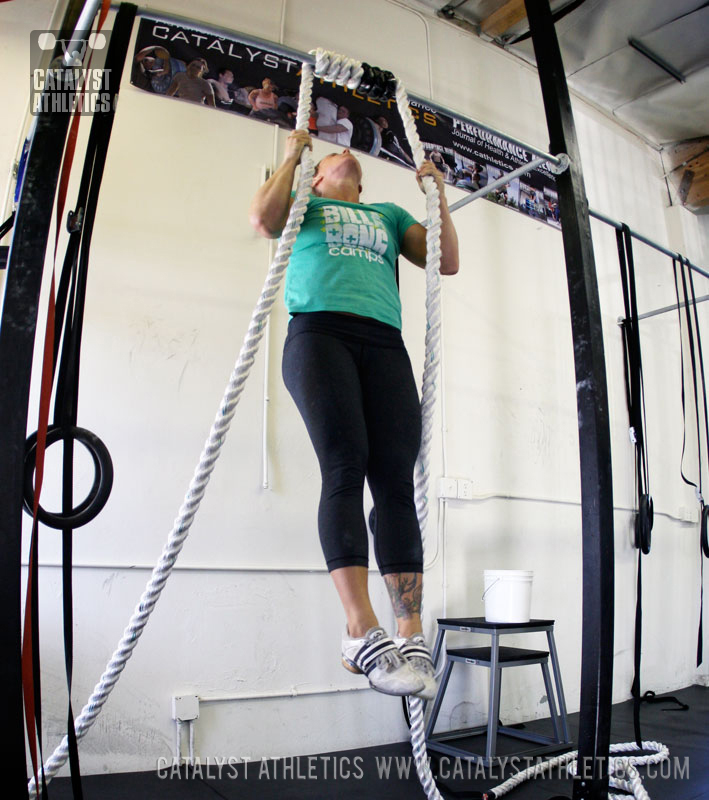 Snatch balance - heavy single; 90% of that x 1; 85% x 1; 80% x 1
Power clean & jerk - 75% x 1 x 10;

1 min rest

Front squat - 70% x 1;

focus on speed up

Planks - front/side; 2 x near max hold
4 rounds:
10 DB muscle snatch
10 KTE
Questions? Get answers here or post in comments.
30 Comments
Sam McGowan
2009-12-01
What kind of jerk? Power (push) jerk or split jerk?

Thanks,
Sam
Greg Everett
2009-12-01
Jerk without any qualifier means split jerk here. Power or otherwise will be specified.
Jesper Rasmussen
2009-12-01
No set prescription for the front squat? "70% x 1"

Regards
Jesper
Neil Scholtz
2009-12-02
M/25/178cm/76kg

Sn Bal Heavy Single 90kg, 80kg, 70kg, 60kg
Pwr Cln & Jrk - 83kg x 1 x 10
Fr Sqt - 100kg

This the second time ever that I have done Snatch Balance. It was more of a timing issue than the weight being too heavy. Even the 90kg I was catching it in a pwr position and then riding it down to full squat.
Mike Maruffi
2009-12-02
28 yom 225lbs 6'0"

Snatch balance - 225lbs, 205, 192, 180
Power clean & jerk - 185lbs
Front squat - 235lbs

Metcon - 6:15 with 35lb dumbbells


JCW
2009-12-02
M/20/5'11"/170 lbs
snatch balance- 215 lbs, 195, 185, 175
power clean & jerk- 190 lbs
fs- 190 lbs
planks- 2 min front 1:30 each side

4 rounds
10 db muscle snatch 62.5 lbs x5 each arm
10 k2b
3:59

Greg Everett
2009-12-02
Jasper -

x 1 = 1 set of 1 rep
Gene
2009-12-02
Some impressive numbers this morning! I have a long way to go!

All in pounds:
SB- 33-33-65-65-75-95f-95PR first time doing SB
PCJ- 10 singles at 130#
FS-1@ 160#
planks-front 1:55, right 1:45, front 1:30, left 1:47

No time for extra work
Josh
2009-12-02
Greg,

When are wrist wraps appropriate? Will they protect your wrists in the long run or do you think they are nessecary for weightlifting?

Thanks
Cory
2009-12-02
Snatch balance - 165, 150, 140, 135
Power clean & jerk - 175 Half reps due to time constraints
Front squat - 180

Metcon - only did half due to time constraints

I haven'e been doing snatch balances very long so they are still kinda weird. Provided I can get to a gym in the next year where they will allow me to drop the bar if I miss I can go for more weight overall!


EricB in IL
2009-12-02
Greg,

With this cycle being only 3 weeks long, can you tell me how long the next cycle will be? I plan to start this 3 week cycle on 12/14, after my last race of the season (7.5 mi trail run)on 12/12, in order to gain some strength, especially in the Oly lifts. I plan on resuming my CF/CFFB/CFE WODs in the spring to get ready for the '10 race season, but am afraid that the next CA cycle may go too far into what should be my race prep time.

Thanks!
Butch White
2009-12-02
Greg,

My wife is not down with me sporting one of the "always in pursuit of a better snatch" shirts. I have an old worn-out Crossfit Norcal shirt that states "It's all jerks and snatches." Somehow the latter gets a pass but the former does not.

What's the possibility of a CA edition of the "It's all jerks and snatches" shirt?

Thanks,

Butch
Ian Carver
2009-12-02
Snatch Balance - Heavy Single - 215 Lbs
190(f), 190, 180, 170

Power C&J
190x1x10

Front Squat
190 Lbs

MetCon - 4:59
Greg Everett
2009-12-02
Butch - Pretty slim. I hate carrying shirts, so the fewer we have, the happier I am.
Isara Fey
2009-12-02
Snatch Balance -heavy: 165 (no racks available so I had to clean it up and put it behind my head not something I am that used to)
155,145,135

Power Clean & Jerk
165 1x10

Front Squat
165

MetCon- 12:46 (geze I am terrible at these metcons)

Greg Everett
2009-12-02
Josh - I don't like wrist wraps unless they're absolutely necessary - as in you have an existing injury, or time you've spent to get conditioned has not eliminated pain. If you're new to this kind of loading and volume, you'll likely get some wrist aching for a couple weeks, but you'll get conditioned to it over time - stretch and ice the hands/wrists as often as possible to help/speed the process.
Greg Everett
2009-12-02
EricB - The next cycle will be 4 weeks I think - haven't done it yet, but that's my current plan.
Barry Weidner
2009-12-02
Snatch Balance: 75kg
Power C&J: 84kg
Front Squat: 75kg
Metcon: 3:47 w/ 50lb DB alternating arms each rep
Michael
2009-12-02
Hey Gregg thanks for the "butt wink advice".
Josh
2009-12-02
Greg thanks for the answer! In athletic training we learned this wrist taping to support the wrist just like a wrist wrap and I was curious to start using it. But if I am just gonna get conditioned, it's not necessary at all.

Thanks again, I am getting your book for christmas and I can't wait!
Jordan
2009-12-02
Snatch Balance 72lbs: 62lbs(90% would have been 64lb, but I did not have 1lb weights), 62lbs, 57lbs

Power C&J: 77lbs

Front Squat
80 Lbs

MetCon - 5:00
Shark
2009-12-02
Snatch Balance 95#, 87#, 81#, 76# - I have never done those before.
Power C&J 120# x 1 x 10
Front Squat 157 x 1

Planks Front, R side, Front, L side

Metcon 6:37

43 yom, 160#
Brian Reckdenwald
2009-12-02
Snatch balance - heavy single; 90% of that x 1; 85% x 1; 80% x 1
195 lbs -> 175-165-155

Power clean & jerk - 75% x 1 x 10; 1 min rest
185 x 1 x 10

Front squat - 70% x 1; focus on speed up
210

Planks - front/side; 2 x near max hold
1 minute front & each side x 2

4 rounds:
10 DB muscle snatch w/ 45 lb DB
10 KTE

Time - 6:22
Riddler
2009-12-02
Greg, todays workout did not say "for time" for the four rounds. When for time is not mentioned, should I assume it is always for time or just get it done, time does not matter. Thanks. Oh, and I thought Castro was a donkey myself.


Snatch Balance Heavy single @ 165lbs. Then 150, 140, and 135 last.

Power C&J Heavy single @ 195lbs. 150lbs x 1 x 10. Did not realize until now that it was not supposed to be a heavy single.

FS 175lbs.

And the other stuff too. Rowed 8000 meters in AM.
gordo
2009-12-03
A day behind thanks to kids getting up early yesterday...
Snatch Balance
HS 70kg
65, 60, 56kg
Power clean & Jerks
68kg
Front Squat
70kg
Planks ~ 1 min front, 45 sec sides

4 rounds w/40lb DB (5 each arm)
3:29

Erik Reckdenwald
2009-12-03
Snatch balance - heavy single; 90% of that x 1; 85% x 1; 80% x 1
165 lbs -> 150-140-135

Power clean & jerk - 75% x 1 x 10; 1 min rest
155 x 1 x 10

Front squat - 70% x 1; focus on speed up
185

Planks - front/side; 2 x near max hold
1:30 minute front, 1:00 right side, 1:00 left side

4 rounds:
10 DB muscle snatch w/ 45 lb DB
10 KTE

Time - 5:14
Bin
2009-12-03
Sn Balance - 165
PC & J - 155
FS - 185
Leon R
2009-12-03
PC & J 72.5

Metcon 4.42

Used a 40k bar ( no dbs )

LK
2009-12-04
51 yof 125lb/64"

SN balance: 65lbs,60-55-50
CL&J: 70lbs 1x10
FSQ: 85lbs

Planks
FR: 3:00&2:00
LS/RS: 1:15/1:15

WOD
4:05
15lb KB (alt side per rnd)


EricB in IL
2009-12-16
Weight in pounds

Sn Bal - 155 -> 140f, 125x1x2, only about 4th time ever doing these
PC&J - 155x1x8
FS - 205
Planks - 1 min front and each side w/ 1 min rest in btw
No metcon

Phil 4:13
Workouts Menu
Workouts Home
Workouts Help
Exercise Library
Training Programs
Starter Program
Tomorrow's Workout
Text Only
Custom Program Design
---
---
Advertise With Us