Thursday December 3 2009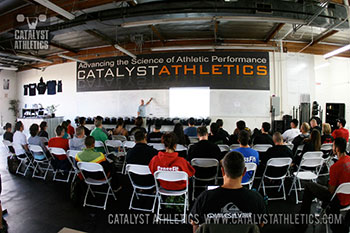 Please
login
to access our training programs.
Registration is FREE!
Questions? Get answers here or post in comments.
29 Comments
Please login to comment!
Neil Scholtz
2009-12-03
M/25/178cm/76kg

Sn Heavy Single 80kg - 60kg x 1 x 5
Cln & Jrk Heavy Single 105kg - 75kg x 1 x 5
Pause Back Sqt - 130kg
Good Mornings - 40kg x 3 x 8 (25% of BS)
Chris K
2009-12-03
Hey Greg

I was was reviewing the start list for the American Open and saw that you have two horses in the race. Best of luck to you, Dutch, and Steven
Michael Maruffi
2009-12-03
M/28/225#/6'0"

Snatch - 185#
- 75% x 1 x 5 - 140#

Clean & jerk - 215# (235 failed on jerk)
- 75% x 1 x 5 - 165#

Pause back squat triple - 315#

Good morning - 80#
Chris K
2009-12-03
Aimee - Good luck to you as well!
scott pauly
2009-12-03
Hey Greg,
I had to miss yesterday(on shift at Fire sta.) should I make-up yesterday?, or stay on track today?
Thx
Scott
Greg Everett
2009-12-03
Scott -

Skip yesterday and just do today's workout.
Bin
2009-12-03
Greg,

If I feel like I need to scale back the light days, should I scale back volume or loads?
Greg Everett
2009-12-03
Bin - Cut back on the volume first. If that's not enough, then you can reduce the load a bit.
Kyle Pichie
2009-12-03
M/22/165#/5'10"

Snatch - 135#
- 75% x 1 x 5 - 116#

Clean & jerk - 195#
- 75% x 1 x 5 - 145#

Pause back squat triple - 145#

Good morning - 65#
Scott Pauly
2009-12-03

Snatch - heavy single;80kg (missed 90kg)
75% of that x 1 x 5; 60kg

Clean & jerk - heavy single; 100kg
75% of that x 1 x 5; 75kg

Pause back squat - 115kg x 3

Good morning (straight knee) - 3 x 8; 40kg

Weights felt lighter today than on Tuesday, but I didn't pr on any lift. However even though I missed the 90kg Snatch today I'm confident that I'll get it soon.

Cory
2009-12-03
31 yom 200lbs

Sn Heavy Single 175 - 135 x 1 x 5
Cln & Jrk Heavy Single 205 - 155 x 1 x 5
Pause Back Sqt - 275
Good Mornings - 85 x 3 x 8 (25% of BS)
Barry Weidner
2009-12-03
Snatch HS: 80kg
C&J HS: 100kg
BS: 114kg
GM: 23kg

Feeling the volume from the week. Good stuff!
Leon R
2009-12-03

I'm a day behind one the wod and i'm also getting done what I can for now until i'm 100%. Doing PC&J today at 75% I used a little over 75% of my 1rm PC&J 72.5k, should it have been of 95k and therefore 75% of my C&J?

Cheers
Greg Everett
2009-12-03
Leon - % for power stuff is of you 1RM power lift unless otherwise noted.
Leon R
2009-12-03
Thanks Greg
JCW
2009-12-03
M/5'11"/170
snatch heavy single- 195 lbs 75%- 145
clean and jerk heavy single- 245 lbs 75% 185
back squat- 265 lbs. much less weight than normal triple with the 3 sec pause at bottom
good morning- 75 lbs
pr on snatch is 200. keep going for 205 and just miss it by a hair. pr on C+J is 250 and just missed 255 today. should've had it. Next time!
Brian Reckdenwald
2009-12-03
Snatch - heavy single; 75% of that x 1 x 5
185 -> 140 x 1 x 5

Clean & jerk - heavy single; 75% of that x 1 x 5
235 -> 185 x 1 x 5

Pause back squat - work up to heavy triple; 3 set pause in bottom; NO bouncing
315 - legit pauses, but there was a little too much hamstring involved coming up

Good morning (straight knee) - 3 x 8
95-95-95
Ryan L
2009-12-03
M/25/5'11"/195

This is my first Oly cycle still learning the movements but today was a good day actually got my first snatch with decent form it felt great! Thanks Greg for all the videos great resource for people teaching themselves the movements

Snatch - Heavy 60kg, 1 x 5 45 kg

Clean - (I can't do a clean and jerk yet with correct form not enough flexibility in my wrist I catch with my fingertips but working on it)

Heavy 60 kg, got 80 kg but it was ugly looked like power clean with a front squat, 1 x 5 w/ 60kg

Back Squat - 110 kg, failed with 120 kg was close though

I've never done "real" squats aka oly squats like Greg said in one of the articles but was surprised at how good they actually feel and holding at the bottom is very good training for feeling out the posterior chain you can really focus on tightening and getting ready for coming up.

No good mornings i'm doing this cycle in conjunction with Crossfit endurance and some Crossfit Football WOD's so today was technically my rest day
Anel
2009-12-03
Happy bday steve!
jordan
2009-12-03
Sn Heavy Single 72lb - 57lb x 1 x 5
C&J Heavy Single 102lb - 77lb x 1 x 5
Pause Back Sqt - 102lb
Good Mornings - 27lb x 3 x 8



John B
2009-12-03
Sn-HS 115# - 85#x1x5
C&J-HS 165# - 125#x1x5
PBS - Worked up to 155#
GM - 65#x3x4


Ian Carver
2009-12-03
Snatch - Heavy Single - 185 Lbs (92% 1RM)
75%X1X5 = 140

C&J - Heavy Single - 230 Lbs (92% 1RM)
75%x1x5 = 175

Back Squat triple-3s. hold
225, 245, 265, -275-

Mechanics were smooth this eve. Felt good.
Erik Reckdenwald
2009-12-04
Sn Heavy Single 165# -> 125# x 1 x 5 (just missed 170# twice)
Cln & Jrk Heavy Single 215# -> 165# x 1 x 5 (missed 225# on jerk)
Pause Back Sqt - 255#
Good Mornings - 65# x 8 x 3 (20% of BS)
Gene
2009-12-04
Missed yesterday due to staying out so late wednesday night, so I did it this am.

In lbs:
Snatch 45-75-75-95-115-125-135-140 failed to get under bar
C&J 100-135-135-155-165
5 singles at 135
Pause BS (First time doing this) 45-95-135-155-175-195
My regular BS PR is only 250, is the above lift about right considering the pause?
Straight Leg Good Morning 3 x 8 @ 45
I was a bit unsure of these, the demo video showed bent knees only. I just pushed my hips back, let my back round (it said so in the description), and felt it all in my hamstrings...
Gordo
2009-12-04
Snatch
HS 64kg (PR)
50x1x5
C&J
HS 80kg
60x1x5
Pause Front Squat
up to 55kg
SLGMs
25kg
Think I shot my load on the snatch - the bar was moving very well during the warm-up sets and decided to have a go. By the time I got to the C&J, the warmups felt very heavy, even though they were well below previous training loads.


Leon R
2009-12-04
After a good thorough warm-up and stretch I found that I was able to get into a decent squat without too many issues so...

27/M/89k

Snatch 85k
63.86k 135lb+2.5k x1x5

Clean and Jerk 110k
85kx1x5

Paused Back Squat 120k

Overall pretty happy, didn't want to push my luck too much. Snatch PB is 96k which I managed to hit after some quality coaching from coach B, Sage, Casey and Natalie at the Oly cert in Scotland earlier this year. I feel a long way off from that now but hopefully my time here will help to get things back on track.
LK
2009-12-06
Took a rest day yesterday as the temp was still below freezing where my weights are set up.

12/06/09

SN: 70lbs, 55x1x5
C&J: 85lbs, 65x1x5
BSQ (w/3sec pause): 85lbs x3, 95x3, 105x3, 110x3
GM: 35lbs

I realize that I always do power snatches because I cannot quickly stablize myself with more than 50lbs overhead and at the bottom of a squat (weakness and lack of confidence). Should I consider that my snatch single weight or should I base my % on the power SN number?
tim D
2009-12-11
sn- 120#, 95x3x1, 100x2x1
skipped c+j today, short on time
sqt- up to 190#s
weighted back ext at 10#s x30 instead of GMs
EricB in IL
2009-12-17
All weights in pounds

Sn - HS: 165 (5lb PR!), 125x1x3
CJ - HS: 185 (205 failed on jerk), 145x1x5
Back Squat - Heavy Triple w/ 3 sec pause at bottom - 225
Good mornings - 75

Shoulders feel pretty fatigued. Glad to have a rest day tomorrow. Stoked about snatch PR.

Phil 4:13
Get the App!
Catalyst Athletics programs are available through our exercise.com app. Unlimited access to all programs for only $10/month, or purchase programs individually for only $10 each!
Join the Group
Buy Programs
---
Tag Us!
Tag us on social media when you post videos and photos of your workouts!
#catalystathletics
Instagram: @catalystathletics
Twitter: @cathletics
Facebook: @catalystpm
---
Workouts Menu
Workouts Home
Read This First!
Workouts Help & Info
Exercise Library
Training Programs
Starter Program
Tomorrow's Workout
Text Only
Custom Program Design
Get the App
---
---