Wednesday December 16 2009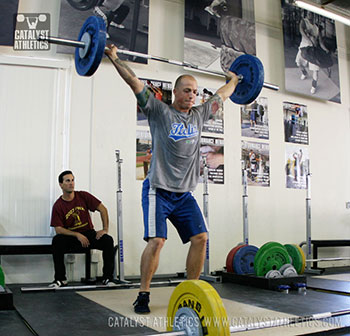 Please
login
to access our training programs.
Registration is FREE!
Questions? Get answers here or post in comments.
32 Comments
Please login to comment!
Sam McGowan
2009-12-15
No sandbag -- any recommended sub?

Thanks,
Sam
Greg Everett
2009-12-15
Sam -You can try doing as similar a movement as possible with a single big DB or KB - just don't drop it on your head.
LP
2009-12-15
Hey Coach E.

would you mind taking a look at my snatch?

I'd appreciate a critique of my lift, also...

http://www.facebook.com/profile.php?ref=profile&id=100000524751129#/video/video.php?v=101423579885133

hope this URL works?
Andrew Killion
2009-12-16
I heard about your CF Affiliation. I just wanted to say I love what you guys do and will still proudly support Catalyst and the Performance Menu.

Best,
Andrew
Big D
2009-12-16
Never been able to meet Greg or Robb, but for the past year I've learned so much about fitness and nutrition from both of their websites. PERFORMANCE MENU AND ROBB WOLFF TILL I DIE!
Troy-SBCF
2009-12-16
Greg

On behalf of all of those in the CF community you've helped, I'd just like to extend my sincerest thanks. Via the Pmenu and this site, you've been hugely influential in the manner in which we run our affiliate. I have had the pleasure of meeting all of you (Greg and Aimee at your seminar at Primal, and Robb was one of my L1 coaches) and found you all to be extremely professional, with a genuine desire to improve the fitness world by imparting your hard earned knowledge. You'll continue to be a resource for us for as long as you keep putting the info out there. From my trainers and I, we wish you the best.

Troy - SBCF
Tom
2009-12-16
I heard about the affiliation being revoked. I just wanted to say that I have and will continue to use your incredible resources, and I'm sorry about how you've been treated. Luckily most people at this point are smart enough to discern beyond the CF affiliates page.
Sam McGowan
2009-12-16
FS: 175x4x5
Sn Pull: 145x3x4
Jerk: 155x3x2, 165x2x2, 175x2x2

Shoulders are smoked

Have started videoing some lifts and see that I am not receiving the bar with straight arms on any of my jerks, even the light weights, so I am pressing out every rep. I "kind of" knew that anyway but its looks particular bad on video. Need to fix that.

Thanks for the programming Greg.
Mike Haytack
2009-12-16
Greg/Aimee, ef it! needless to say--keep on keeping on. i'd still pay to see you take out asstro!

Your secret soldier,
Mike
Greg M.
2009-12-16
Quick question: I only have access to weights M-F (no gym access on W/Es). How could I modify your programming to fit my schedule?

Love what you folks do!
Kyle Pichie
2009-12-16
M/22yrs/165lbs

FS: 160#-4x5
Sn Pull: 145#-3x4
Jerk: 160#-3x2, 170#-2x2, 185#-2x2

Did 3 Sets for time:
15 kips
20 Shoulder to Shoulder PP 50# Sandbag

Time: 5:50min
Greg Everett
2009-12-16
Greg M - You can try going M-F by moving Saturday to Friday. It may be fine, or it may kill you. What I would suggest is initially keeping Thursday's workout lighter than RXed and cut some sets down. Also, drop 1 conditioning workout for the week. See how that works. If you can handle it, try building up to the full meal deal, and see if you can manage it.
Scott pauly
2009-12-16
43yom/200lbs

Front squat - 86.5kg x 4 x 5

Snatch pull - 75kg x 3 x 4

Jerk - 76.5kg x 3 x 2;
82.5kg x 2 x 2;
88kg x 2 x 2

3 sets; no rest:
15 kipping pull-ups
20 shoulder-to-shoulder sandbag push press - 50lbs
Greg Everett
2009-12-16
LP -Nope. Do not have Facebook.
John B
2009-12-16
Front squat 140#x4x5
Snatch pull 105#x3x4
Jerk 120#x3x2 130x2x2 140x2x2

3 sets
with bands & 44# kb
10:00

Jesse Woody
2009-12-16
FS: 225# x 4 x 5
Sn Pull: 190# x 3 x 4
Jerk: 180x3x2, 190x2x2, 205x2x2
JCW
2009-12-16
front squat- 205 lbs
snatch pull- 175 lbs
jerk- 175, 190, 205 lbs
couple of other conditioning workouts. don't have a sandbag yet. Getting one for Christmas
Joshua McMahon
2009-12-16
I am new to this site and want to make sure I am understanding it. The number in front of the "x" is the number of reps, an the 2nd number is the amount of times you do those reps? or is it the other away around? Sorry to bother yall with such a basic question
Aimee
2009-12-16
Joshua-
Check the info link next to the WOD. It will answer all of those types of questions for you.
scott craig
2009-12-16
FS 105kg
Sn Pull 80kg
Jerk 70, 74, 76

Can't do pull ups because of ruptured bicep tendons. Did 4 sets of 20 with 50# sandbag (1 min rest).
Greg M.
2009-12-16
Thanks for the feedback, Greg.
Ian Carver
2009-12-16
Front Squat
215 lbs x4x5

Snatch Pull
170 lbs x3x4

Jerk
175 lbs x3x2
190 lbs x2x2
200 lbs x2x2
Dallas Hartwig
2009-12-16
FS 220 lbs x4x5
Sn Pull 175 lbs x3x4
Jerk 185 lbs x3x2, 205 x2x2, 215 x2x2

Skipped metcon due to schedule limitation. Will do it tomorrow at a lesser intensity along with some technique work on the erg.
TeddyB_SC
2009-12-17
FS: 92
Sn Pull: 70
Jerk: 74,80,85

Gant
2009-12-17
"Sitting on the couch is not a good choice."

I tried that. He moves around too much.
Dallas Hartwig
2009-12-17
Gant, that's funny stuff.
Tom W
2009-12-17
Hey Greg - Just wanted to let you know your link to OPT's site should be .ca instead of .com. The link goes to a site with a bunch of ads on it.

Tom
Greg Everett
2009-12-17
Thanks
Alan Bressler
2009-12-17
Thanks for sharing the Chicks vs Dudes video. Awesome!

For those of us struggling to learn Oly Lifting out on the plains of Montana, videos like this are inspiring and good learning tools.

Love the PM too!
Anil
2009-12-18
Front squat - 75% x 4 x 5 - 185#
Snatch pull - 85% (of snatch) x 3 x 4 - 145#
Jerk - 70% x 3 x 2; 75% x 2 x 2; 80% x 2 x 2 - 155#, 165#, 175#

3 sets; no rest:
15 kipping pull-ups
20 shoulder-to-shoulder sandbag push press - 25% BW (40# DB)
LK
2009-12-18
done 12/18/09

51F/125#/64"

FSQ:90#
SN pull: 60#
JK: 65#, 70,75

WOD: 5:20
mod. purple band & 20#DB
Matthew
2013-07-24
Haven't tested my Front Squat in months, had a back injury at last 1RM test and finished two leg strength cycles in which my Back Squat went up 50 lbs. Any rought estimations at how much my Front Squat may have increased? It was (again, injured) 210# last time, but I've since clean and jerked 195 with ease.
Get the App!
Catalyst Athletics programs are available through our exercise.com app. Unlimited access to all programs for only $10/month, or purchase programs individually for only $10 each!
Join the Group
Buy Programs
---
Tag Us!
Tag us on social media when you post videos and photos of your workouts!
#catalystathletics
Instagram: @catalystathletics
Twitter: @cathletics
Facebook: @catalystpm
---
Workouts Menu
Workouts Home
Read This First!
Workouts Help & Info
Exercise Library
Training Programs
Starter Program
Tomorrow's Workout
Text Only
Custom Program Design
Get the App
---
---