Friday December 18 2009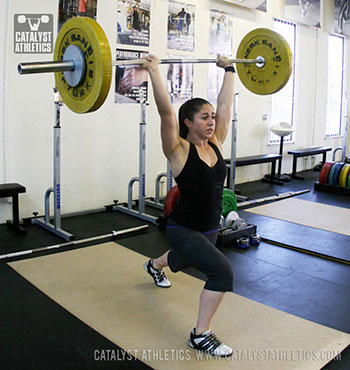 Please
login
to access our training programs.
Registration is FREE!
Questions? Get answers here or post in comments.
23 Comments
Please login to comment!
Peter Haas
2009-12-18
Greg,
Put one of your link graphics up on our site. 2 things:

1. Had to change the IMG url to an absolute to get the image to display.
2. I don't think you closed the anchor on any of the code.

cheers,
pete

Dan
2009-12-18
I tried to add as well and no image will display. Obviousely I'm not as well vered as Pete to fix it on my own....
Cory
2009-12-18
Greg,

Going to have to miss lifting today. Do you suggest that I do Friday and Saturday lifts on Saturday Sunday? The next few weeks will be hit and miss for me due to some vacation time and family activities so I am trying to fit in all that I can.

Thanks again for the advice and excellent coaching/programming!

Cory
Neil Scholtz
2009-12-18
Had to miss Wed & today's training. Was unloading and moving tonnes (literally 4.5 tonnes) of kettlebells & dumbbells.

Looking forward to tomorrow though.
Greg Everett
2009-12-18
Ah man. What a rookie mistake. Should all be fixed now.
Greg Everett
2009-12-18
Cory - Yes, you can bump Fri-Sat to Sat-Sun.
Charlie
2009-12-18
Hey Greg,

What can I substitute for rope climb?

Thanks for the workouts, this is my first week to follow one of your strength cycles. I was at Blackbox Summit and heard you speak.
Greg Everett
2009-12-18
Charlie - Hang a towel over a pull-up bar. Grab it with one hand above the other and do a pull-up that brings your chin above the lower hand; switch hands; repeat. Do 6-8 for each rope climb.
Björn Uddenfeldt
2009-12-18
Is there NO bending in knees and hips when doing high-hang snatch?
Greg Everett
2009-12-18
Bjorn - There is bending in both. If there were none, it would be a tall snatch. Check out the "exercises" link at the top of the page for videos/descriptions of both exercises.
Scott Pauly
2009-12-18
43yom/200lbs

Overhead squat - 60kg x 3 x 5; 3 sec pause in bottom

Tall snatch - 3 x 3; 40kg

High-hang snatch - 51kg x 2 x 4

3 sets; no rest:
300 m row
3 rope climbs

Also did 12 reps@bodyweight Overhead Squat. This is a Pr by 4 reps.
Sam McGowan
2009-12-18
All numbers in lbs.

OHS: 115x3x5
Tall Sn: 65x3x3
HHSn: 95x2x4
Nick P
2009-12-18
I have removed the 'other metcon only, poor form in the lifts but we don't care as long as people get faster times' site from my bookmarks. I never go anyways and it's just a bunch of political articles that are angry.

PM forever :)
Jesse Woody
2009-12-18
OHS w/pause: 145# x 3 x 5
Tall Sn.: 95# x 3 x 3
HH Sn: 135# x 2 x 4


JCW
2009-12-18
OHS- 135
tall snatch- 75
high hang snatch- 125
3 sets
row 300
2 rope climbs bout 23 feet
12:24
John B
2009-12-18
OHS - 75#x3x5
Tall Sn - 65#x3x3
Hh Sn - 75#x2x4

No rower, 200m run instead
Pull-ups band assist
6:58

First time doing a tall snatch and I felt like something really clicked with my technique. Thanks for the great programming.
Kyle Pichie
2009-12-18
OHS- 110#
tall snatch- 75#
high hang snatch- 100#
3 sets
row 300
2 rope climbs bout 15 feet
9:49min
Matt D
2009-12-19
Greg,
I added the links to our site and our coaches blog. Both Donna and I appreciate all you and Aimee do, so we are happy to spread the word down here in New Zealand.
Cheers
Matt
Ian Carver
2009-12-19
OHS
135 Lbs x3x5

Tall Snatch
85 Lbs x3x3

High Hang Snatch
120 Lbs x2x4
Dallas Hartwig
2009-12-19
OHS 120# x3x5
Tall Sn 95# x3x3
High Hang Sn 110# x2x4

4 rounds for time of: 300m row, 5 135# hang power cleans - 7:58
jason gusic
2009-12-19
i save the icon as a pic then use that pick as a link to websites that mihgt help. back to work after 6 weeks with a jacked shoulder! glad to talk about weights again!!!
LK
2009-12-19
done 12/19/09

OHS: 45# (was easier than expected - wrists were the only part feeling fatigued now that I corrected the grip width)
Tall SN: 40#
HH SN: 40#

No row/climbs today.
EricB in IL
2009-12-31
All weights in pounds.

Combined elements from Tues, Wed, and Fri WOD.

Tall Snatch - 65x3x3
High-Hang Snatch - 115x2x4
Power Clean + Clean - 135x2+1x3
Power Jerk + Jerk - 135x2+1x3

Metcon - 3 rft of:
15 kipping pullups
20 pushups

4:30 (all pullups unbroken)

Phil 4:13
Get the App!
Catalyst Athletics programs are available through our exercise.com app. Unlimited access to all programs for only $10/month, or purchase programs individually for only $10 each!
Join the Group
Buy Programs
---
Tag Us!
Tag us on social media when you post videos and photos of your workouts!
#catalystathletics
Instagram: @catalystathletics
Twitter: @cathletics
Facebook: @catalystpm
---
Workouts Menu
Workouts Home
Read This First!
Workouts Help & Info
Exercise Library
Training Programs
Starter Program
Tomorrow's Workout
Text Only
Custom Program Design
Get the App
---
---