Saturday December 19 2009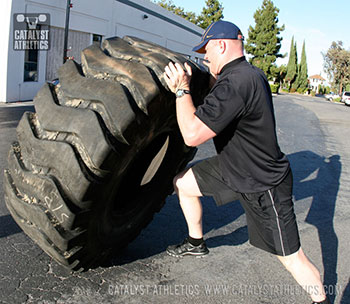 Please
login
to access our training programs.
Registration is FREE!
Questions? Get answers here or post in comments.
24 Comments
Please login to comment!
LP
2009-12-18
I had to do a double take - deadlift? As in, pick up as much weight as possible? Not clean/snatch DL? Wow... I haven't read through every single archived cycle, but I'm pretty sure this is the first time I've ever seen you program in a simple deadlift.
What's your reasoning for this? Do you just want to see how 'strong' people are? I'm not grumbling, I'm just curious and excited.
Greg Everett
2009-12-18
LP - Want to get a baseline on folks - plus people like to DL heavy.
Gene
2009-12-19
Missed wednesday, and was short on time tonight, so I blended the exercises from Wednesday and Friday. Skipped tall snatch because I didn't have time to look to see how to do it, as well as extra work due to time.

Front squat 4-4-4-4-4 @ 75% 160#
Overhead Squat 3 sec pause at bottom 3-3-3-3-3 65% of snatch 90#
Snatch Pull 3-3-3-3 85% 120#
High hang snatch 2-2-2-2 60% 85#
Jerk 3-3 @ 70% 130#, 2-2 @ 75% 140#, 2-2 @ 80% 150# 

Was a pretty good workout. My girlfriend arranged a trapeze class for us tomorrow, so I'll do the maxes on Sunday if I don't break my neck! I'm feeling some dullness in my knees (below the kneecap), and pain in my right wrist. I've begun wrapping the wrist, should I get wraps for my knees too? Is there a form error associated with these symptoms? Thanks!
Jesse Woody
2009-12-19
Well, was looking forward to this, then we got dumped on with a foot of snow, so I'm stuck in the house. Will be attempting a cupcake eating PR instead (love you mac!)...maybe lifting tomorrow if I'm lucky.
Brian Reckdenwald
2009-12-19
Snatch - max
180 lbs

Clean & jerk - max
250 - PR

Deadlift - max
405


Had to do this yesterday because I knew I wouldn't be lifting today and had to skip the supplemental work as well. Deadlifting and not trying to keep my torso upright was very strange. It's been a while.
Leslie P
2009-12-19
I'd like to start following the wods. Should I just jump in during the middle of the cycle, or wait till the next cycle? In that case, when does the next cycle start?

Sn-56kg
C&J- 65kg
DL- 265#
Jason Gusic
2009-12-19
my numbers arent amazing when im at work, but ive been off for 6 weeks with a bad shoulder. felt good getting back to it this week. glad to be back around lifters, if only in the digital realm.
still landed a 150 snatch
c and j is only at 200 until i have confidence in my shouldr again and my DL is an impish 370.

going to try and correspond more this year, hope you all have a good holiday.
Eric L.
2009-12-19
Been doing Performance Menu since 11-30-09, loving it:

Snatch 72.5 (New PR)
C & J 89.3 (New PR)
Deadlift 165.5 (New PR)


Scott Pauly
2009-12-19
Snatch 90kg(pr)

Clean and Jerk 105 kg
(cleaned 115 kg but hit chin on jerk and missed)

Deadlift 195kg (attempted/missed 200kg)

So on my jerks seems that my split is not long enough, and the fact that I hit my chin tells me that my head is in the way.
Any advice?

Greg Everett
2009-12-19
Leslie - Start on Monday - This was really a transition week anyway.
Greg Everett
2009-12-19
Scott - Drive straight up and reach only with the hips and front leg - don't think of driving your chest/head through. Think of putting your hips under the bar.
Leslie P
2009-12-19
Thanks
JCW
2009-12-19
M/170 lbs/5'11"
snatch- 205 lbs
c+j- 255 lbs pr
deadlift- 463 lbs pr, but very ugly
A1 and A2 with bodyweight
Rob
2009-12-19
I see you told Leslie to start on Monday. Does that mean that tomorrow is going to be a rest day?
Rob
2009-12-19
May have been a dumb question....new to the site. Looks like every sunday is a rest?
Greg Everett
2009-12-19
Rob -Not dumb, but yes, every Sunday is a rest day. Then usually Thursday or Friday is off - changes depending on the week/cycle.
TeddyB_SC
2009-12-19
Went to an "o" meet today
1st 73 pwr snatch
2nd 79 (miss)
3rd 80 pwr snatch

1st 95
2nd 100
3rd 105

Clean d. lift is 165 with hook grip.
Rob
2009-12-19
Thanks Gregg. Looking forward to the weeks to come. Using you programing as preparation for the upcoming games.
Sam McGowan
2009-12-19
71"/178lbs

Sn - 155lb (5 lb PR); missed 160lb even though I pulled it to eye level.

C&J - 205lb (same as PR); missed 215lb (clean)

DL - stopped at 315lb because my back was feeling very fatigued and form felt off. PR is 335lb. Needless to say, base strength is a big limiter.

Watching a video of my lifts, I see that I am jumping back nearly 8 or 10 inches which causes issues receiving the bar. Not sure how to address this.
Ian Carver
2009-12-19
Snatch
W/U, then: 155, 175, 190, 205Lbs (5# PR) - 205 Lbs

Clean & Jerk
205, 225, 240, 255(5# PR attempt-2x fail) - 240 Lbs

Deadlift
325, 375, 405

A tad sluggish today, probably due to being back on graves at work and then the killer "Benefit for Jess" cancer fundraiser we held today. Had a rough time with the Snatch, but still got it. Went for PR numbers on the C&J, but didn't make the jerk on the first one, and got caught in the hole on the second. Nothing left after that. D/L's went well. Felt a bit of fatigue and stopped at 405.
Neil Scholtz
2009-12-20
M/25/76kg/178cm

Sn - 85kg, 88kg(Failed)
Cln & Jrk - 100kg (really felt weak with the jerks, no speed, didn't try any heavier)
Deadlift 180kg

Best lifts to date:
Sn 87kg
Cln & Jrk 111kg
Deadlift 180kg
LK
2009-12-20
51F/125/64"

SN: 70#
C&J: 85#
DL: 185#
(shoeless, PL-style, jan/09 PR was 210#)

Did: HLR/BE+10#
Jesse Woody
2009-12-20
Did this on Sunday, after 3 hours of snow shoveling...nowhere near PR's:

Snatch: 200#
C&J: 255#
no DL

Both were 20/30# respectively under my PR's, but my back was f'd from all of the damn snow. Looking forward to tomorrow.
Dallas
2009-12-21
Sn 165# (heaviest weight overhead with snatch grip since I broke my wrist, still pretty sore)
C&J 245#
DL 455#

A buddy who's a pretty accomplished lifter commented "you've got no pop in your hips" on almost all of my lifts that day. And... he was right. Grrr. I have WORK to do.
Get the App!
Catalyst Athletics programs are available through our exercise.com app. Unlimited access to all programs for only $10/month, or purchase programs individually for only $10 each!
Join the Group
Buy Programs
---
Tag Us!
Tag us on social media when you post videos and photos of your workouts!
#catalystathletics
Instagram: @catalystathletics
Twitter: @cathletics
Facebook: @catalystpm
---
Workouts Menu
Workouts Home
Read This First!
Workouts Help & Info
Exercise Library
Training Programs
Starter Program
Tomorrow's Workout
Text Only
Custom Program Design
Get the App
---
---