Monday December 21 2009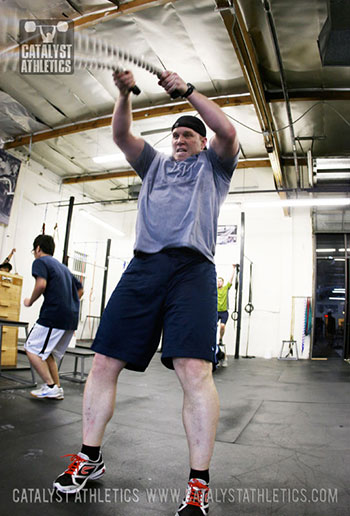 Please
login
to access our training programs.
Registration is FREE!
Questions? Get answers here or post in comments.
18 Comments
Please login to comment!
Miguel Garza
2009-12-21
Hey Greg,
I'm getting our coaches started on this strength cycle. Would it be wise for them to start at week 1, even though you mentioned it as a de-loading cycle? Or should they start at week 2?
Neil Scholtz
2009-12-21
M/25/76kg/178cm

Back Sqt 130kg x 3 x 5
Sn Deadlift 90kg x 3 x 3
Push Press 65kg x 5 x 5

Pull ups
1st set 10kg weight vest
2nd set 7.5kg weight vest
3rd set 5kg weight vest, failed on rep 8

GHB sit ups
1st set 45reps
2nd set 26reps
3rd set 20reps
Chris
2009-12-21
Could somebody please explain the rep count for the pullups?
"x 10; 21x0"

Thank you in advance
Gene
2009-12-21
Chris- check the "info" link at top of workout page.

BS 205#
snatch dl 175#
push press 135#
pullups-5# x 10 strict, 10# x 8 strict + 2 Kip, 10# x 2 strict + 8 Kip
Situps 20/20/20
Cory
2009-12-21
Max lifts yesterday-
5"11 200lbs male

Sn 165(180pr)
C&J 205(225pr)
DL 405(have no current pr so this will do)



Scott Pauly
2009-12-21
43yom/200lbs

Back squat -130kg x 3 x 5

Snatch deadlift - 100kg x 3 x 3

Push press - 75kg x 5 x 5

3 sets:
A1. Pull-ups x 10; 21X0; add weight each set as needed to hit reps; 1 min rest
A2. GHB sit-ups x max consecutive; 2010; NO failed reps; 2 min rest

Sam McGowan
2009-12-21
33/178#/71"

Squat-205#x3x5
Sn DL-185#x3x3
Push Press-140#x5x5

Short on time so did these back to back--
A1.10 reps x 25,30,30lb dumbell held btwn legs
A2.15,15,15 no weight
Ian Carver
2009-12-21
Back Squat
80% x3x5= 305 Lbs

Snatch D/L
Up to 110% x3x3= 225 Lbs

Push Press
73% x5x5= 145 Lbs

Conditioning to be done later.
Gordo
2009-12-21
Still a little sore from shoveling snow this weekend...
Back Squat 92x3x5
Sn DL 70x3x3 (I am technically challenged and weak, so used 110% of Snatch)
Push-press went to heavy single to re-establish 1RM (81kg pr by 6kg), then 60x5x4
Pull-ups 3x10 w/5,7,8 kg
GHD sit-ups 22,18,16

Kyle Pichie
2009-12-21
22yom/170lbs

Back squat -205# x 3 x 5

Snatch deadlift - 170# x 3 x 3

Push press - 165# 5x5
Brian Reckdenwald
2009-12-21
Back squat - 80% x 3 x 5
275 lbs-275-275-275-275

Snatch deadlift - 100% (of snatch) x 3 x 3
195-195-195

Push press - 73% x 5 x 5
135-135-135-135-135

3 sets:
A1. Pull-ups x 10; 21X0; add weight each set as needed to hit reps; 1 min rest
A2. GHB sit-ups x max consecutive; 2010; NO failed reps; 2 min rest
10, 25
10, 22
10, 24

All dead-hang pull-ups, which are not my specialty.
John B
2009-12-21
Back squat 170#x3x5
Snatch DL 135#(112%)x3x3
Push Press 110#x5x5

A1-No weight added band assist
A2-12,9,10 Horizontal only on the GHB
TeddyB_SC
2009-12-21
B Squat 116 3/5
Snatch DL 85 3/3
P Press 50 5/5

JCW
2009-12-21
Back squat- 260 lbs
Snatch DL- 205 lbs
Push press- 160 lbs
sit ups 35, 30, 25. no pull ups because i did a workout that had lots of pull ups in it
Stephan
2009-12-21
BS 315lb x 3 x 5
SN DL 275lb x 3 x 3 (roughly 125% of Sn - still able to maintain correct mechanics)
PP 185lb x 5 x 5

A1 - modified to do rope pull-ups 5x5 and kip pull-ups 3 x 10
A2 - modified to do 5 x 15

Going to try to keep with the program..work schedule and travel will be tricky for the next 6 weeks
Leslie P
2009-12-21
First time with snatch grip DLs. Really highlights my limited flexibility in my back. I need to keep working that
Jesse Woody
2009-12-22
Did this late, missed the pull-up/ghd stuff:

BS 245# x 3 x 5 (felt hard today, went with a lighter percentage)
Sn DL 220# x 3 x 3
PP 165# x 5 x 5
LK
2009-12-23
51F/125#/64"

done 12/23/09

BSQ: 115#
SN DL: (70#max) 85#
PP: 65#

3 sets as rx-ed
PLU - red band
GHB SU - subbed 15#KB overhead SU - 20/21/20
Get the App!
Catalyst Athletics programs are available through our exercise.com app. Unlimited access to all programs for only $10/month, or purchase programs individually for only $10 each!
Join the Group
Buy Programs
---
Tag Us!
Tag us on social media when you post videos and photos of your workouts!
#catalystathletics
Instagram: @catalystathletics
Twitter: @cathletics
Facebook: @catalystpm
---
Workouts Menu
Workouts Home
Read This First!
Workouts Help & Info
Exercise Library
Training Programs
Starter Program
Tomorrow's Workout
Text Only
Custom Program Design
Get the App
---
---