Wednesday December 23 2009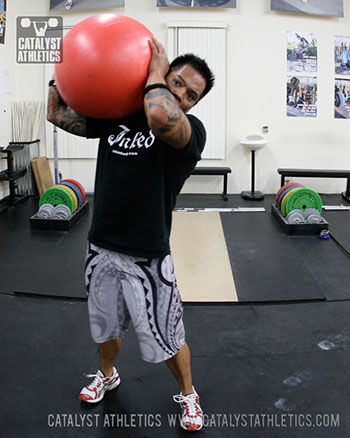 Please
login
to access our training programs.
Registration is FREE!
Questions? Get answers here or post in comments.
12 Comments
Please login to comment!
Kyle Pichie
2009-12-23
Hey Coach E. No tires here at the gym, should I sub with a heavy Deadlift (whats the weight of the tire?) and box jumps 24'' Box jump? Let me know if the substitution is enough weight and height wise.
Neil Scholtz
2009-12-23
M/25/76kg/178cm

Frnt Sqt 105kg x 3 x 5
Snatch Pull 72kg x 3 x 3
Jerk Max 105kg; 95kg x 1; 85kg x 2 x 2

Metcon:
10 Tire Flips + jump in/out (Tire size standing upright - chest height)
10 DB Push press 2x20kg
3:40
JCW
2009-12-23
front squat- 205 lbs
snatch pull- 175 lbs
jerk- 260 lbs, 235, 205

10 tire flips + jump in and out (heavy tire)
10 sandbag push press 50% bw
7:02
Greg Everett
2009-12-23
Kyle - Do a deadlift at about 50-60% - accelerate up and drop from the top. Then jump OVER something rather than onto something. If you have 2 boxes or small hurdles, jump over both consecutively (in a straight line).
Ian Carver
2009-12-23
Front Squat
80% x3x5=230 Lbs

Snatch Pull
90% x3x3=185 Lbs

Jerk
Max. Effort= 255 Lbs
90% x1= 230 Lbs
80% x2x2= 205 Lbs

Made a couple bumps in percentages due to a couple of weaknesses in lifts this past weekend. Everything felt and went very nicely today.
TeddyB_SC
2009-12-23
F. Sqt 93-3x5
Sn. Pull 72-3x3
Jerk/Rack 95, missed 101 (can't drop the weight so I was probably a little cautious) 86x1, 76x2x2
Gordo
2009-12-23
Weights in pounds today
Front Squat 170x3x5
Snatch pull 120x3x3
Jerk up to 195, then 180x1 160x2x2

3 times through
double kettle bell clean (24kg each) + 2 20" box jumps
sandbag push-press 65lb (all my medium bag would hold)
8:28
I would rather have done tire flips, but the tires are buried in snow right now...
Rice Owls Catalysts
2009-12-23
C: FS: 210 SP: 170 J: 225,190,180

E: FS: 155 SP: 115 J: 185,170,150

Dad: FS=BS:95,105,115 SP: 115 J:Shoulders dyin

WOD: Due to a lack of big tires we did 10 lateral burpees and no sandbags so I did 100# bb push press, ethan did 40# db push press, dad did 30 burpee step-ups total. That wod was teh suck.
Alexander Miezin
2009-12-23
First time in nearly 2 years doing front squats. Also first time doing Snatch Pulls and Jerks.

Front squat - 155 lbs. x 5,5 185 lbs. x 5
Snatch pull - 193 lbs. x 3,3,3
Jerk - Warmed up with 45 lbs. x 5, 95 lbs. x 3, 130 lbs. x 1, then working sets were 150 lbs. x 1, 170 lbs. x miss, 170 lbs. x miss, 150 lbs. x 1, 130 lbs. x 2,2

After I did:

Deadlift: 2 sets of 10 of 170 lbs.
and Medicine ball slams
Kimi Kanda
2009-12-24
FS: 45kg
SP: 40kg
J: 50/45/40kg

metcon: 3 rounds
DL: 60/50/50kg + jump over and back bar/step ups
DBPP: 8kg

Scott Pauly
2009-12-24
43/male/200lbs

Front Squat 90kg x3x5

Snatch Pull 76.5kg x3x3

Jerk Max for today 95kg: 90kgx1, 85kgx2x2
Jerk was far from pr, in fact its a little embarrassing today.

Plus metcon with 100lbs in sandbag



scott craig
2009-12-25
500m row + DROM
Burgener Warm Up w/ bar
2 light sets of front squats

Front Squata 105kg x3x5
Snatch Pull 80kg x3x3
Jerk 80kg; 72kg; 65kg x2x2
Get the App!
Catalyst Athletics programs are available through our exercise.com app. Unlimited access to all programs for only $10/month, or purchase programs individually for only $10 each!
Join the Group
Buy Programs
---
Tag Us!
Tag us on social media when you post videos and photos of your workouts!
#catalystathletics
Instagram: @catalystathletics
Twitter: @cathletics
Facebook: @catalystpm
---
Workouts Menu
Workouts Home
Read This First!
Workouts Help & Info
Exercise Library
Training Programs
Starter Program
Tomorrow's Workout
Text Only
Custom Program Design
Get the App
---
---