Monday January 25 2010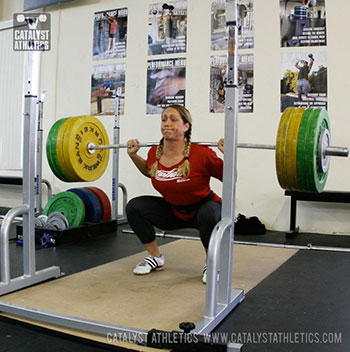 Please
login
to access our training programs.
Registration is FREE!
Questions? Get answers here or post in comments.
22 Comments
Please login to comment!
Andrew Makely
2010-01-24
Hey Greg,

I don't have a GHD yet, so are situps on a very step slant board the best substitute? If not what should I do. Thanks!
Greg Everett
2010-01-24
Andrew -Try to find something round that you can lie over (like a swiss ball or the like) and anchor your feet - that will be the closest thing. Otherwise, a slant board will be ok.
Aimee
2010-01-24
Whoo for Jocelyn's 120 BS! an 11kg PR!


Andreas from Sweden
2010-01-24
Greg, bet you've got this question a bunch of times before. But I'm not sure were to look for the answer. Do you have a onlineprogram for oly lifting only? Thank you anyway.
Andreas from Sweden
2010-01-24
Nevermind. Guess I will buy your book. Do you ship to Europe?
Sam McGowan
2010-01-24
Started early (Sunday) since I'm traveling at the end of the week

3-pos Sn: 110lbs x 5 sets
2xPJ+J: 140lbs x 5 sets
Jerk Dip Squat: 225lbs x5x2

BJ + GHD: 36", 42", 42" for jumps, situps with 25# KB, switched hands at 5 reps

Paul Manfre
2010-01-24
I'm going to start this program tomorrow. Please explain the A1 and A2 and the 2020?
Collin
2010-01-24
Paul, click on the "info" link above the current day's workout. It will clear up any uncertainty you may have as to programming lingo and conventions.
scott pauly
2010-01-25
44/m/205lbs

3 position snatch 61kg x5; 1min rest

2 power jerk+split jerk 75kg x5; i min rest

jerk dip squat 105kg x5x2

3 sets of ghb situpsx15
Neil Scholtz
2010-01-25
M/25/76kg/178cm

3 Pos Sn 55kg x 5, 1min rest
2 pwr jrk + spl jrk 72kg x 5, 1min rest
Jrk dip sqt 100kg x 5 x 2

I'm back after taking last week off. Just needed a break. Looking forward to the new cycle.
Brent
2010-01-25
Hey Greg, I have my first Oly meet coming up in two weeks. Can you point me towards the pre-comp programming you'd recommend? Thanks.
Jocelyn
2010-01-25
Thanks for making me better coach Aimee:)
Greg Everett
2010-01-25
Andreas - Yes, we ship to Europe.
Greg Everett
2010-01-25
Brent - On the Saturday before the week (week out) work up to the sn/cj weights you plan to open with for 1 rep each. Then do a back squat to 90% or so x 1. Mon sn/cj 85% x 1; tue sn/cj 80% x 1 x 2 and fs med fast single; wed sn/cj 75% x 1 x 3-4; thur 70% x 1 x 3-5; fri rest/bar work; sat meet.
Mike Maruffi
2010-01-25
3-position snatch - 61kg x 5 sets
2 power jerk + 1 split jerk - 84kg x 5 sets
Jerk dip squats - 115kg x 5 x 2 (no bands)


Rice Owls Catalysts
2010-01-25
3PS: 90# J: 115# JDS: 150#

WOD: 36# box, K2E for me: 3:15, GHD for BG:4:45

Still coming off of lumbar injury so just did BG's weights today. Wish I had a microphone for my lower back when I did the K2Es, snap crackle POP.
Matt Foreman
2010-01-25
That's a badass picture.
Brian Reckdenwald
2010-01-25
3-position snatch (floor, above knee, mid-thigh) - 65% x 5 sets; 1 min rest
130 lbs x 5 sets

2 power jerk + 1 split jerk - 65% x 5 sets; 1 min rest
165 x 5 sets

Jerk dip squats with bands - 90% (of jerk) x 5 x 2
225 x 5 x2

4 sets:
A1. Box jump x 3 - 37.5" box; no rest
A2. GHB sit-up x 10; 2020; 1 min rest
Gordo
2010-01-25
3 pos Snatch 43kg
Jerk complex 60 kg
Jerk dip squats 83kg (no bands, though)

3 Box jumps to 40" box
10 GHD situps per scheme
grambo
2010-01-25
120kg back squat, that is no joke. There are many men (inside CrossFit and out) that would dream of that. Nice strength.
kecks
2010-01-25
A deep high bar back squat, not some 90 degree low bar Isquatwithmyback stuff... =)
Matt M.
2011-07-11
3pos 135 lbs
jerks 165 lbs
jerk squats 205 lbs + green bands

A1. 42''
A2. as written

http://vimeo.com/26296243
Get the App!
Catalyst Athletics programs are available through our exercise.com app. Unlimited access to all programs for only $10/month, or purchase programs individually for only $10 each!
Join the Group
Buy Programs
---
Tag Us!
Tag us on social media when you post videos and photos of your workouts!
#catalystathletics
Instagram: @catalystathletics
Twitter: @cathletics
Facebook: @catalystpm
---
Workouts Menu
Workouts Home
Read This First!
Workouts Help & Info
Exercise Library
Training Programs
Starter Program
Tomorrow's Workout
Text Only
Custom Program Design
Get the App
---
---