Tuesday January 26 2010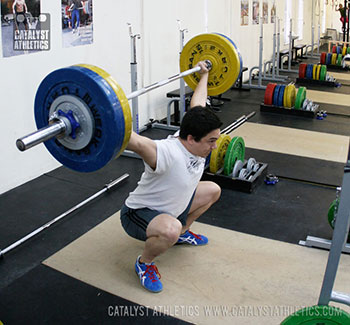 Please
login
to access our training programs.
Registration is FREE!
Questions? Get answers here or post in comments.
20 Comments
Please login to comment!
Sam McGowan
2010-01-25
Snatch-135#x1x5
C&J-175#x1x5
Squat-215#x5x5

No time for conditioning today.
Shirley Q. Liquor
2010-01-25
That Sterve Pan is scurry strong. Just thought I'd let ya'll know befurr I run off ta the sto' to grab mah turrletries.
DW
2010-01-25
Iway inkthay Olympicway iftslay uleray
Shirley Q. Liquor
2010-01-25
OOOOOOOOOOOOOOOH LAWD, child.
Gordo
2010-01-26
Snatch 53kg
C&J 74kg
Back Squat 94kg

3 rounds, no rest
15 kb swings 24kg
15 pull-ups
4:17

Robert Prieto
2010-01-26
hey greg why wide stance feet straight forward? Just would like to know because i have been training hard style when it comes to kb's.
Neil Scholtz
2010-01-26
M/25/76kg/178cm

Sn 68kg
Cln & jrk 88kg
Bck Sqt 130kg

Conditioning:
45 Double Unders
45 Sit Ups
200m Run
30 Double Unders
30 Push Ups
200m Run
15 Double Unders
15 Pull Ups
200m Run
4:46
EFS
2010-01-26
165 # power snatch 1x5 - learning the oly's - form not good so doing power snatches

Power clean/front squat and jerk - 1x5 205# - working on getting under the bar - does not come easy to an old power lifter/rugby player with stiff joints!

Back squat - 5x5 385# - switched to high bar style

conditioning - 3 sets of pull ups - dips - 300 meter row. Couldn't remember the actual conditioning workout for the day - one too many shots to the head in rugby I guess!

Cool workouts - thanks for the effort - I love the videos showing the exercises!

Peace

EFS

Mike Maruffi
2010-01-26
Snatch - 75kg x 1 x 5
Clean & jerk - 90kg x 1 x 5
Back squat - 152kg x 5 x 4

Conditioning - 5:24

Derrick
2010-01-26
New, so wondering...(lbs) x 1 x 5 is 5 sets of 1? Just making sure.
Jordan Atwell
2010-01-26
Snatch- 84kg
Clean & Jerk- 115kg
Back Squat- 166kg

WOD- 6:18 w/2pood
Greg Everett
2010-01-26
Robert - Just to get that outer hamstring a bit more - some variety.
Greg Everett
2010-01-26
Derrick - Yes, 5 sets of 1 rep.
ethan
2010-01-26
snatch-115
couldn't get the lift to give me anything to get under on 125. i probably was curling the bar more than rowing it. need to work on my snatch.

C&J-150

squat-205

WOD-8:20 with 55 lb dumbbell.

second day back after a pretty long break.
aimee
2010-01-26
Derrick- check the info link next to the WOD for all information relating notations, etc.
scott pauly
2010-01-26
44/yom/205

Snatch 75kg x1x5

clean and jerk 95 x1x5

back squat 130kg x5x5

15 kb swings 2 pood
15 kipping pull-ups
5:36
Rice Owls Catalysts
2010-01-26
Snatch: 110 C&J: 140 BS: 180
WOD:
55lb DB swing, 15 butterfly pullups C:5:15 BG:8:06
Brian Reckdenwald
2010-01-26
Snatch - 80% x 1 x 5
160 x 1 x 5

Clean & jerk - 80% x 1 x 5
200 x 1 x 5

Back squat - 80% x 5 x 5
280 x 5 x 5

3 sets; no rest:
15 KB swings (wide stance, feet straight forward) - 1.5 pood
15 kipping pull-ups

Time - 5:36
Björn Uddenfeldt
2010-01-27
Snatch: 52.5 kg
C&J: 70 kg
FS 1RM: 110 kg
BP: 100.5 kg, pb
DL 1RM: 180 kg
+
3 sets; no rest:
15 KB swings (russian), 32 kg
15 kipping pull-ups
Time: 3:25 min

Doing some max tests in my firefighter-training so I skipped BS for frontsquats and deadlifts with benchpress in between. Really close to 120 in FS and 190 in DL.
Matt M
2011-07-12
Snatch 170 lbs
Clean and Jerk 200 lbs
Back Squat 240
KB 2pd Pull Ups butterfly 3:31
1 hr rest
:45 hill sprint
Get the App!
Catalyst Athletics programs are available through our exercise.com app. Unlimited access to all programs for only $10/month, or purchase programs individually for only $10 each!
Join the Group
Buy Programs
---
Tag Us!
Tag us on social media when you post videos and photos of your workouts!
#catalystathletics
Instagram: @catalystathletics
Twitter: @cathletics
Facebook: @catalystpm
---
Workouts Menu
Workouts Home
Read This First!
Workouts Help & Info
Exercise Library
Training Programs
Starter Program
Tomorrow's Workout
Text Only
Custom Program Design
Get the App
---
---