Monday February 15 2010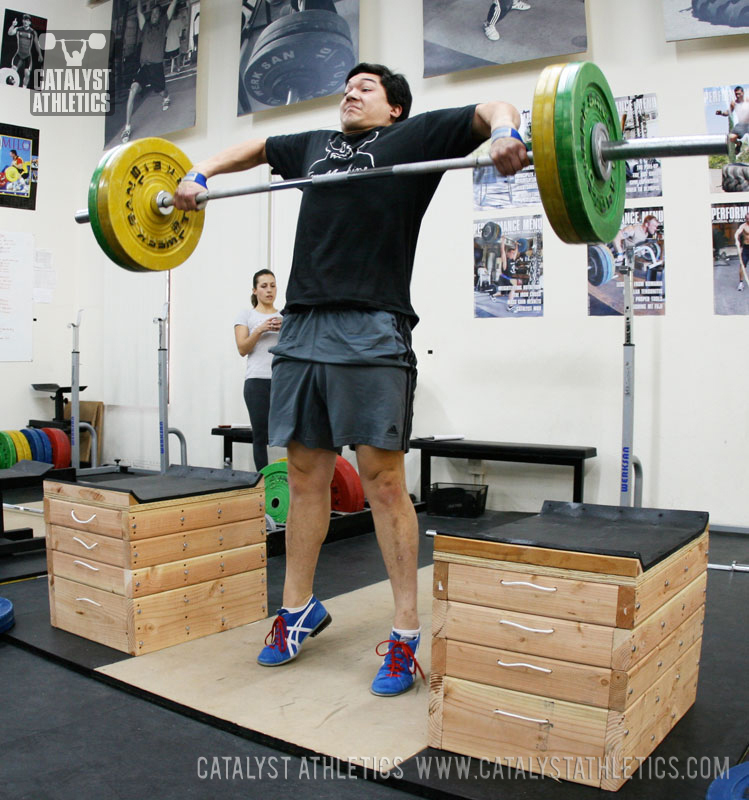 Snatch - 65% x 2 x 10
Snatch pull - 85% x 5 x 5
Jerk - max for day
3 sets:
A1. Depth jump x 3
A2. GHB sit-up x 12
Week 4
Questions? Get answers here or post in comments.
6 Comments
gordo
2010-02-15
Snatch 95lb
Snatch pull 125lb
Jerk max 210lb

Depth jumps from/to 24" box
TeddyB_SC
2010-02-15
Snatch--55
Sn. Pull--75
Jerk max--112(pr)

Greg,
Today was a day of several firsts. First time my jerk from the rack has ever equaled my max C&J(110) and the first time I have ever jerked more from the rack then after a clean(I know that must be odd).

Thanks for all you do!!!!
Rice Owls Catalysts
2010-02-15
Back in the saddle after 5 days rest for joint health.

C: Sn: 115#, SnP: 150#, J: 215# WOD: as rx'd
BG: Sn: 95#, SnP: 115#, J: 175# PR WOD: as rx'd

first time ive done 215# in a while and my lumbar is still uncomfortable and we were in a somewhat dangerous squat rack so stopped there.
COS
2010-02-15

Jumpin in this week. Love this stuff, just need to stop being lazy.

Snatch 115# x 2 x 10
Sn Pull 155 x 5 x 3
Jerk- 245#

cut down sn pulls. Got a hard metcon to hit in a few hours.
Jordan Atwell
2010-02-15
160lb Snatch x 2 x 10

205lb Snatch Pulls x 5 x 5

335 Jerk Max- PR by 20lbs
Brian Reckdenwald
2010-02-15
Snatch - 65% x 2 x 10
135 lbs x 2 x 10

Snatch pull - 85% x 5 x 5
170 x 5 x 5

Jerk - max for day
245

3 sets:
A1. Depth jump x 3
A2. GHB sit-up x 12
Workouts Menu
Workouts Home
Workouts Help
Exercise Library
Training Programs
Starter Program
Tomorrow's Workout
Text Only
Custom Program Design
---
---
Advertise With Us