Tuesday March 2 2010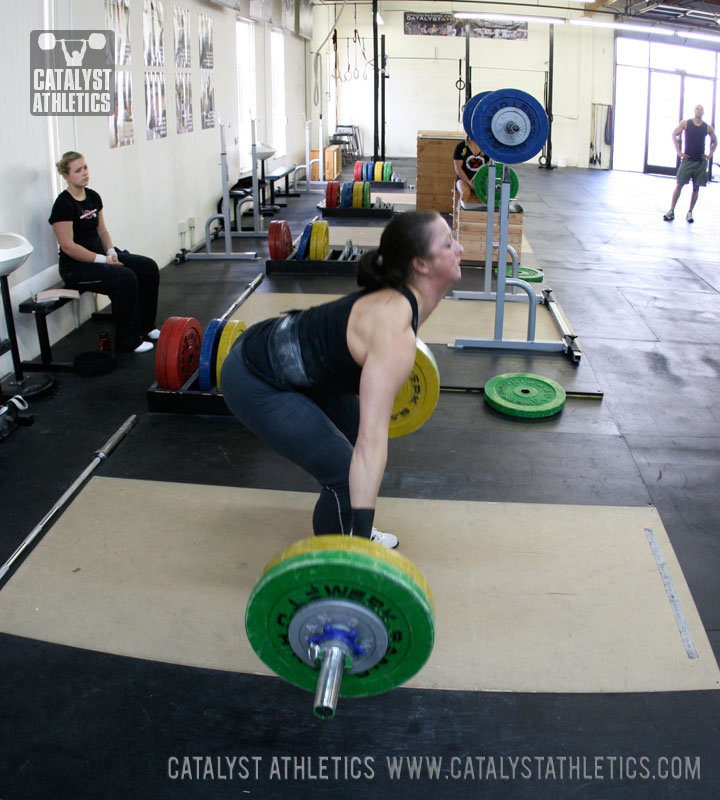 Snatch - Max
Clean & jerk - Max
Back squat - 90% x 1 x 5
3 sets:
A1. Reverse hyper x 15 (weighted)
A2. Barbell bent row x 10 (add weight from last week)
Notes:
Don't push PR attempts today unless you're sure they're going to happen.
Questions? Get answers here or post in comments.
3 Comments
Rice Owls Catalysts
2010-03-02
C: Sn:175# C&J:215# BS:305#
No time for mini-wod, I got under 185, nailed it but coming out of the catch it started rotating and i lost it. Oh well, next time i will get it.
Brian Reckdenwald
2010-03-02
Snatch - Max
205 lbs PR!

Clean & jerk - Max
255 PR! (wearing a belt)

Back squat - 90% x 1 x 5
315 x 1 x 5

3 sets:
A1. Reverse hyper x 15 - 35 lb DB
A2. Barbell bent row x 10 - 125 lbs
Mike Calelly
2010-03-02
@Rice Owls Catalysts -

I train in Houston as well. Do you train in West U? I am at Break Away speed in Meyerland Plaza and will soon have equipment in my garage. Always interested to know who else is out there.

Be on the look out for a meet in Houston in August if you are interested in competing.

shoot me an email at mpc1250 at yahoo if you would like

Mike
Workouts Menu
Workouts Home
Workouts Help
Exercise Library
Training Programs
Starter Program
Tomorrow's Workout
Text Only
Custom Program Design
---
---
Advertise With Us