Tuesday March 23 2010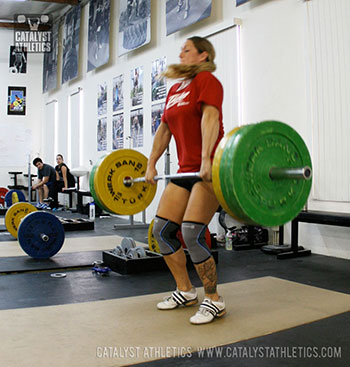 Please
login
to access our training programs.
Registration is FREE!
Questions? Get answers here or post in comments.
15 Comments
Please login to comment!
Max
2010-03-22
I dont know at what point in the clean this picture was taken, so i will assume it is the 2nd pull. Her weight moved forward to the ball of her foot too early, correct?

She should be driving off of her heels until the last split second. Was this lift a hit or miss? Am I incorrect in my assumption on where she was in the movement? Just wondering.
Greg Everett
2010-03-22
Max - Yes, second pull. Yes, she's slightly farther forward over the feel than I would like, but it's really minor. She doesn't have to actually be totally flat-footed at this point - she may have the pressure on the balls of her feet as long as her weight is still farther back over the foot. In other words, I'd be satisfied if you took her and the bar as a whole and tilted the unit backward a few degrees.
dan
2010-03-22
where did Gant get that shirt?
Ben
2010-03-23
Greg,

Will this whole seminar be available on dvd? I hope so because that clip kicked ass!
Max
2010-03-23
Roger that. Thanks Greg.
saulj
2010-03-23
This was a great seminar, thanks for hosting. Hope you can get some Dan John video too.
Rice Owls Catalysts
2010-03-23
C: MS:145#, PS:135#, J:205,165
BG: MS:115#, PS:105#, J=Snatch push press:165,135
WOD:60 GHDs, no sledgehammer in our globo, doh.

My hands are still to' up from Murph last wednesday - the jerks were not too comfortable. Plus im sick of our power rack at school its mad dangerous for jerks.
Gant
2010-03-23
I got the shirt from Lon Kilgore. He had a few made for something.
Brian Reckdenwald
2010-03-23
Muscle snatch - max for day
160 lbs

Power snatch - 75% x 2 x 3
135 x 2 x 3

Jerk - max for day; 80% of that x 2 x 2
265; 215 x 2 x 2

3 sets:
15 Diagonal medball slams / side - 20 lb ball
15 pull-ups

Couldn't find anything to hit with the sledge and had no willing participants, so I had to sub slams.
Erik Reckdenwald
2010-03-23
Muscle snatch - max for day
140# (PR)

Power snatch - 75% x 2 x 3
115#

Jerk - max for day; 80% of that x 2 x 2
225#; 185# x 2 x 2

3 sets:
15 sledgehammer swings / side
15 pull-ups
grambo
2010-03-23
Great clip, sounds like it was a very useful and practical seminar.

Not to stir controversy, but I was just contrasting that bit of Gant's lecture with the recent "At the Chalkboard" series in the CFJ. Gant has a clear logical framework and I learned something in 5 minutes. The Chalkboard series (if not satire, I can't tell) is meaningless psychobabble about nothing. I haven't seen anything legit in the CFJ other than some of Coach Burgener's videos lately. Shame.
Gant
2010-03-24
To be fair, I got bumped up to an earlier time slot in the program. That clip was from Saturday afternoon. If I had gone on Sunday, as planned, I would have been sufficiently plowed and made no sense whatsoever.
Will
2010-03-24
I second Ben. I would love to see this seminar available on DVD I would buy this up is a second. I wanted to make the seminar, but it was the same day as the SoCal Sectionals so I wasn't able to.

Is the BBS sold out?
Alex
2010-03-24
(Overslept yesterday, missed WOD. Did it today and will play catchup tomorrow.)

5'10", 174#., 17 years

Muscle snatch - max for day
140# (PR) Failed in the middle of 145#

Power snatch - 75% x 2 x 3
115# (Good technique improvements. Snatch max is 135#, but I can't hit it regularly. Hoping to get there next snatch workout, and maybe pull off 140#)

Jerk - max for day; 80% of that x 2 x 2
200# (PR, 10# improvement); 180# x 2 x 2

3 rounds:
30 20# medicine ball slams
15 pullups

Pullups were weak
JP Griffin
2010-03-24
Muscle snatch - max for day (125)
Power snatch - 75%(115) x 2 x 3
Jerk - max for day(205 new PR); 80% (165) of that x 2 x 2  

Skipped Tuesday - made this one up Wednesday.
Skipped the metcon - fighting a darn cold!
Get the App!
Catalyst Athletics programs are available through our exercise.com app. Unlimited access to all programs for only $10/month, or purchase programs individually for only $10 each!
Join the Group
Buy Programs
---
Tag Us!
Tag us on social media when you post videos and photos of your workouts!
#catalystathletics
Instagram: @catalystathletics
Twitter: @cathletics
Facebook: @catalystpm
---
Workouts Menu
Workouts Home
Read This First!
Workouts Help & Info
Exercise Library
Training Programs
Starter Program
Tomorrow's Workout
Text Only
Custom Program Design
Get the App
---
---