Wednesday March 31 2010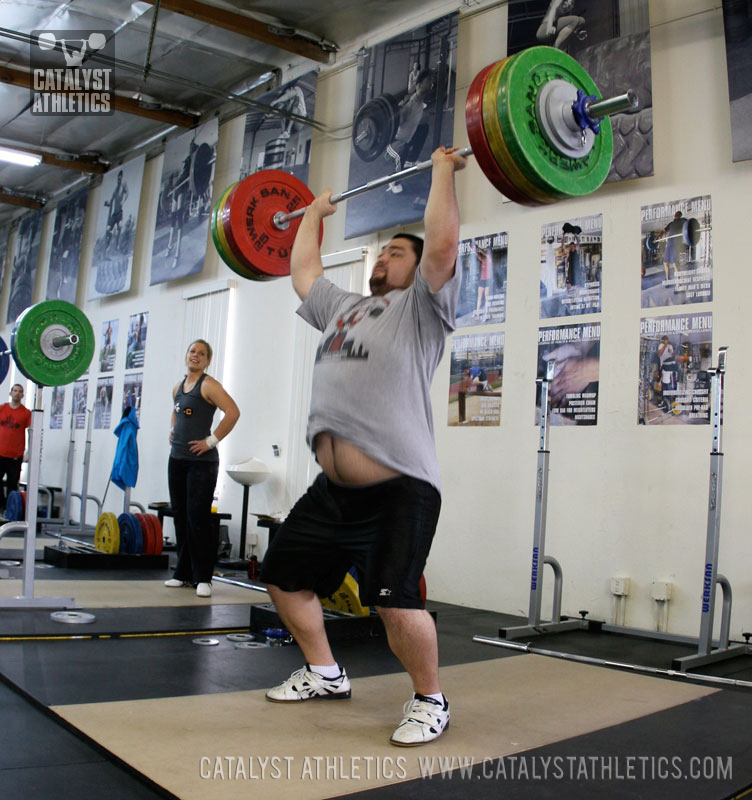 Clean & jerk - 75% x 1 x 3
Clean pull off 3" riser - 90% (of clean) x 3 x 3
Snatch - 75% x 1 x 2
Back squat - 84% x 2 x 3; follow each set immediately with 2 box jumps
Russian twist - 3 x 18/side
4 Comments
Rice Owls Catalysts
2010-03-31
C: C&J:175#, CP:235#, Sn:145#, BS:285+~46inch box jumps BG: C&J:135#, CP:175#, Sn:105#, BS:205+~46inch box jumps Russian twists on decline bench w/ 35# plate I like the clean pulls off the riser, havent done that since high school yo.
Michael Miller
2010-03-31
Hey Greg quick question for you. My strict should press is 220# and my Push Press is 265# however my jerk is lower than my push press and I know that is not right. How much more should my jerk be? I am probably going to come to CA for some work on my jerk technique for obvious reasons.
Greg Everett
2010-03-31
Michael - You should be able to jerk anywhere from 20-35% more than you can push press - really depends on your individual strengths/weaknesses.
Brian Reckdenwald
2010-03-31
Clean & jerk - 75% x 1 x 3 195 lbs x 1 x 3 Clean pull off 3" riser - 90% (of clean) x 3 x 3 240 x 3 x 3 Snatch - 75% x 1 x 2 155 x 1 x 2 Back squat - 84% x 2 x 3; follow each set immediately with 2 box jumps 315 x 2 x 3; 36" box Russian twist - 3 x 18/side w/ 20 lb ball
Workouts Menu
Workouts Home
Workouts Help
Exercise Library
Training Programs
Starter Program
Tomorrow's Workout
Text Only
Custom Program Design
---
---
Advertise With Us