Tuesday April 13 2010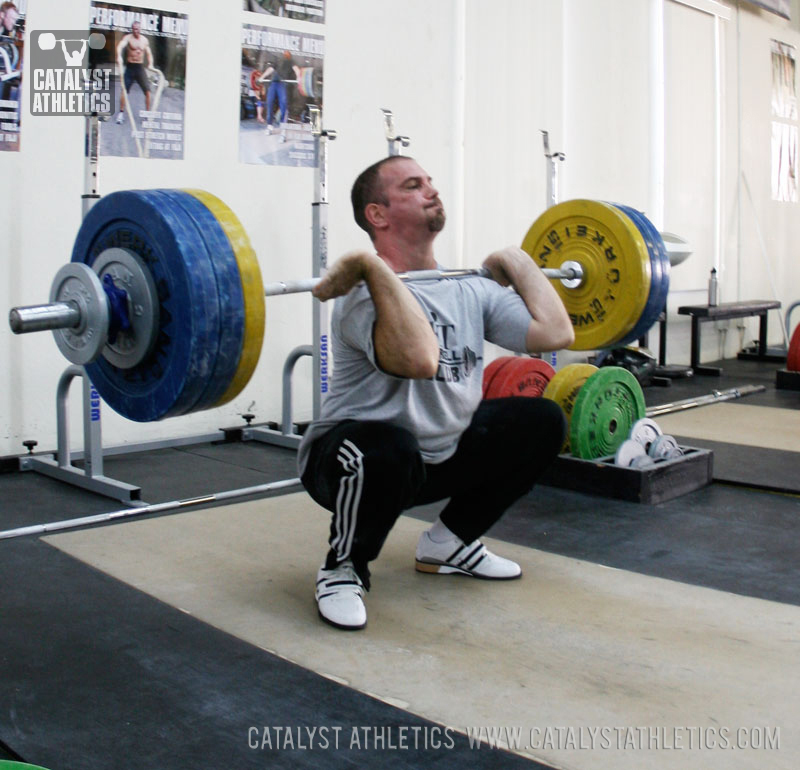 Power snatch - max
Power clean & jerk - max
3 sets:
10 ring rows; no rest
250 m row; 30 sec rest
Notes:
Split jerk after power cleans. If your jerk fails before your power clean, continue taking the power clean to a max without the jerk.
Questions? Get answers here or post in comments.
8 Comments
Sam
2010-04-13
My first time on this site. Do I jump from ring rows to rowing and then give myself a 30 sec rest? And complete 3 such routines?
Greg Everett
2010-04-13
Sam -

Yes.
Scot
2010-04-13
I train at CrossFit Northern Ireland, we have just finished a 6 week Strength program which I really enjoyed and seen benefits from. So much so, that I am entering an Olympic Lifting Comp in Dublin in 2 weeks. I know I am not going to break any records, but am keen and interested in taking part.

I had a go at todays WOD -

Max Power Snatch - 70kgs/154lbs
Max Power Clean and Jerk - 90kgs/198lbs

Then scaled our own WOD -

50 High Knees
every time you come off the bar 50 Double Unders

Brian Reckdenwald
2010-04-13
Power snatch - max
185 lbs

Power clean & jerk - max
245

3 sets:
10 ring rows; no rest
250 m row; 30 sec rest
Rice Owls Catalysts
2010-04-13
C: PS:175# Fail185, PC&J:235# Fail245
BG:PS:125#, PC:175#
WOD: ring rows and rowing, hua.

I could have got 185 on the snatch but wasnt interested in tying my full snatch PR with a power snatch - aaand also I tied my full clean and jerk PR w/ the power clean & jerk. Happy days?


Alex
2010-04-13
5'10", 179#, 18 years

Power snatch - 155# (5# PR)
Power clean & jerk - 210# (5# PR)

3 sets:
10 pullups, no rest
250m row, no rest
Erik Reckdenwald
2010-04-14
Power snatch - max
155# (tied pr)
tried 160 but cought it too low.

Power clean & jerk - max
205# (tied pr)

3 sets:
4 muscle-ups
15 box jumps, 24"
JP Griffin
2010-04-15
Power snatch - max (135)
Power clean & jerk - max (185)
Workouts Menu
Workouts Home
Workouts Help
Exercise Library
Training Programs
Starter Program
Tomorrow's Workout
Text Only
Custom Program Design
---
---
Advertise With Us