Friday May 14 2010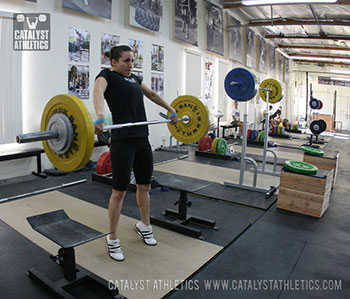 18 Comments
Mike
2010-05-13
Thats one of the greatest videos I've ever seen.
Brian Reckdenwald
2010-05-13
Get me a time machine, stat!
ken c
2010-05-13
cool video. are those guys all high schoolers?
Barry
2010-05-13
Inspiring. Brings a tear to the eye.
dan
2010-05-13
what weight was he lifting?
Rice Owls Catalysts
2010-05-13
Those kids are so lucky! Man I wish my high school coaches had known something. Anything!
Allen Y
2010-05-14
Wow nice!
Tracy
2010-05-14
Thanks for taking and posting this, Greg. The Hassle Free kids and their coaches are an inspiration.
Barry Weidner
2010-05-14
Greg/Aimee,
Will the next cycle be an 8-week strength cycle? If you would rather not say, than no big deal. Just excited to start up CA again.
Matt Foreman
2010-05-14
Nice top pull in that picture.
Greg Everett
2010-05-14
Barry - It will be a strength-oriented cycle, but I haven't decided on the duration yet. Somewhere in that 6-10 week range.
Barry Weidner
2010-05-14
Thank you for the quick response, Greg. Looking forward to it.
Best Regards.
Al Viquez
2010-05-14
Hassle Free Barbell Club is doing the Lord's work. Great video
Greg M.
2010-05-14
Very cool! I would totally have done that in HS, if the option were presented. We didn't even have bumpers, and there was no coaching in the "quick lifts" beyond teaching the split-cathch power clean.
Josh
2010-05-14
I am so jealous! Their technique looks awesome too! Amazing video!
Ian Tilp
2010-05-14
Awesome video!!! Inspiring!!!
Matt Wichlinski
2010-05-16
great photo

Awesome video

it is unfortunate that this isn't more common in schools, or any clubs, for that matter. But, that 's what makes the video so special I guess
Ben Moskowitz
2010-05-16
STRONG MINDS STRONG BODIES
loving the Lift for Life shirt, I used to work there and have one myself...
---
Workouts Menu
Workouts Home
Read This First!
Workouts Help & Info
Exercise Library
Training Programs
Starter Program
Tomorrow's Workout
Text Only
Custom Program Design
---
---