Monday June 7 2010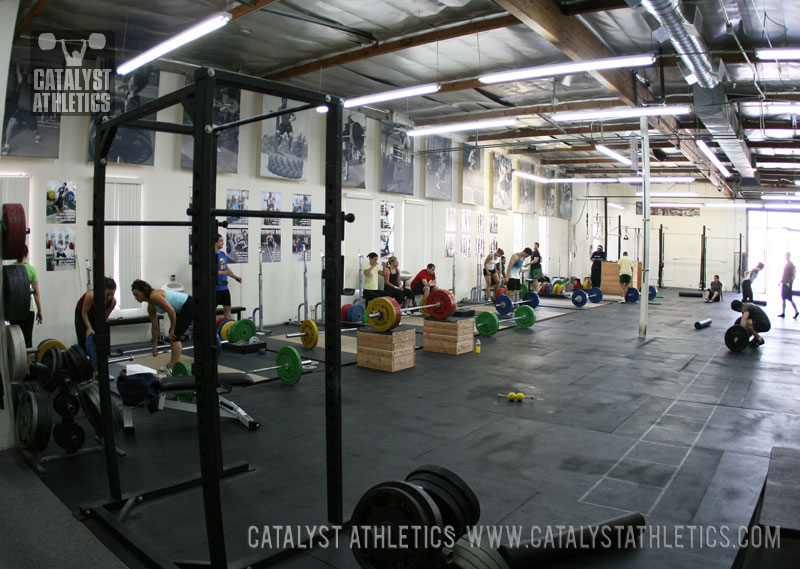 Snatch - (70% x 1, 75% x 1, 80% x 1) x 2
Clean & jerk - (70% x 1, 75% x 1, 80% x 1) x 2
3 sets; no rest:
10 DB push press
3 rope climbs
Week 3
Questions? Get answers here or post in comments.
11 Comments
Nick P
2010-06-07
Just to be clear - I do the 70%, then the 75%, then the 80% for one set, then take the weight back down to 70% and start over.
Greg Everett
2010-06-07
Nick - Yes - You're doing 6 total sets of 1 rep.
Sri
2010-06-07
Greg,

Your advice/help to alleviate the pain caused by pattelar tendonitis is priceless. I'm religiously following what you recommended and the pain has subsided immensely. The difference is night and day. I really can't thank you enough after visits to the doctor, PT came up short. It's the first time in months that I can climb up stairs without significant discomfort.

My brother in India has similar symptoms and I have passed on your advice.

Again, thanks a ton and I can only wish the very best to you!

Sri
Greg Everett
2010-06-07
Sri - Good to hear it. Sometimes I get lucky.
Greg M.
2010-06-07
Greg -

Not sure how to choose load for the Jerk Rack Supports tomorrow (from the desc., sounds like I I should just load up *way* more than I know I can jerk, just to get the feels of it)...Any guidance?
Greg Everett
2010-06-07
Greg - Start with 100% of your best jerk and work up from there. Go as heavy as you can for the prescribed time without losing your structure and passing out.
Prime Time
2010-06-07
Oh yea, I remember this day... KATIES!
Erik Reckdenwald
2010-06-08
Snatch - (70% x 1, 75% x 1, 80% x 1) x 2
(130# x 1, 140# x 1, 150# x 1) x 2

Clean & jerk - (70% x 1, 75% x 1, 80% x 1) x 2
(170# x 1, 185# x 1, 200# x 1) x 2

3 sets; no rest:
10 DB push press = 45# each side
SUBBED 15 pullups
JHo
2010-06-08
Snatch 64k, 67k, 71k
Clean and Jerk 90k, 97, 103k

Made a huge mistake. Used 1rm clean instead of 1rm clean and jerk. Couldn't figure out why weights felt so heavy. Oh well.

60# DB Push press 10
Legless rope climb-sit start-12' rope 3
3 rounds
10:29
Björn Uddenfeldt
2010-06-09
Snatch: 45 kg, no small weights
C&J: 65 kg, stayed there, did not feel well

Later:

3 rounds
10 HSPU
12 L-PU
Time: ca 7 min
Andrew Karlovich
2014-04-17
Snatch 60, 65, 70 kg
C&J 77, 83, 88 kg

Workouts Menu
Workouts Home
Workouts Help
Exercise Library
Training Programs
Starter Program
Tomorrow's Workout
Text Only
Custom Program Design
---
---
Advertise With Us