Thursday June 10 2010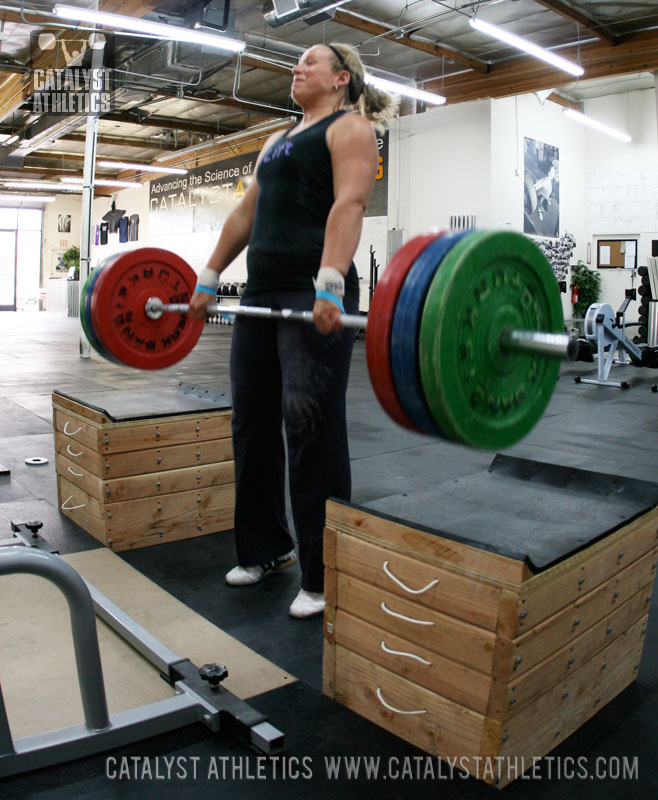 Back squat - 80% x 6 x 6
Bulgarian split squat (DBs) - 3 x 6
Good morning - 4 x 5
Sit-up variety of choice - 75 total
Questions? Get answers here or post in comments.
11 Comments
Christopher
2010-06-09
Just curious, why will be his last seminar for a while? Surgery? Training for something? Having a baby ;) :)?
Greg Everett
2010-06-09
Christopher - I'm taking a break from doing seminars for a while to focus on other things.
Erik Reckdenwald
2010-06-10
Did this yesterday:

Back squat - 80% x 6 x 6
265# x 6 x 6

Bulgarian split squat (DBs) - 3 x 6
45# DBs x 6 x 3

Good morning - 4 x 5
135# x 5 x 4

Sit-up variety of choice - 75 total
GHD sit-ups x 75 total
Gant
2010-06-10
Taking time off to train for next year's Gaymes?
Greg Everett
2010-06-10
What are those.
Jonathan Haran
2010-06-10
Can I confirm how you list your exercises. I am new to the site having recently bought your excellent book.

I assume that for example on the back squat on today's program

Back squat - 80% x 6 x 6

80% = % of 1 rep max x 6 (sets?) x 6 (reps?) or vice versa?

Regards

Jon

Really enjoying the book by the way.
Greg Everett
2010-06-10
Jonathan - Weight x reps x sets, as it is in the book. You can check the "info" link at the top of the workouts for more on this kind of stuff.
Jonathan Haran
2010-06-10
Many thanks Greg,

I am unsure if it is a UK only method but I am used to weight x sets x reps.

This is the reason I asked as I thought some of the workouts by method seemed strange.

Thanks again for taking the time to clear this up for me, much appreciated.

Regards

Jon.
Nick L.
2010-06-10
Back squat - 80% x 6 x 6
270# x 6 x 6

Bulgarian split squat (DBs) - 3 x 6
50# DBs x 6 x 3

Good morning - 4 x 5
115# x 5 x 4

Sit-up variety of choice - 75 total
regular sit-ups x 75 total
JHo
2010-06-13
Overhead Squat 80x5, 90x5, 100x4, 100x5, 100x5
Bulgarian split squat 85# DB
Good morning 80k
25 GH situps, 25 wtd abmat situps, 25 v ups


Björn Uddenfeldt
2010-06-14
BS: 100 kg - felt light!!!
Bulgarian: 2x16.5 kg - focus on balance
GM: 40 kg - took a light weight
Sit ups: 3x25 fast unanchored and unbroken, rest 15 sec b/t sets
Workouts Menu
Workouts Home
Workouts Help
Exercise Library
Training Programs
Starter Program
Tomorrow's Workout
Text Only
Custom Program Design
---
---
Advertise With Us