Monday July 19 2010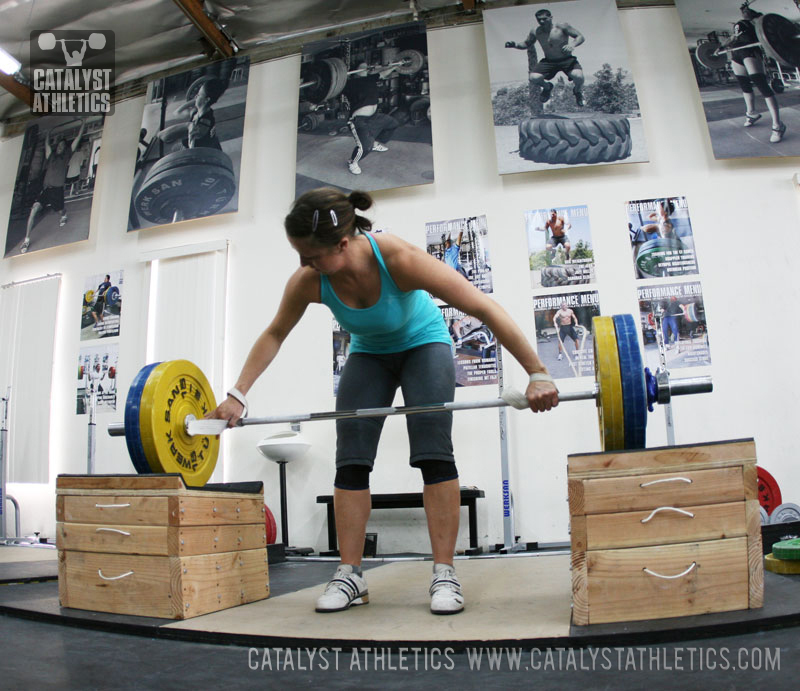 Snatch from blocks or mid-hang - 65% x 2 x 6
Power jerk - 65% x 2 x 6
Snatch pull - 90% (of snatch) x 4 x 5
Sit-up - 70 total
Week 2
Questions? Get answers here or post in comments.
6 Comments
Josh
2010-07-19
Awesome advice!!!
Peaches
2010-07-19
Hey Coach, been using your site for a while, SO close to doing my 1st ever 200lbs snatch at 180lbs haha BRUTAL i know... Wanted to let you know we are using your template for a 2 week Olympic lifting phase for our clients (around 100 people daily) and hopefully they catch on to why its so important. Keep up the great work, we truly do appreciate it.

Kyle,
Cornwall Crossfit - Ontario, Canada
Tanner
2010-07-19
Speaking of hand care...does anyone have any thoughts on training with straps, I only use them when I feel a callus about to go, or if I'm close to competition and don't want to rip.
Peaches
2010-07-19
I hear the best of the best use them, mostly because you need them to go heavy for snatch pulls and deadlifts, very hard to do multiple reps with sub max weights. Ive personally never used them, but am looking to buy a set soon and wear them out.
Brian
2010-07-19
straps: with snatches only, NEVER with cleans.

I actually went to EMS today to buy some nylon webbing, $1.20 and some stitching and I'll have my own straps for very cheap. 3-4ft is all you'll need, and you can get them to cut it in half so the ends are sealed
Brian Reckdenwald
2010-07-20
Mid-hang snatch from blocks - 65% x 2 x 6
63 x 2 x 6

Power jerk - 65% x 2 x 6
67 x 2 x 6

Snatch pull - 90% (of snatch) x 4 x 5
88 x 4 x 5

Sit-up - 70 total
Workouts Menu
Workouts Home
Workouts Help
Exercise Library
Training Programs
Starter Program
Tomorrow's Workout
Text Only
Custom Program Design
---
---
Advertise With Us