Tuesday August 31 2010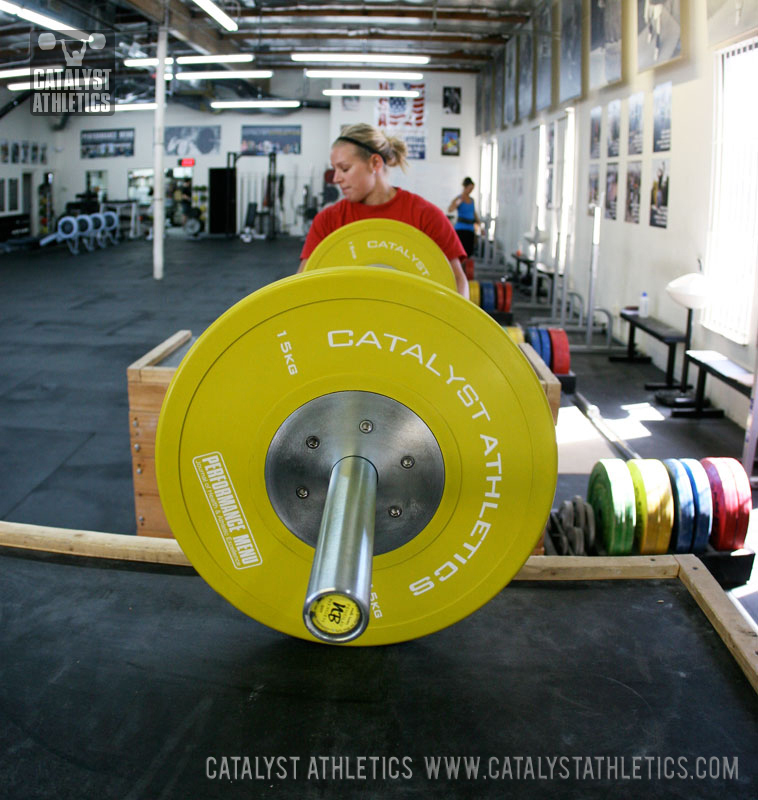 Power snatch - 80% x 1 x 4
Power clean + power jerk - 80% (of PC) x 1 x 4
Overhead squat - 80% x 1; 70% x 2 x 2
4 sets; no rest:
10 pull-ups
10 sandbag muscle snatches
Questions? Get answers here or post in comments.
19 Comments
Adam
2010-08-30
What is the % for the OH Sqt based on? Thanks, new to the site as of a few weeks ago and like it very much.
Greg Everett
2010-08-30
Adam - Off your best OHS. If you don't know what that is, take it off your best snatch.
Sam
2010-08-30
Are kb snatches instead of sandbag snatches ok?
Greg Everett
2010-08-30
Sam - Yes, but even better would be dumbbell muscle snatches.
marcus
2010-08-30
How about a weight estimate for the sandbags or DB's? Or better- are we looking for lighter-faster or heavier-slower?
Greg Everett
2010-08-30
Marcus - Aim for a weight that barely allows you to do all reps without resting each round.
CW
2010-08-30
Power snatch - 80% x 1 x 4
83lb x 1 x 4

Power clean + power jerk - 80% (of PC) x 1 x 4
123lb x 1 x 4 - felt heavy.

Overhead squat - 80% x 1; 70% x 2 x 2
103lb x 1, 88lb x 2 x 2

Again ran out of time for assistance work. Got about 10 strict pull ups in. Will be allocating more time for these workouts.
Sam
2010-08-30
Ah yes thats a better substitution. Another question coach, you mentioned doing abs 3 times a week,emphisizing three different areas;so would this be ok :

1.ghd situps or knees to elbows
2.kb side bends ,2 pood maybe
3.planks front/side x2

Thanks again
marcus
2010-08-31
WU- 600yds jog, joint mobility, snatch progression with 35# bar, 10x 65# muscle snatch

PSn= 125#
PC&J= 140# (Should have gone with 150#)
OHS= 135#; 125# (Really noticed the tweak in my left wrist on these, made that whole side weak and wobbly.)

I used a 40# bag and the 4 rounds took me 4:10.

Have a great day!
Laurie
2010-08-31
Do the pull ups need to be strict or can I kip?
Greg Everett
2010-08-31
Laurie - Preferably strict, but kip if you need to.
eug
2010-08-31
nice plates who manufactured them? how long have you had those in your facilities?


Greg Everett
2010-08-31
The plates are made by Muscle Driver USA. We just got them a few weeks ago, but so far super nice. We sell them, and can get custom printing done on them.
Mikkel Højlund
2010-08-31
PS 50kgx1x4
PC+PJ 65kgx1x4
OHS 60kgx1x1 53kgx2x2

JP Griffin
2010-08-31
Weights in pounds

Power snatch - 80%(120) x 1 x 4
Power clean + power jerk - 80%(155) (of PC) x 1 x 4
Overhead squat - 80%(120) x 1; 70%(100) x 2 x 2
Skipped conditioning 
Brad C. @ The Compound
2010-08-31
Power Snatch 160 1x4
Power Clean+Power Jerk 230 1x4
Overhead Squat 230x1, 200 2x2

No time for the finisher. Gotta start earlier!
Laurie
2010-08-31
Power snatch - 80% x 1 x 4 75#
Power clean + power jerk - 80% (of PC) x 1 x 4 100#
Overhead squat - 80% x 1; 70% x 2 x 2 80# 70#

4 sets; no rest:
10 pull-ups
10 sandbag muscle snatches 25# db

5 strict; 5 kips
3 strict; 7 kips
2 strict; 8 kips
2 strict; 8 kips
Craig C. @ The Compound
2010-09-05
Power Snatch 160x1x4 (80% of 200)
Power Clean+Power Jerk 220x1x4 (80% of 275)
Overhead Squat 180x1, 157.5x2x2 (80/70% of 225)

4 sets; no rest:
10 pull-ups
10 sandbag muscle snatches 70# db

10 strict
2 strict; 8 kips
10 kips
10 kips
Nick h
2013-09-03
Ps 100#
Pc+pj 140#
Ohs 125# then 110#
45# bar for muscle snatch
Nick/Nik/Seth
9/3/2013
Workouts Menu
Workouts Home
Workouts Help
Exercise Library
Training Programs
Starter Program
Tomorrow's Workout
Text Only
Custom Program Design
---
---
Advertise With Us