Saturday September 4 2010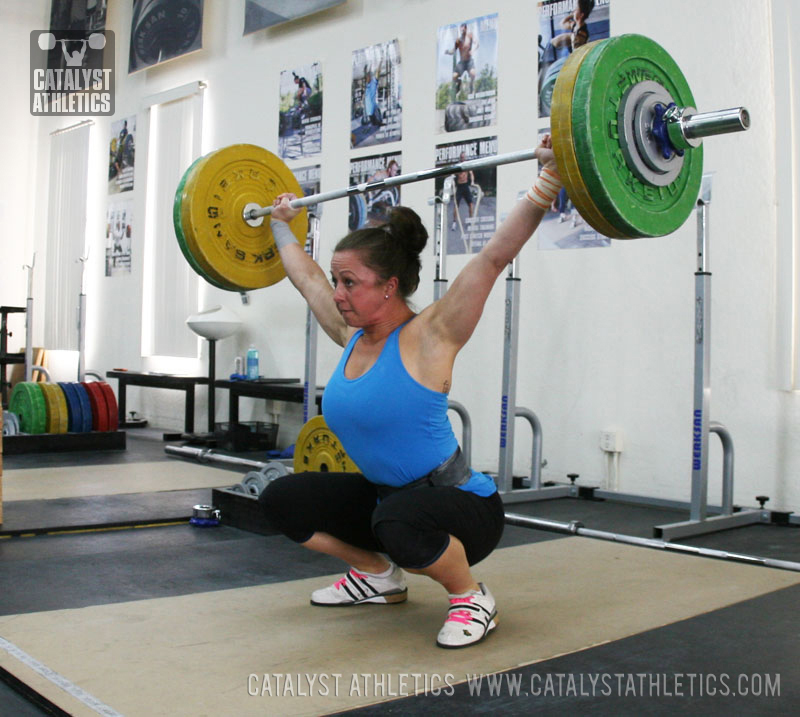 Snatch - max for day
Clean & jerk - max for day
Front squat - max for day
3 sets:
400 m row sprint
1 min rest
Saturdays will be heavy lifting days. Get accustomed to taking the same warm-up attempts each time as you work you way up to prep for competition. On some Saturdays you will make records; on others, you may only be good for 80%. Take it up as much as you can and try to remain flexible.
Questions? Get answers here or post in comments.
8 Comments
John Belton
2010-09-04
Looking forward to this, only a few days into the new cycle but we're really enjoying it! Keep up
The good work!
Brad C. @ The Compound
2010-09-04
Well, doing this at 4:30am after being called in to work was not a good idea.

Snatch- 205. Failed at 215 (PR is 225)
C&J- 225, Failed at 255 (PR is 285)
Front Squat- Did not do.

I realized that any attempts at PR's were futile and I had nothing in the tank at this hour. Next week...
CW
2010-09-04
Didn't get a rest day yesterday - was moving boxes and furniture for hours.

Snatch - 63lbx2x2 73x1 83x1 93x1 98x1 103xfx3
Clean and Jerk: Skipped
Front Squat: 45x5x2 95x3 115x1 135x1 145x1 155x1 165xfail.
No time for conditioning.
marcus
2010-09-04
Max Effort Saturday #1

WU- 3x, 1min jump rope, 5ea- pull ups, dips, OHS, GHD sit ups, back extensions
CA mobility work
Snatch progression 25# bar
Behind the neck push jerk x5 45# bar
5x muscle snatch 65#

Max Effort Snatch
95#x5, 115#, 135#, 145#, 155#, 160#(f,f)

Max Effort C&J
115#, 135#, 155#, 175#, 185#(f, f)

Max Effort Front Squat
155#, 175#, 195#, 205#, 215#

Conditioning: 3x Row 400m, rest 1 min.
1:18.8
1:30.8
1:28.4

Things I'm happy about:
Snatch- first pulls felt good, stayed back, bar close
C&J- 175 and 185 are both more than I have cleaned before. Felt good with the the speed of the third pull.
FS- high elbows on all attempts, resisted the collapse at heavier weights.

Things that need work:
Snatch- My second pull is weak, as is the transition under the bar-NO SPEED-
C&J- could not get low on the jerk, way to much pressing at max weights
FS- just wanted to be HEAVIER!

have a great day!
Alfred
2010-09-04
I was pretty sapped after work this morning before lifting, but I walked away feeling good. I was withing 5# of my PR on the snatch and I hit a new PR by 2# on the C&J. I know that not all Saturdays will go this well, but it's cool way to start the cycle.
Sam
2010-09-04
Bad day overall couldnt hit anything

Snatch previous pr 70 kg, couldn't even hit 55. Shoulders started to hurt too.

c&j previous pr 87.5 kg couldnt even jerk 70, due to shoulders hurting.

Front squat hit 115kg (pr) , so thats good.

Ah well just have to keep going!
Craig C. @ The Compound
2010-09-05
Max Effort Saturday #1

WU- besides usual joint mobility, also did handstand walk practice to loosen up shoulders prior to actual lifting warm ups.

Max Snatch (previous PR-195#)
45 & 95xthe drill, 135, 155, 175, 195, 205#x0,0,1(pr), 215(pr), 220x f

Max C&J (Previous PR-300#)
135x the drill, 185, 225, 255, 275, 285, 295(right foot forward),
305x0,0 (hit cleans easily on both attempts- PR on cleans)

Max Front Squat (previous PR-345#)
315, 365(pr)

Conditioning: 3x Row 400m, rest 1 min.
1:21
1:27
1:26

Really enjoyed my first week on this cycle and made some major improvements, despite starting the week fatigued
Nick
2013-09-07
Strength work
Snatch max for the day
65/85/95/115/125/140
Nik 125/135f/140f
Clean & jerk mftd
95/115/135/155/175/185
Nik 175/185f
Front squat mftd
135/155/175/185/205/225/235f
Nik 235/245f

3 sets
400m row on 10
1 min rest
Workouts Menu
Workouts Home
Workouts Help
Exercise Library
Training Programs
Starter Program
Tomorrow's Workout
Text Only
Custom Program Design
---
---
Advertise With Us