Thursday September 9 2010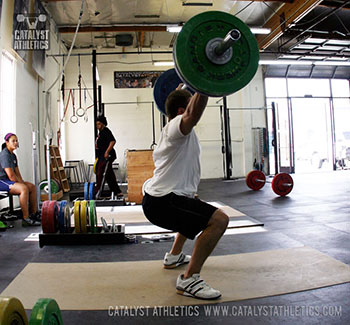 Please
login
to access our training programs.
Registration is FREE!
Questions? Get answers here or post in comments.
18 Comments
Please login to comment!
Alfred "Skinny Guy"
2010-09-08
Question - I have a swim meet this weekend, so I can't lift on Saturday. Should I just do Saturdays work on Friday? What would you suggest? No, I'm not swimming. I'm coaching, but these meets take all day.
marcus
2010-09-09
WU- 2min jump rope, 300m run, CA mobility work, snatch progression 25#/45#, 5x65# muscle snatch, 5x65# behind the neck jerk

Jerk max for day worked up to 195#
Then 155#x2x3
Mid-Hang Snatch- 110#x3x3
Mid Hang Jerk- 125#x3x1 then 140x3x2

Conditioning
5:23 with 40# sand bag and 95# bent row
Greg Everett
2010-09-09
Alfred - Doing Saturday's workout on Friday is fine. You likely won't lift as heavy, but it will still be productive.
Sam
2010-09-09
Similar question about scheduling, with school starting I dont' think I'll be able to make it to the gym on wednesdays. I was thinking of cutting out tuesdays power work, and moving wednesdays work to tuesday. Then moving snatch balance/ohs to thursday or do snatch balance/ohs on friday seperately.

Any suggestions would be appreciated.
Alfred "Skinny Guy"
2010-09-09
Jerk max for day - 230# (PR by 5#)
Then 187#x2x3 (worked a little over 80%, felt good)
Snatch form Blocks (used a jump box)- 115#
Clean from Blocks - 157# (worked over 70%, miscalculation)

Conditioning
4:31, I have no idea what my sandbags weigh (I stole them from a construction sight) and 155# on the Bent row.
Alfred "Skinny Guy"
2010-09-09
Thank you much

Greg Everett
2010-09-09
Sam - Your proposed change should work fine.
Marcus Herou
2010-09-09
Hi Greg.

Running a Swedish CrossFittish Box and have added CA as the preference for elevating our Olympic Lifting performance.

I struggle with the problem of delivering most bang for the buck to my team since all time spent at the gym comes with a price tag.

Simple question to not dig too deep into programming:

If you would be forced to choose amongst the excercises that you deliver in your program each day and you needed to prioritize. In which order would you prioritize them ?

I'm basically talking about:
(Power/Squat)Snatch
(Power/Squat)C&J
OHS
All pull variants
F/B Squatting
Snatch Balance
Muscle Snatch
etc.

As of current I prioritize the big lifts since I think that it deliver most bang for the buck. This means no extra training on for example Snatch Balance, 3rd pull and so forth.

The audience for the programming are moderately strong but not that explosive or gymnastic/mobile (130-160kg bench, 200kg-260kgDL, 140-200kg Back Squat, C&J ~ 110kg, Snatch 70-90), really varied mobility skills, former elite in their niche, 30-35 year old, competing individuals with 15-20 years of training in general, about a year of OL experience CrossFit style (which is like 1 month for you guys).

As you see there is a huge gap between the power lifts and the OL-lifts :)

Really tricky question in it's simpleness.


Cheers



PS. BYTW I train with some guys which I think attended a weekend seminar with you a few weeks back (think it was in Denmark was it not?) Anyway they give me a lot of grief for not attending. Ds.
Marcus Herou
2010-09-09
Oh BYTW we are scheduled one week behind your programming so we are maxing tomorrow.

Where should I post the results to be most polite?
Mikkel Højlund
2010-09-09
Jerk from the racks:
20-50-50-50-60-65-65-70-75-75kg
65kgx2x3

Snatch of blocks:
20x3-40x3-45kgx3x3

Clean of blocks:
40x3-60x3-65x3x3

Conditioning
10kg-ish sandbag
40kg BB BOR
Greg Everett
2010-09-09
Marcus - How I would prioritize exercises depends on the needs of the athlete. So with your example of athletes who tend to be strong but not as skilled, it makes more sense to emphasize the skilled lifts over the strength lifts. In other words, they will still be fine with less exposure to squatting and pulling, at least temporarily. So maybe something like:BSSnatchJerkCleanOHS/Snatch balancePower snatch/cleanAnd you can post your results on the day you do them even if the workout is different from what's posted.
Marcus Herou
2010-09-09
Excellent, thx will start posting.
Sam
2010-09-09
Jerk from the racks:
max 92.5
80 x1x3

Snatch :
40x3x3 (shoulders were done after jerk)

Clean of blocks:
62.5 x3x3

Conditioning
35 # plate
50 kg bent over row

also heres a video (poor quality ) of my 90 kg jerk

http://www.youtube.com/watch?v=CaDj2kWZENI

Any feedback appreciated
CW
2010-09-09
Missed a few days due to moving.

Did Wednesday's workout today. A mish mash of Tuesday/Thursday's tomorrow, and Monday's on Saturdays. Back to normal next week.

Snatch 83lb x 1 x 3
Clean and Jerk 118lb x 1 x 3
Clean Pulls 148 x 3 x 3
Clean Deadlift 153 x 3 x 3
Back Squat 150 x 3 x 5 with box jumps
Brad C. @ The Compound
2010-09-09
Jerk- 320x1 (New PR!), then 260 x 2x3
Mid-Hang Snatch- 170 x 3x3
Mid-Hang Clean- 225 x 3x3

Conditioning:
3 sets, no rest:
- 20 Halfmoons with a 45 lbs plate
- 10 barbell rows @ 225

Did this all while wearing a 35 lbs vest in 9:45. Felt pretty fried during this WOD today. Looking forward to the rest day.
Gene
2010-09-09
Jerk - max for day 70-80-85-89-92-96kg pr!
80% of that 77kg x 2 x 3
Mid-hang snatch 70% 54kg x 3 x 3
Mid-hang clean - 70% 67kg x 3 x 3

I usually use straps for pulls, tried them on hang snatches today for first time, worked nicely. Then tried them on hang cleans. I bet you can guess how that went...

Thanks for PR on Jerk!
Greg Everett
2010-09-09
Gene -Definitely don't use straps on cleans.
Craig C. @ The Compound
2010-09-10
Jerk - max @ 320#
-80% x 2 x 3 @ 260#
Mid-hang snatch -70% x 3 x 3 @ 160#
Mid-hang clean - 70% x 3 x 3 @ 225#

3 sets; no rest:
20 halfmoon (10/side)@ 70# sandbag
10 barbell bent row @ 225#
- 7:55

Did this on Friday, saturday workout going to be rough tomorrow
Get the App!
Catalyst Athletics programs are available through our exercise.com app. Unlimited access to all programs for only $10/month, or purchase programs individually for only $10 each!
Join the Group
Buy Programs
---
Tag Us!
Tag us on social media when you post videos and photos of your workouts!
#catalystathletics
Instagram: @catalystathletics
Twitter: @cathletics
Facebook: @catalystpm
---
Workouts Menu
Workouts Home
Read This First!
Workouts Help & Info
Exercise Library
Training Programs
Starter Program
Tomorrow's Workout
Text Only
Custom Program Design
Get the App
---
---