Monday September 13 2010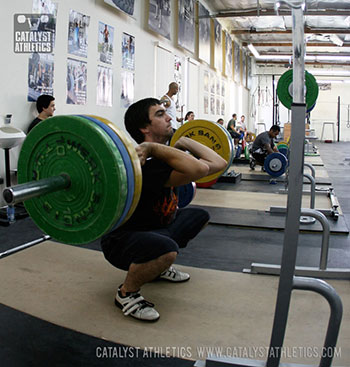 Please
login
to access our training programs.
Registration is FREE!
Questions? Get answers here or post in comments.
12 Comments
Please login to comment!
Marcus Herou
2010-09-13
Last mondays workout.

1-1-1 65kg Snatch
1-1-1 80kg C&J
3×3 80kg Snatch Pull
3×3 85kg Snatch deadlift

The Snatch feels a lot better but still lifts my ass to fast and receives the bar in an arch which forces the bar to go backwards.

Lessons learned
Maintain back angle + better/higher/faster pull.

Still no Snatch squatting. Trying to learn the power snatch properly.

C&J felt very easy. Improved split jerk today.

Will do the Front Squats + metabolic conditioning later this evening.
Craig C. @ The Compound
2010-09-13
Snatch - 78% x 1 x 3 @ 190# (of 240 cause tech. is huge factor)
Clean & jerk - 73% x 1 x 3 @ 235# (of 320 now)
Snatch pull - 97% (of snatch) x 3 x 3 @ 235#
Snatch deadlift - 105% (of snatch) x 3 x 3 @ 255#
Front squat + Box Jumps - 81% x 3 x 5 @ 295# + 38" (true 38, was off last workout)

marcus
2010-09-13
No max attempts this weekend due to scheduling problems.

Today
WU- 300m run
2min row
2min jump rope
3x7-pull ups, ring dips, back extensions, GHD sit ups
Snatch progression 25#/45#

Snatch 120#x1x3
C&J- 145#x1x3
Snatch Pull 180#x3x3
Snatch DL 225#x3x3
Front Squats 180#x3x5 Box Jumps at 33"
Brad C. @ The Compound
2010-09-13
Snatch: 190 x 1x3
C&J: 235 x 1x3
Snatch Pull: 235 x 3x3
Snatch Deadlift: 255 x 3x3
Front Squats + Box Jumps x 3x5: 295 and 38" box. Tried 39" and ended up flat on my back!
Matt
2010-09-13
Hi,

I am looking to increase my explosiveness and strength and hopefully my vertical leap. I have taken workouts from this site before but am now going to follow it strictly, starting at the beginning of the cycle. In the recommendations it says supplementing additional stuff would be to taxing for many, so I have two questions.

In order to increase vertical leap would this program alone be suitable, and if not is there some way to modify it with some plyometrics to make it work? Any input is much appreciated.
Marcus Herou
2010-09-13
second workout for today.

Standard wu.
Snatch practice / warmup @ 30kg
3-3-3-3 Front Squat @ 75% 90kg
then a metcon

5 rounds for time of
250m row
10 60kg FS
10 toes to bar
20 60cm box jumps

18 mins...

Feeling a little taxed
CW
2010-09-13
Snatch - 78% x 1 x 3
88lb x 1 x 3

Clean & jerk - 73% x 1 x 3
113lb x 1 x 3

Snatch pull - 97% (of snatch) x 3 x 3
113lb x 3 x 3

Snatch deadlift - 105% (of snatch) x 3 x 3
118lb x 3 x 3

Front squat - 81% x 3 x 5; follow each set immediately with 3 box jumps
125lb x 3 x 5 with box jumps. Felt strong.
JP Griffin
2010-09-13
Snatch - 78%(115) x 1 x 3
Clean & jerk - 73%(145) x 1 x 3
Snatch pull - 97%(145) (of snatch) x 3 x 3
Snatch deadlift - 105%(155) (of snatch) x 3 x 3
Front squat - 81%(150) x 3 x 5; follow each set immediately with 3 box jumps
Greg Everett
2010-09-14
Matt - I would do something simple like cut out the deadlifts to reduce the volume and overall stress of the program, reduce sets here and there as you find necessary elsewhere, and then tack on a jump program that gives you 2-3 sessions/week of training, which should be pretty low volume. Depending on what that program is, you also might want to cut the box jumps from this program.
Alfred "Skinny Guy"
2010-09-14
Did Mon's lifting on Tue. My little girl was sick over the weekend & I caught some of her bug... mom is next.

Used Oly-Shoes for the first time today. A friend lent me his Pendlay Do-Wins. I had been lifting in Vibrams until now (yeah I know; not a good idea) so it took some getting used to. All the squats felt GREAT. Though snatching felt a little odd cause of the high heal. I ordered a pair of Ristos, can't wait to break them in. Does any out there own a pair of these?


Matt
2010-09-14
Okay thanks a lot Greg. I was thinking of adding a couple exercises, such as standard two foot 1/4 squat jumps @ 3 x 10, depth jumps @ 3 x 5, and some skipping. Ramping up the reps by 1 each week. I would incorporate this into your programming and cut exercises where necessary. I would like to do these exercises seperatly at home, would there be good days to incorporate these in order to maximize recovery and not overtrain? From the programing it appears that they would fit in best on Mondays and Thursdays, does this seems reasonable.

Thanks again for the help.
Nick
2013-09-16
Snatch
NH 110/NW 100/SA 100
C&J NH+SA/135 NW/130
Snatch pull NH+SA/150 NW/125
Snatch Deadlift NH+SA/150 NW/130
Front squat NH+SA/180 NE/190
24" box jump
1 mile run
Get the App!
Catalyst Athletics programs are available through our exercise.com app. Unlimited access to all programs for only $10/month, or purchase programs individually for only $10 each!
Join the Group
Buy Programs
---
Tag Us!
Tag us on social media when you post videos and photos of your workouts!
#catalystathletics
Instagram: @catalystathletics
Twitter: @cathletics
Facebook: @catalystpm
---
Workouts Menu
Workouts Home
Read This First!
Workouts Help & Info
Exercise Library
Training Programs
Starter Program
Tomorrow's Workout
Text Only
Custom Program Design
Get the App
---
---