Saturday September 18 2010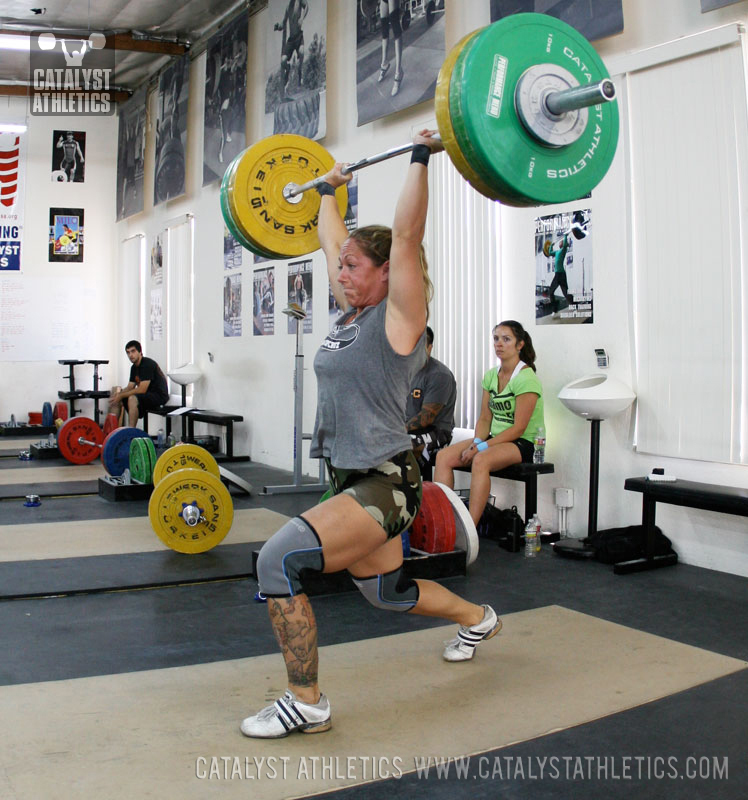 Snatch - max for day
Clean & jerk - max for day
Front squat - max for day
Good morning - 3 x 10
9 Comments
Craig C. @ The Compound
2010-09-18
Snatch - max for day @ 185# (failed several times at 210#) Clean & jerk - max for day @ 275# (failed at 305#) Wow, horrible training day today. Sluggish from poor diet yesterday and training so close to waking up i presume. Cut the training short, felt unproductive and shoulders hurt still from Snatch Push Presses
marcus
2010-09-18
Snatch max for day up to 155# failed 3x at 165# Clean and Jerk 175# failed 2x at 185# Front Squat 225# Good Mornings 115#x10x3
CW
2010-09-18
Mediocre day. Snatch: Worked to 108lb. Clean and Jerk: Worked to 123lb. Missed 133 on the clean first, then the jerk. Front Squat: 165lb - a PR long time in the works. Good mornings 65lb x 10 x 3
Gene
2010-09-18
Looks like I'm the only one having a great day... Snatch 70kg- misses at 75 and PR attempt at 77kg. Dropped to 50kg, then 55-60-65-70-75-77PR C&J 90-95-99 PR attempt (cleaned it great and my 5 year old interrupted my jerk attempt, didn't make it)-101 (cleaned it, didn't get under bar fast enough)-101 PR Front Squat (in lbs) 185-225-245PR-255(fail) 3 PR's is a great excuse for a pint of Ben & Jerry's I think!
Alfred "Skinny Guy"
2010-09-18
Snatch-160# (2# short of PR, I'll take it) C&J-207# (Failed 215#, current PR) Front Squat-230# All in all not a bad day and nutrition was solid this week, so we all rewarded our selves this Saturday by going to KFC & getting Double Downs (The Best thing ever to happen "Skinny Guys" everywhere). I keep eating these things and I don't think I'll be a 62kg much longer..lol
Brad C. @ The Compound
2010-09-18
Terrible Day: Snatch: 220, missed at 230 three times C&J: 275, missed at 295 three times Cut it there since I didn't feel like I was doing myself any favors.
Thomas
2010-09-19
Not bad for me 175lb Sanch Failed 2x 185 C&J 270lbs Failed x1 285 Ft squat 315, I work with no spoters I had one of those O crap moments on this one. LOL
jerod
2010-09-19
Snatch 165lbs Clean & jerk 265lb Front squat 335lb
Nick
2013-09-21
Snatch 1rm 70/95/115/135/145ugly Seth 135 C&j 1rm 145/165/174/185 Seth squat clean only Seth left after these 2 exercises Front squat 1rm 135/185/225/245f/235 Good morning 3x10 5@95 25@65
Workouts Menu
Workouts Home
Workouts Help
Exercise Library
Training Programs
Starter Program
Tomorrow's Workout
Text Only
Custom Program Design
---
---
Advertise With Us