Monday September 27 2010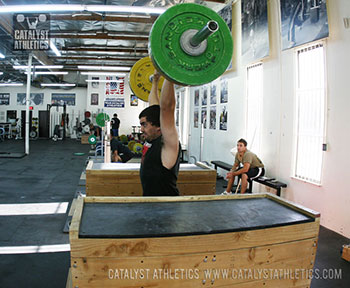 Snatch - 90-95% x 1
Clean & jerk - 90-95% x 1
Front squat - 90% x 1
Control snatch and CJ weights within the prescribed range based on how you feel each day this week. Err on the lighter side and cut reps if you're not starting to feel recovered by Wednesday.
Week 5
Questions? Get answers here or post in comments.
12 Comments
Paul Klein
2010-09-27
Greg,

I follow the programming at OPT and I want to thank you for taking the time to add to the last OLY cycle. I made a lot of gains and learned a lot at the same time. Your input was priceless.

Hopefully the next time you are in the North Carolina area for a seminar I will be able to learn more from you.
Craig C. @ The Compound
2010-09-27
Snatch - 90-95% x 1 @ 205# (91% of 225#)
Clean & jerk - 90-95% x 1 @ 290# (90% of 320#)
•Front squat - 90% x 1 @ 335# (90% of 370#
marcus
2010-09-27
Snatch- 90-95%x1= 145#
C&J- 90-95%x1= 175#
Front Squat 90-95%x1= 205#
Thomas Rosander
2010-09-27
Snatch- 90%x1 60KG
C&J- 90%x1 81KG
FS- 95% 100KG

Crossfit Norrtaelje, Sweden.
Brad C. @ The Compound
2010-09-27
Snatch: 216x1
C&J: 275
No time for front squat work.
Mike McGoldrick
2010-09-27
Greg,

Just wanted to thank you for the programming. I have been following the program for 4 weeks now and am ready to go. Looking forward to competing this weekend in Colorado.

Thanks again,

Mike McGoldrick
CrossFit Memphis - Faction Strength and Conditioning
Alfred "Skinny Guy"
2010-09-27
Snatch-157#
C&J-205#
Fr. Squat-220#

Felt good today, hope it continues for the rest of the week.
Alfred "Skinny Guy"
2010-09-27
Oh shit, I have that same PTW shirt. lol!
Gene
2010-09-27
Snatch 75kg
CJ 101 kg
No time for Front squats
Travis
2010-09-28
Woo, Alfred! That shirt is oldschool. Like, circa 2003. Got it when they were touring for You Come Before You. Shame they just broke up :(.
Alfred "Skinny Guy"
2010-09-29
Travis - Yeah dude, sucks about the break up. Seems like it's for good too. Chris lives out west now & Ryan moved away as well. The only one left around these parts is Jeff. I saw him recently & he doesn't seem to give any hope to the idea of them getting back together.
Nick
2013-09-30
Catalyst day 20
Snatch 90-95% x 1 (135#)
Clean & jerk 90-95% x 1 (170#)
Front squat 90% x 1 (210#)

Tabata abs
6x
Med ball sit ups 15#
Plank holds
Abmat sit ups
Leg raises
---
Workouts Menu
Workouts Home
Read This First!
Workouts Help & Info
Exercise Library
Training Programs
Starter Program
Tomorrow's Workout
Text Only
Custom Program Design
---
---