Saturday October 2 2010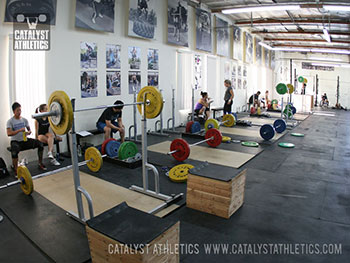 Snatch - max
Clean & jerk - max
Back or front squat - max
Rest 10 minutes between exercises, but stay warm.
Questions? Get answers here or post in comments.
5 Comments
marcus
2010-10-02
This was a disappointing morning after what was a very helpful and productive cycle.

Snatch- 145 with failurex2 at 155
C&J- 195 with failure x2 at 205
Front Squat 245 with failure x2 at 265

I believe this demonstrates my 2 glaring weaknesses.

1. Technique. I feel, especially on the snatch I approach the heavier lifts with minor changes each attempt. This obviously leads to inconsistancy and a lack of confidence.

2. Weakness. I am still glaringly understrong at 5'10" and 193#. I would like to move to a more strength oriented program for my next cycle. I would also like to continue working the O-lifts. Any suggestions on a program would be greatly appreciated.
Greg Everett
2010-10-02
Marcus -

The next cycle will be very strength-oriented.
marcus
2010-10-02
Greg- Great, I'm in.

Now for the technique issues...
Gene
2010-10-02
First competition!
Snatch 70, 75 miss, 75 miss (80 is pr)
CJ 95-100-102 pressout

Total 170

Thanks for the programming and direction Greg. I would have been lost without it!
Alfred "Skinny Guy"
2010-10-03
Did Saturday's Lift on Friday again (Installing A/C at the box this weekend). This time I took Thursday as a rest day & it paid off.

Snatch-170# (PR + 5#), missed 172#
C&J-220# (PR + 10#), missed 225#

Had nothing left for the squats though. I was failing weight that felt easy last week. I started following this programing to improve on the Oly-lifts, so I'll take it.


---
Workouts Menu
Workouts Home
Read This First!
Workouts Help & Info
Exercise Library
Training Programs
Starter Program
Tomorrow's Workout
Text Only
Custom Program Design
---
---