Tuesday October 26 2010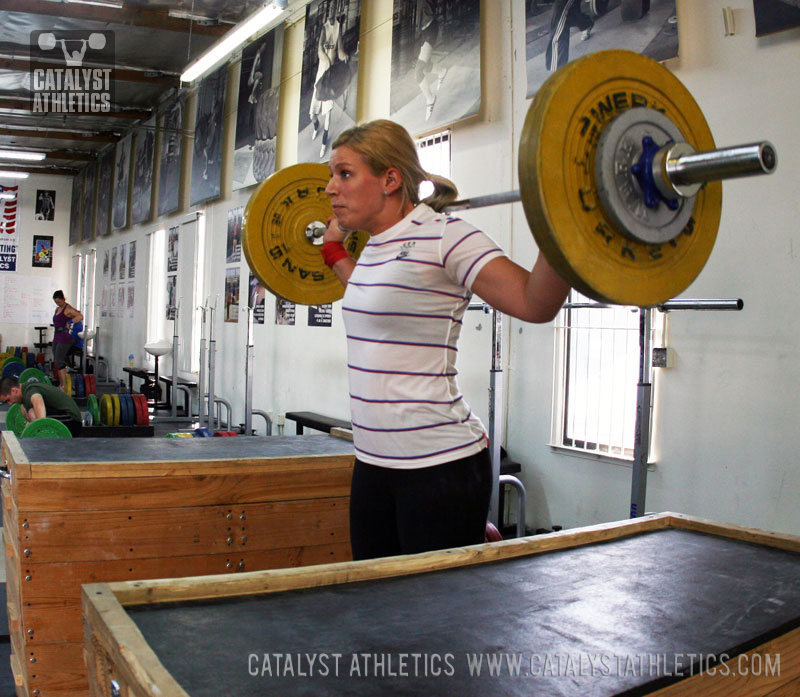 Snatch - (65% x 1, 70% x 1, 75% x 1) x 3
Jerk - heavy single
3 sets:
5 snatch push press - 73%; no rest
15 kipping pull-ups
1 min rest
Questions? Get answers here or post in comments.
5 Comments
Steve S.
2010-10-26
Snatch - (115#; 125#; 135#)x3
Jerk - warmed up doing doubles, but the the jerk felt incredibly technically unsound today. So I kept the weight low and just continued to work on form.

5 Snatch Push Press - 130#
15 Kipping pull-ups
1 min rest between rounds
Alfred "Skinny Guy"
2010-10-26
Snatch-(110#-120#-130#)
Jerk-225#

5 Snatch PP-165#
15 Kipping Pull-ups (butterfly-CTB)
Rest 1:00

Surprisingly good day for 3 hrs sleep. Jerk felt great, 225# was so easy (5# short of my PR). Should have gone for a new max.
Jeff
2010-10-26
snatch: 105#, 115#, 120#

conditioning:
150#, butterfly kips
3:36, forgot to take 1 minute rests

Going to do the jerks with tomorrow's workout.
Mike T.
2010-10-27
Snatch: 65, 70, 75. Felt pretty good and had to wait for a rack so bumped up to 85 for a single.
Jerk: 125. May have been able to go higher but was killing myself lowering the weight (no jerk blocks).

Metcon: 70 Kilos Snatch PP and butterfly kips.
Rob Sheldon
2010-10-27
Snatch: 115, 125, 135#
Jerk: 235
metcon
135# SNPP
frog kips
7:14

Krista
Snatch: 35, 45, 55#
Jerk: 95
no metcon
Workouts Menu
Workouts Home
Workouts Help
Exercise Library
Training Programs
Starter Program
Tomorrow's Workout
Text Only
Custom Program Design
---
---
Advertise With Us