Thursday October 28 2010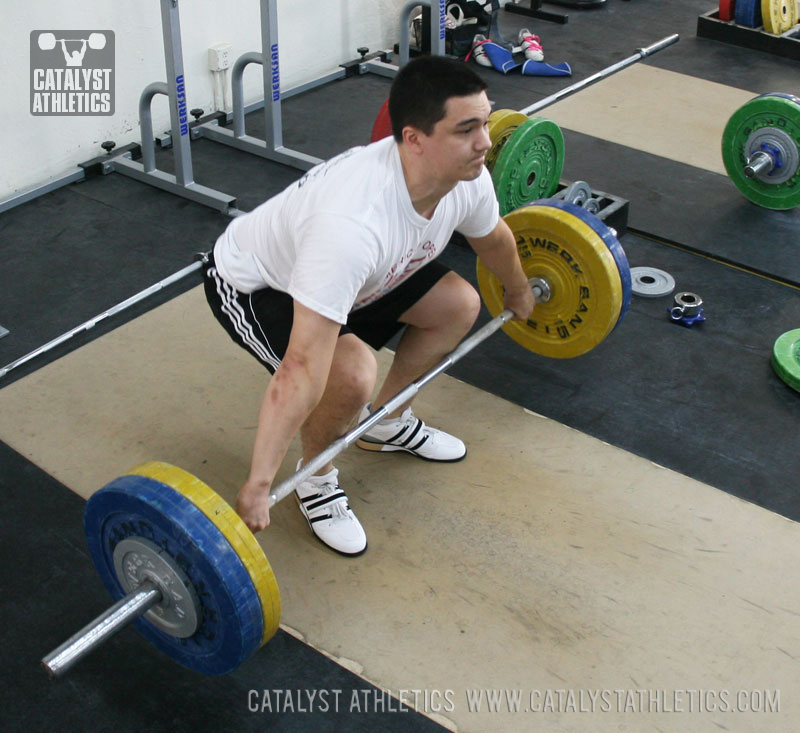 Power clean - (65% x 1, 70% x 1, 75% x 1) x 3
Overhead squat - heavy single
4 sets; no rest:
12 DB hang high-pull
12 push-ups
Questions? Get answers here or post in comments.
7 Comments
Alfred "Skinny Guy"
2010-10-28
Power Clean-145#,155#,165#
OHS-Heavy Single (205#)

4 set;
12 One KB swing high pull/arm (24kg)
12 Ring Push-up
4:25
Jeff
2010-10-28
PC: 120# (muscle clean), 130#, 140#
OHS: 205#

conditioning:
35# DBs, push ups with hand release
4:06
Lance Miller
2010-10-28
NOOOOOOOOOOOOOOOOOOOOOO!!!!!!!!!!!!!! What happened to the blue Asics?
Steve W
2010-10-29
When the workout is listed like that is it 65%,65%,65%,70%,70%,70%,75%,75%,75% or 65%,70%,75%,65%,70%,75%,65%,70%,75%?
Mike T
2010-10-29
Power Clean: 70,75,80
OHS: 110. Failed 120.

Did not enjoy the metcon. Used 16 Kilo KBs, but I feel like the high pull is an awkward movement and more so when done with dbs or kbs.

Steve W: I believe it is the latter. At least that is what I do.


nick mazejka
2010-10-29
135lb 145lb 155lb for power cleans. 225 ohs. 45 lb db and standard push ups 4 min 6 sec
Rob Sheldon
2010-10-30
PC: 135, 155, 175
OHS: 225
metcon
45# D-bells
5:30

Krista

PC: 75 x 3
OHS: 105
metcon
15# D-bells
5:50

Workouts Menu
Workouts Home
Workouts Help
Exercise Library
Training Programs
Starter Program
Tomorrow's Workout
Text Only
Custom Program Design
---
---
Advertise With Us