Thursday November 11 2010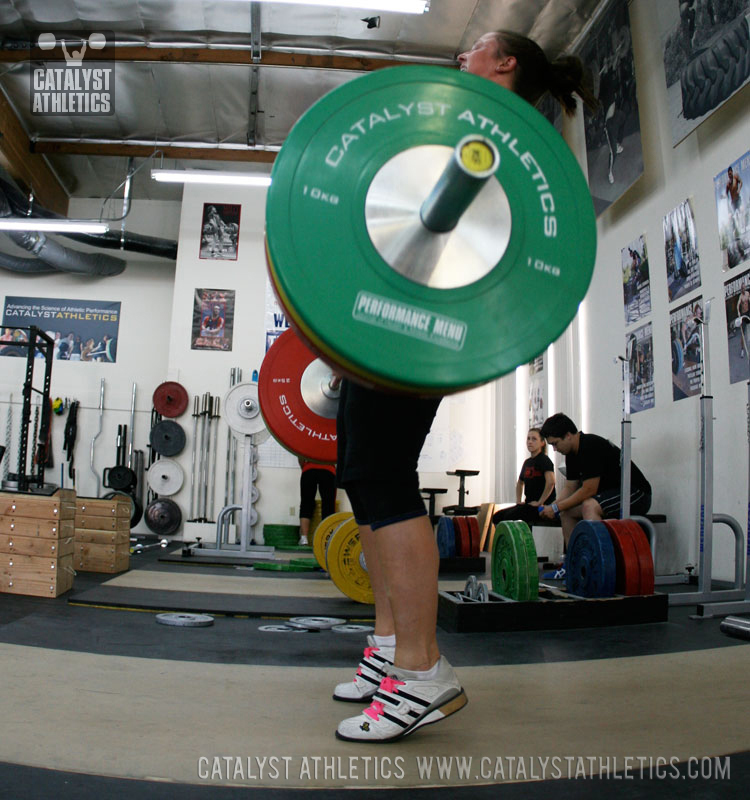 Power clean - (70% x 1, 75% x 1, 80% x 1) x 3
Overhead squat - heavy single
3 sets; no rest:
10 1-arm KB swing
10 1-arm KB push press
Complete 10+10 each set before switching sides
Questions? Get answers here or post in comments.
9 Comments
KEITH FINE
2010-11-10
should my % be that of my power clean or clean?
Steve S.
2010-11-11
Power Clean - 155#, 165#, 17#
OHS - 185#, could have gone heavier but ran out of time this morning. Might go at it again this evening.
Greg Everett
2010-11-11
Keith-Your percentage will be based off of your best power clean.
Mike T
2010-11-11
Power Clean: 95
OHS: 120 (failed on 130)

Metcon: 3:46 with 1 pood.
Keith Fine
2010-11-11
Power Clean- 105#,115#,120#
OHS-115#
Jeff
2010-11-11
PC: 130#, 140#, 150#

conditioning:
1.5 pood
4:40
Didn't put the bell down, but it wasn't exactly unbroken.

OHS: worked up to 180#, but dilly-dallied too much and ran out of time. Maybe I'll take another stab at it tomorrow.
Jojo
2010-11-12
PC: 135#, 145#, 155#
OHS: 175# (20# PR.. yesss!!)
Metcon: 4:02 1 pd (I didn't quite go for the speed on this, worked on form.. still trying to smoothen out my KB press to not bang it on my arm..)

umptnciazb
2011-07-23
PdCJNg <a href="http://rbzvlpeyxkwh.com/">rbzvlpeyxkwh</a>
ckgofvgyx
2011-07-23
aCjKXs , [url=http://rkmqkxeylqhc.com/]rkmqkxeylqhc[/url], [link=http://mmvhpphzilun.com/]mmvhpphzilun[/link], http://kccxtloqduyf.com/
Workouts Menu
Workouts Home
Workouts Help
Exercise Library
Training Programs
Starter Program
Tomorrow's Workout
Text Only
Custom Program Design
---
---
Advertise With Us