Tuesday December 21 2010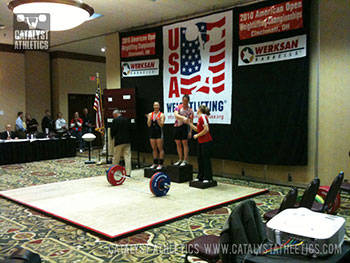 Warm-up series - 2 snatch long pull + 2 overhead squat + 2 Sots press x 4 sets

Snatch segment pull (1", knee, hip, finish) + snatch pull - (1+1) x 2 x 4 sets
Snatch - 65% x 3 x 5
Snatch push press + OHS - 5 x 3+1
3 sets: no rest:
10 DB chainsaw rows/side
15 jackknife sit-ups
You're doing one fewer reps on the snatch segment pulls this week, so take the weight up. The reps for the snatch push press and overhead squats are the same, but try to up the weight at least slightly this week. Again, though, keep the weight within your ability to execute perfect reps.
Go heavy on the DB chainsaw rows - use your whole body to get the weight up.
Questions? Get answers here or post in comments.
4 Comments
Schon
2010-12-21
Greg
In this/these programs where would you work in a deadlift workout? I am coming from a "power bodybuilding" routine where I did deadlifts on back day. With Oly lifting Iam realizing their are no "back days".

Maybe at the end of the Saturday workout?
Thanks
Schon
Greg Everett
2010-12-21
Schon - Every day is back day in weightlifting. If you want to add deadlifts, I would do it either on Thursday or Saturday. If the weight and volume you're planning is pretty high, Saturday would be better.
Schon
2010-12-21
Thanks,
Yes after 30 years of lifting I have never squatted or pulled so much as I have over the past month. Nice.
It's funny how it has taken getting "old"(40) to be able to embrace other methods of weightlifting and conditioning.

Thanks again
Schon
Kyle
2010-12-21
If you don't feel your back on those segment pulls you must be doing them wrong!
---
Workouts Menu
Workouts Home
Read This First!
Workouts Help & Info
Exercise Library
Training Programs
Starter Program
Tomorrow's Workout
Text Only
Custom Program Design
---
---