Tuesday April 5 2011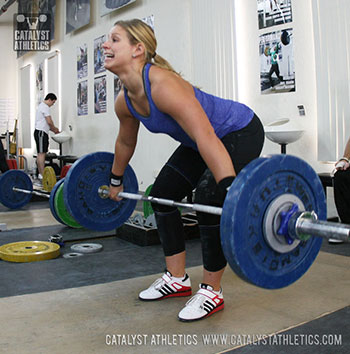 Mid-hang snatch - 3RM; 90% x 3 x 2
Power clean - 70% x 3 x 3
Snatch deadlift - 5RM
Stiff-legged deadlift - 3 x 5
4 sets; no rest:
15 kb swings
20 KB topside halfmoons (10/side)
Questions? Get answers here or post in comments.
9 Comments
Kevin St. John
2011-04-05
From today's photo I see Kara wearing wrist wraps. She has 2-3 different colors. What brand are they and can we order them online anywhere. The logo appears to be Everlast but it is hard to make out and I tried their website but don't find that product listed. Can use a little help. Thanks
Greg Everett
2011-04-05
Kevin - They're Everlast boxing wraps. We also use Ringside Mexican-style wraps, usually cut in half (length). Ringside.com
Greg Everett
2011-04-06
Kevin, I purchased the multicolored straps (Everlast) at Dick's Sporting Goods in Colorado. When I moved out to California, I found the single packs at WalMart. I hope that helps.Kara
Olly
2013-04-08
Hi i have an occasional problem getting under the bar, would you think wise for me that instead of the power triples i do full triples?
Steve Pan
2013-04-08
Olly -

For today the power triples should be okay.
Branden
2013-04-09
Are the power cleans/snatches a percentage of your one rep max or that days 3RM? They are the only excersises that it is not specified.
Thanks
Steve Pan
2013-04-09
It will be a percentage of the 3RM you set for the day.
Chase
2014-01-19
Should the same size kb be used for both exercises?
Steve Pan
2014-01-21
You can use different size kettlebells for the exercises. Choose ones that won't kill you.
---
Workouts Menu
Workouts Home
Read This First!
Workouts Help & Info
Exercise Library
Training Programs
Starter Program
Tomorrow's Workout
Text Only
Custom Program Design
---
---