Tuesday October 4 2011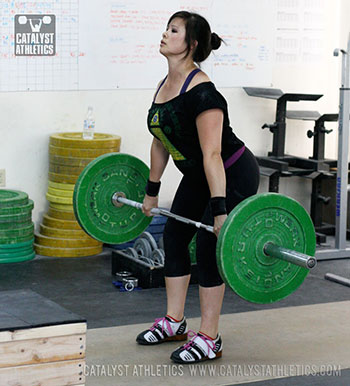 Snatch - 80% of Mon HS x 1 x 5
Clean & Jerk - 80% of Mon HS x 1 x 5
4 sets; no rest:
15 KB swings
10 pull-ups
Questions? Get answers here or post in comments.
5 Comments
Musumeci
2011-10-04
Hey guys just have a quick question. Ive been training SEALFit for some time now to prep me for BUD/S but i wanted to add a different training style for strength. What exactly does "x 1 x 5" mean? 1 set of 5 reps?
Greg Everett
2011-10-04
weight x reps x sets. if there is no weight, sets x reps. all in the "about" page.
Ryan Murakoshi
2011-10-04
I checked the about section, and couldn't find this specifically and just wanted to clarify on it before going on doing it wrong.

Taken from 6 week strength cycle

- Snatch high-pull + muscle snatch - 70% (of MS) x 4 sets

Obviously working weight at 70% of muscle snatch 100% weight.
Does 1 full cycle rep of the "snatch high pull + muscle snatch" = 1 set, and just do 4 of these (resting between)? Sorry I'm not retarded, just want to make sure I'm following it right.

Also did the max pull ups follwed by matching calorie row, and managed to get all 60 pull ups and 60 cals rowed in 7:42. Not the best I'm sure, but got it all under 8 min. (Self pat on the back)
Snatch is already feeling better and just on day 2. I guess form does matter?
Greg Everett
2011-10-05
Ryan -Yes, 1 set = 1 high pull + 1 muscle snatch. Repeat that 4x w rest between.
---
Workouts Menu
Workouts Home
Read This First!
Workouts Help & Info
Exercise Library
Training Programs
Starter Program
Tomorrow's Workout
Text Only
Custom Program Design
---
---