Monday March 26 2012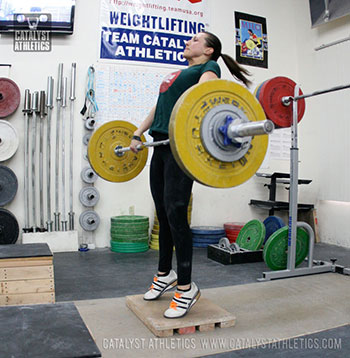 Please
login
to access our training programs.
Registration is FREE!
Questions? Get answers here or post in comments.
24 Comments
Please login to comment!
Todd Angel
2012-03-26
Greg- I love the site and information that you provide. I have a quick question: what would you recommend for an athlete that is not reaching full extension on thier lifts? Are there any drills that you would recommend? Thanks in advance for any input.

Todd
Greg Everett
2012-03-27
Todd -

You really need to determine the cause before you can make smart decisions on what drills/exercises/cues to use. You can post video in our forum and get feedback from me and others.
Todd Angel
2012-03-27
Greg-Thanks for the response. I'll get to it.

Todd
Link
2012-03-27
I'm a CrossFit affiliate owner out of Denver, CO, and have had continuously poor results on progression in weight with my Olympic movements. I've only focused on them through CrossFit training and programming through our gym and feel there's plenty of potential to increase in weight by focusing more narrowly on the movements themselves, which, of course, has directed me to the experts to guide, or direct the effort...Catalyst Athletics.
I notice not a lot of people post results to the site in comments, and without knowing much of the group that follows the site meticulously (like other CrossFit boxes as an example), I'm going to guess that there's some people out there like me that simply don't post because, 1. They mix and match their programming, 2. Don't stay consistent in their training, convincing themselves that constantly varied means changing it up all the time without fulfilling goals, 3. Don't have training partners and it's hard to do Oly stuff in the gym without someone, or 4. Get bored, frustrated, overwhelmed, distracted, or something along the lines...
So, in an attempt to holler out to the ex-athlete, devout exerciser, CrossFit believer, Outlaw follower, too busy to compete in the CrossFit Open and Regionals too seriously, wants a more specific, directed goal, and loves to throw weight around...I'm going to start putting up results in hopes that there really are some of you out there...post up!
Mr. Everett and team, thank you for what you do.

Link
2012-03-27
BS 265#
HSS 135#
SDL 170#
OHS 160#
Nick
2012-03-28
bs 185#
hss 105#
sdl 135#
ohs 135#
Nate
2012-04-01
Bs-165
Hss-95-95-95-95-105
Sdl-115-125-125
Ohs-125-130-130
Julie
2012-10-21
Hi Greg,
This may sound stupid but just to confirm. On the leg strength cycle block 1 is it 10 sets of 3 reps or 3 sets of 10 reps.
Thank you.
Julie
2012-10-21
Oops sorry found it in the FAQ!
Brad
2013-03-25
Greg,

I was wondering the best way to incorporate some chest work into this. I am a football player with a 4 week gap between programs right now and this looks pretty good to encompass my Olympic lifts and heavy leg workouts needed, but lacks the chest work I also need. Any information would help.

Thanks
Greg Everett
2013-03-26
Brad -

I would throw in the chest work on days you have overhead/pressing work already (e.g. jerks, push press, OHS, etc).
Col
2013-06-24
Greg,

I plan to begin this 4 week leg strength block next week but can only go to the gym during the work week (Mon to Fri). I assume that I can still make decent progress even if I drop one of the five workouts power week. Which workout makes the most sense to drop?

Would you recommend dropping the fourth session and then doing the fifth on the Friday?

Thanks very much
Greg Everett
2013-06-25
Col -

Thursdays are very light, so you can probably get away with just moving Saturday's workout to Friday. See how that feels on week one and if it's too much, you can just drop the Thursday workout.
Col
2013-06-26
Greg -
Thanks very much for your quick repy! I'll give it a go.
Matthew
2013-06-27
Hi Greg,
I've been searching through the cycles to find one I wanted to do next; I'm at the end of the third week of the first leg strength cycle. I still would like to increase my leg strength before turning my focus to mostly classical lifting, so my question is should I just do the first 4 weeks of programming here over again, or continue at week 5 (Block 2, I see)? Thanks for any insight.
Steve Pan
2013-06-27
Matthew -

Continuing to block 2 would be good for your next cycle.
Dave
2013-11-01
Are your squat percentages based off your max squat or max clean?
Steve Pan
2013-11-05
Squat percentages are based off of your best squat.
Ricardo
2013-12-17
Don't have blocks or squat rack, and no fractional weights so I had to do some adjustments, comments would be appreciated:
Back Squat 95lbs
Hang Snatch 95lbs
Snatch Deadlift 115lbs
Overhead S 95lbs

In between each rep 100 jump rope.1600 total.


Noel Nocas
2014-03-24
7 kg PR from this cycle. Really tough the last week, but the legs are feeling strong.

190 ---> 197

200 is close!

Thanks guys,
Noel
Erick
2014-03-25
Back squat 10 reps x 3 rounds? Or 3 reps x 10 rounds?
Thank you for your programs, hitting catalyst athletics from Quito, Ecuador, south América.
Steve Pan
2014-03-25
Erick -

That would be 3 sets of 10 reps. Please read the program help section to the right for more information on notation and the program.
Steve
2015-07-23
I was wondering if there is a way to include narrow-grip OHS? Maybe alternating (weekly) with the regular OHS? Or 3 sets of 3 reps on Wednesday?
Thanks for the great programs!
Steve Pan
2015-07-27
Adding some light close grip OHS in on Monday or Wednesday should be fine. Don't go overboard.

Get the App!
Catalyst Athletics programs are available through our exercise.com app. Unlimited access to all programs for only $10/month, or purchase programs individually for only $10 each!
Join the Group
Buy Programs
---
Tag Us!
Tag us on social media when you post videos and photos of your workouts!
#catalystathletics
Instagram: @catalystathletics
Twitter: @cathletics
Facebook: @catalystpm
---
Workouts Menu
Workouts Home
Read This First!
Workouts Help & Info
Exercise Library
Training Programs
Starter Program
Tomorrow's Workout
Text Only
Custom Program Design
Get the App
---
---