Tuesday April 10 2012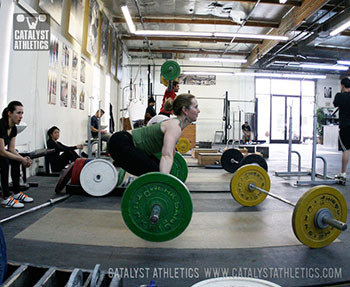 Jerk behind the neck - 75% x 3 x 3, 80% x 3 x 2 (up wt on last set if you feel good)
Push Press - 75% x 5, 80% x 5 x 2, 85% x 5
Jerk Dip Squat - 85% (of jerk) x 5 x 3
For 5 min:
5 1-arm KB swing/arm
5 1-arm KB clean & push press/arm
5 1-arm KB snatch/arm
Questions? Get answers here or post in comments.
6 Comments
James Tatum
2012-04-10
Had a big drop off on this workout. made it through all the jerk behind the neck, but on push press and jerk dip squat I had a dramatic drop off. suggestions?

On monday's workout felt strong but had to almost double my rest (6min) in order to complete the percentages for the required number of sets
Greg Everett
2012-04-10
James -

Is this your first cycle? You may just not be accustomed to the volume. Or you may not be sleeping and eating enough. Hard to say with the info on hand. This workout shouldn't have been to nasty - but if you're still wasted from yesterday, it would be a lot tougher.
James Tatum
2012-04-10
I've done your advanced program from your Olympic Lifting book prior to this phase. My recovery could be better. How do you feel about dropping sets for this third week or should I attempt at the volume anyway?
Greg Everett
2012-04-11
James -
You can drop some sets if you need to. I would suggest lightening up tue/thu and leaving mon-wed-sat alone as much as you can.
Nick
2012-04-12
Jerk- 175x3 sets/ 190/ 195
PP- 150/ 160x2 sets/ 170
Jerk Squat- 200x3 sets
+
4 rounds completed in 6 min w/ 16kg kb

Greg, I recently got your book and reading the section on jerks from behind the neck really made a difference. I realized i was still pushing my hips forward as i would a normal split jerk from the front. This was causing me to land too far forward throwing me off balance in the catch. Anyway the jerks felt good tonight. weight was popping up quick and catch felt solid. I still need to drill these a little more as i am much more comfortable with heavy weight in the front. The book is great!

Greg Everett
2012-04-12
Nick -

Glad you found it helpful.
---
Workouts Menu
Workouts Home
Read This First!
Workouts Help & Info
Exercise Library
Training Programs
Starter Program
Tomorrow's Workout
Text Only
Custom Program Design
---
---