Saturday April 21 2012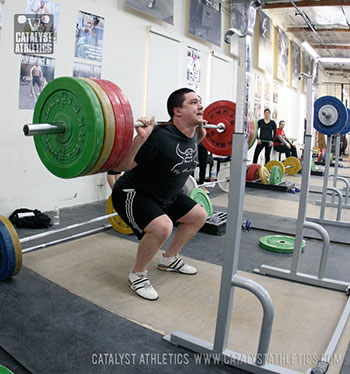 Please
login
to access our training programs.
Registration is FREE!
Questions? Get answers here or post in comments.
32 Comments
Please login to comment!
Nick
2012-04-22
BS 300
SN 145
CnJ 215

300 is a 25lb PR for me over my last 1RM test!! 275 felt really easy today. 295 felt good, went up to 305. Failed 305 once, back down to 300, failed first attempt, made 2nd attempt. Thanks for the program Greg! Back to OPT for a bit to prepare the engine for team competition at northeast regionals (CF508). I felt like I learned a great deal on this program about my weaknesses and how to drill them down to keep my lifts progressing. I did not PR today on the snatch or cnj but didnt expect to. I know those PR's are coming soon
Brandon Ecker
2012-04-22
BS #395
That is a 30 lb PR from a previous best with questionable depth. The percentages and volume was just right for my body. Thanks for the blog, Greg.
David
2012-04-23
352 BS, a PR by 30. That's at bw of 168, 49 y/o. Snatch was rough, 155, way off. CJ 210. Very pleased with the cycle, the volume was managable and was able to be 100% compliant for all 4 weeks. Looking forward to the next cycle.
Stefan
2012-04-23
BS went up 30lbs
C&J went up 25lbs!!!

Snatches are also starting to feel easier!!!
Leslie
2013-01-25
Just finished this program today (1/25/2013). Got a 20 pound back squat PR (from 225, which was an old max, to 245 and NEARLY got 250) AND squatted over 225 pounds for the first time in nearly a year, all thanks to this program. Great program! I'm starting the next cycle on Monday.
Salty
2013-02-25
Just finished this 4 week cycle today. The only workouts I missed were in the last week due to traveling for work, and I was feeling pretty slow due to lack of sleep but I still hit a PR of twenty pounds on back squat to 320. I really thought I was going to get more but I took two big a jump from 320 to 350 and failed at that weight.
Cath Pringle
2013-03-04
This was great! Relatively small increment looking at the rest of you but keep going I say. Hopefully it will inspire the rest of the gym to do some focused weight training. Went from 92kg to 100kg. Thank you.
nateward
2013-03-06
Used my PR from January 11th of 335# to calculate my lifts. Had only done front squats from that date until I started this cycle. Set a new back squat PR today of 385#. This is literally the best workout cycle of any kind that Ive ever done. Thank you.
Travis
2013-03-13
35 lb PR in back squat today, thank you for the cycles Greg...looking forward to the next block
David
2013-04-01
385-----> 405!!!! Amazing cycle, thanks Greg!
Salty
2013-04-02
I have a Question for you. Have you ever studied the Russian Smolov cycles? They are kind of similar in numbers to what you have in this program.
Greg Everett
2013-04-02
Salty-
Yes, that's what these cycles are based on. It's a pretty common format to have 3 building weeks of the same or similar volume followed by an unloading week.
Elliot
2013-06-13
Hi Greg

Great programming mate. I'm about to test tomorrow and was just wondering if there was a reason for doing the back squats before the other lifts. I'd like to go for a pb on snatch and clean and jerk and am worried my legs will be gone if I squat first!
Thanks a lot.
Steve Pan
2013-06-13
Elliot -

The goal of this cycle is to increase leg strength and to maximize the squat. Do the back squat first and aim for a record. See what you can do on the snatch and clean & jerk after.
Elliot
2013-06-14
Hi Steve.
Thanks for getting back. Tested today and pretty happy with results. I had a knee op and micofracture 3 months ago and after the 4 weeks my back squat went from 140kg to 155kg. Also hit an 85kg snatch up from 82.5kg and 110kg c+j up from 105. Hit a 115 clean but missed the jerk. All in all super happy with how it went and think I'll do the next 4 week block. Thanks again mate.
Steve Pan
2013-06-14
Good job on the PR!
Matthew
2013-07-02
My garage gym's barbell sucks to the point of danger with max effort clean and jerks (essentially NO whip). The only day this week I can go to my local Crossfit Gym and do this workout is on Sunday - Would doing this on Sunday and then continuing the next day through Thursday completely destroy me? Is it worth it?
Matthew
2013-07-04
And should I add in another day of very light singles on Friday if so?
Steve Pan
2013-07-05
Try shifting the week a day ahead so you can put the Saturday workouts on Sunday. It would be pretty brutal to do the Saturday workout on Sunday and then try to train through the rest of the week. It would be best to get a day of rest before and after that workout.
Matthew
2013-07-05
Thanks a lot, I hadn't even considered that. Will do. Also, I'm feeling really strong, feeling a big PR coming on. Fantastic programming.
Matthew
2013-07-07
Man, this cycle was amazing. The programming is just so intelligent and all the percentages/rests were exactly as needed. PR'd my Back Squat and Clean and Jerk, and felt I could have gotten more on each. Squat went from 255 --> 285, C&J from 175 --> 195. Thanks so much.
Haven
2013-09-13
When testing the PR, what warmup scheme do you recommend? I have Greg's oly weightlifting book and he writes about spending more time at lower weight in order to reduce fatigue, but is there a specific scheme that you like? Thanks!
Steve Pan
2013-09-16
Haven -

You will have to feel it out. Take a few sets with the bar and possibly a few with your lightest weight and work up in a way that you will beat your PR and try not to match it. Good luck!
Curtis Snelgrove
2013-12-07
I have to say thanks to you Greg for posting this program, I couldn't make any progress with my squat but after following this program for 4 weeks, I got a 20 lb PR! Thanks so much.
Jean-Benoit
2014-01-26
Hi, just finished the cycle. I actually got no PR :( Didnt miss a day, I don't get it. However, I do feel my legs and my back stronger.

Any suggestions regarding whcih program should I do next? I think going with a quick & classic to increase my classic lifts.

Regards,

JB
Steve Pan
2014-01-28
Jean-Benoit -

Sometimes cycles will end without a PR on the last day even though you have made improvements in strength. You will have to evaluate how you recover and see if you can't adjust for next cycle. The quick and classic cycle might be a good one to try next.
Aaron Babbidge
2014-02-15
20 lbs PR on back squat. Went from 455 to 475. Also PR'd on snatch by 10 lbs (205) and C&J by 5 lbs (255).
Marquan
2014-06-09
Did everything like I was suppose too and I see everyone has PR but I came up with nothing still stuck at 405... I did PR on my snatch last week and hang snatch at 275 but this 4 week was to focus on leg strength.... Should I stick with the program or move on if I don't see gains? I'm a huge fan of you guys program just a little frustrated with my back squat not oing anywhere. I also CrossFit but I've PR'ed for doing both and with you guys program. Need help with my BS bad!
Steve Pan
2014-06-09
I would recommend against mixing programs. If you were doing crossfit while you did this program, that is a major problem. Please read the "Combining it with.." section in the Program Help tab at the right.
Adrian Aguirre
2014-10-15
Just finished block 1 and had PRs across the board. Awesome cycle and excited to start block 2.

BSQ: 138kg ---> 140kg (JUST missed 145kg)
Snatch: 86kg ----> 92kg
C+J: 108kg ----> 110kg
Tommy Malone
2015-01-07
I finisished this cycle directly after the Basic Rep cycle. 37lb BS, 16lb Snatch, 20lb C&J, 20lb DL & 16lb Press. For me, those are HUGE gains as I've been a notorious "hard gainer" since I was a 140lb kid going into the Marines back in 89. I would recommend these cycles to anyone who will listen. Thanks Greg for making everything so accessible and Steve Pan for putting up with all my beginner questions. If I hadn't already paid for a seminar/plane tickets/rental car in Febuary than I would jump right into another cycle.
Evelyn
2015-01-07
Did the cycle.... Missed my old BS PR on the testing day. Hit my current snatch PR, and made a 1.5kg clean PR (missed the jerk).

I might not have been adequately rested... I did the taper week as prescribed but have had some stressful concurrent life events. I really enjoyed the program and found it challenging, just disappointed I didn't see the increases others saw.
Get the App!
Catalyst Athletics programs are available through our exercise.com app. Unlimited access to all programs for only $10/month, or purchase programs individually for only $10 each!
Join the Group
Buy Programs
---
Tag Us!
Tag us on social media when you post videos and photos of your workouts!
#catalystathletics
Instagram: @catalystathletics
Twitter: @cathletics
Facebook: @catalystpm
---
Workouts Menu
Workouts Home
Read This First!
Workouts Help & Info
Exercise Library
Training Programs
Starter Program
Tomorrow's Workout
Text Only
Custom Program Design
Get the App
---
---