Monday April 23 2012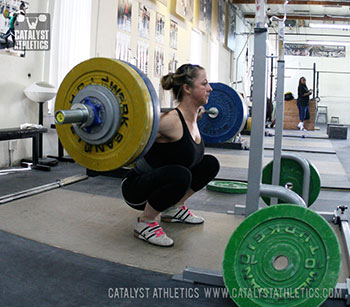 Back Squat - 65% x 10 x 3
Block Snatch (knee) - 70% x 3 x 5
Snatch Pull on 2" Riser - 90% (of snatch) x 3 x 4
Heaving Snatch Balance + Overhead Squat - 65% (of OHS) x 1 +2 x 4
This is really a continuation of the previous 4 weeks in a 12 week cycle, but can be a standalone 4-week training block as well.
Week 1 of 4 (5 of 12)

Questions? Get answers here or post in comments.
10 Comments
Noel Nocas
2014-01-06
Catalyst,

If we are doing this cycle after the 4-Week Leg Strength Block 1 cycle, should we still max out on the first cycle. If yes, should we then take a back off week then hit this one running? If no, then I assume week 4 of Block 1 is the back off (without a max) and just jump right into Block 2.

Thanks,
Noel
Steve Pan
2014-01-06
You will max out at the end of the fourth week and you should be good to go to roll right in to block two once you hit the max.
Noel Nocas
2014-01-10
Thanks Steve
ds
2014-01-12
Is the block snatch (knee) from above or below the knee?
Steve Pan
2014-01-13
DS -

The block snatch should be right in front of the knee if possible.
Ted
2014-01-22
Hi, may i know what cycle should be used or what cycle did you use after week 4 of this?
The weeks 9 to 12 of the original 12 week mesocycle. since the 2 leg blocks are from weeks 1 to 8.

thanks!
Steve Pan
2014-01-24
After week 4 will be the start of Block 2 of the Leg Strength Cycle.
Brandon
2015-07-06
Back Squat - 65% x 10 x 3
at first I thought this was 3sets of 10 reps but after reading the help page it looks like 10sets of 3reps. Is that right, 10sets of 3reps?
Steve Pan
2015-07-06
Brandon -



That prescription is for 3 sets of 10 reps. The help page here describes the notation.

Brandon
2015-07-06
Ok, now I see. I read over it too quickly the first time.
Thanks for the fast response!
---
Workouts Menu
Workouts Home
Read This First!
Workouts Help & Info
Exercise Library
Training Programs
Starter Program
Tomorrow's Workout
Text Only
Custom Program Design
---
---